Events
Human Powered Sports
Trip Idea
Wellness
A Spartan Athlete's Itinerary for North Lake Tahoe
It's almost race day in Lake Tahoe for the 10,000 athletes competing in the 2017 Spartan World Championships at Squaw Valley on September 30. For those of you preparing for the most important obstacle race of the year, plan out the rest of your trip your trip to make the most of your time here.
How you spend your days both pre and post race will help you perform at your peak, recover smartly, and experience the best that North Lake Tahoe has to offer. You are after all, competing in one of the world's most beautiful destinations.
Get the insider's scoop with our official Spartan Athlete's itinerary so you end your time in North Lake Tahoe feeling accomplished, rested and well-traveled (with maybe a few new scratches, bruises and souvenirs).
Pre-Race Day
Whether you arrive 24-hours before your race or a full week, there are some necessary steps to acclimate, prepare and fuel up. Why not do it in style and with amazing views along the way?
Morning: Prepare
Left a piece of critical gear at home? It happens. But it doesn't mean you have to show up to race day without it. For those who do forget something or simply feel like shopping for gear, the north shore is home to a few great outfitters:
Alpenglow Sports

– Lake Tahoe's oldest backcountry and running shop in Tahoe City.

Any Mountain

– Quality gear and clothing store in Tahoe City.

The Village at Squaw Valley

– Home to shops like Parallel Mountain Sports, Squaw Valley Outfitters, Patagonia, and The North Face.
Mid-Day: Acclimate & Train
Competing in altitude comes with its own unique difficulties, and it's important for athletes to arrive with ample time to acclimate. Although you should already be plenty prepared for the physical demands of the race by the time you arrive, getting out to run, swim or bike will not only keep the momentum going and your muscles moving, but will also give you a chance to see the incredible outdoors of the area.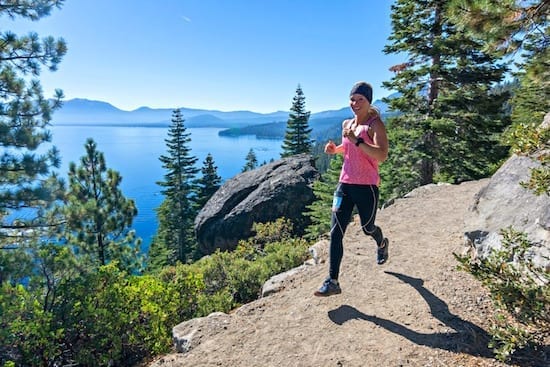 Trail Running

– The mixed-use trail system in Burton Creek State Park is perfect for all Spartans, including amateur competitors and pro-status runners. Take advantage of free access and the perfect blend of flat/steep and fire road/technical trails. If you're looking to track distance with an exact science, you can also mountain bike a route first then run it.*
Other trail running spots to consider include the Tahoe Rim Trail from Tahoe City and the Rubicon Trail from Emerald Bay to D.L. Bliss State Park.**
Mountain Biking

– To get those lungs pumping quickly, get in an uphill climb on the Tahoe Flume Trail, located on the east shore. Bike rentals are conveniently available through

Flume Trail Bikes

at the base. If you're on the west shore, bike the Stanford Rock Trail or Loop for one of the toughest sustained rides in the Tahoe Basin. To suffer through 20% grades and 1964' of ascent, pick up a bike at

Tahoe Adventure Company

. Both rides offer epic views of the lake and surrounding mountain peaks to help ease the burning pain in your chest at the top.**
Swimming

– If you're looking for something low impact, jump in the water from Sand Harbor State Park on the east shore, Commons Beach in Tahoe City and Sugar Pine State Park on the west shore. Just be sure to bring a friend in a kayak or stand up paddleboard to keep you safe, GPS the route and support you during your workout.*
For a more comprehensive list, check out the Top 7 High Altitude Training Locations in North Lake Tahoe on our blog.
* This recommendation comes from Bryan Rickards of Big Blue Adventure
** This recommendation comes from Miles Heapes of Alpenglow Sports
Evening: Fuel
Leave the pubs until after the race and opt for organic, seasonal meals that up your red blood cell production and help with altitude adjustment. Fortunately, the foodie scene in North Lake Tahoe was built with athletes in mind and is supported by the Tahoe Food Hub.
A few options that blend hearty wholesome meals and killer views include:
Post-Race Day
Congratulations! You survived one of the toughest Spartan races in the world. So now what? Time to recover smartly, keep the blood flowing, and celebrate your success in the natural splendor of North Lake Tahoe.
Morning: Recover
Keeping the body moving the day after a grueling race is paramount to your comfort and recovery. Opt for gentle trails with a low incline, short distance swimming, and yoga.
Easy Running

– If your legs can handle more running (you animal, you), cruise along the Truckee River Bike Path from Tahoe City to Squaw Valley and back. Or run until you find a nice swimming spot and jump in the cooling waters of this iconic river. You can also return to Burton Creek State Park or the dirt path fitness trail in Incline Village.

Swimming

– Work out the lactic acid with a swim followed by some quality R&R time at a beach by jumping in the water at Sand Harbor State Park, Incline Beach, Commons Beach or Chamber's Landing.

Yoga

– A Vinyasa flow might be exactly what you need to decompress both your body and your mind. Fortunately, North Lake Tahoe is a wellness hub and your options for yoga classes taught by amazing teachers are plentiful. At Squaw Valley, attend a class at the iconic

Wanderlust Yoga Studio

or try

Tahoe Yoga

at Northstar California. If you're staying lakeside, check out the aerial yoga and mat yoga at

Tahoe Flow Arts Studio

, or

Mountain Lotus Yoga

for some seriously detoxing hot yoga.
Mid-Day: Adventure & Events
Now that you've eased into your day and kept the cramping at bay, get that heart rate back up with some seriously fun, high-adrenaline activities.
Evening: Celebrate
It's the moment you've probably been waiting for: a celebratory drink and fun night out with friends. Go ahead, throw a couple back. You deserve it. At least you're doing it one of the ultimate mountain towns for post-adventure pints.
Live Music at Crystal Bay Club

– Dance the night away to a free show at the iconic Crystal Bay Club Casino in the sultry Red Room. On Saturday, Sept. 30 catch Jaw Gems, an electronic outfit from Portland, Maine.

Breweries + Wine Bars – No matter what kind of libation you're in the mood for, we've got you covered. If you're on the east side of the lake, you can't miss

Alibi Ale Works

in Incline Village. Heading west, stop by

Tahoe Mountain Brewing Co.

or

Uncorked

in Tahoe City,

West Shore Market & Deli

in Homewood, or Uncorked at Squaw Valley.
We're looking forward to seeing you in North Lake Tahoe soon! If you enjoyed this article, share with your Spartan friends and start planning your adventures today.
Banner Image: Squaw Valley for Spartan Race