The North Lake Tahoe Chamber of Commerce has been serving its members and the greater North Lake Tahoe region for over 60 years.
In 1996, the North Lake Tahoe Chamber of Commerce merged with the North Lake Tahoe Convention and Visitors Bureau under the umbrella of the North Lake Tahoe Resort Association, a 501(c)(4) non profit public benefit corporation.
Mission
Our mission is "to take specific actions to help improve the opportunity for local businesses to achieve and sustain success; to promote business, tourism, and the economic, cultural and civic welfare of the greater North Lake Tahoe community."
Search the Chamber Business Directory for current Chamber Members. The Chamber currently has upwards of 400+ members.
Membership Benefits
View a full list of Membership Benefits provided by the Chamber of Commerce.
Join the Chamber
Join the Chamber today!
Online Training
The NLTRA is offering a video series online customer service training to prepare employees to provide the best customer service possible and offer insight to North Lake Tahoe!
Economic Development & Legislative Advocacy
Find out what the Chamber is doing to promote regional economic development and advocate for legislative action.
Shop Local Program
Shop North Tahoe & Truckee-Support your friends and neighbors while keeping dollars in the local community.
SHOP LOCAL NORTH TAHOE TRUCKEE HOLIDAY FAIRE
Job Listings
Search for Jobs in the North Lake Tahoe region.
Upcoming Chamber Events
The North Lake Tahoe Chamber|CVB|Resort Association hosts this monthly event on the first Tuesday of every month at Granlibakken Tahoe Resort. All community members are invited to attend for the latest in community news and projects. $15 Breakfast Included. **Due to the Holiday, there will be no Breakfast Club July 2018
Granlibakken Resort: 725 Granlibakken Rd., Tahoe City CA  96145
Click here to purchase tickets
64th Annual Community Awards Dinner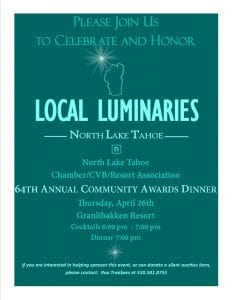 To Donate to the Silent Auction, Contact Ron Treabess at 530-581-8735
or Dawn Teran at 530-581-8727
For Sponsorship information, contact Ron Treabess at 530-581-8735
See you there!