Dog Friendly Lodging Deal Includes Free Travel Bowl!
Sun Bear Realty & Vacation Rentals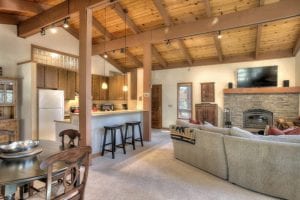 Don't leave the pooch at home!  This dog friendly deal includes a free gift for your your furry friend!
Driving away for your vacation, seeing the big sad eyes of your four legged friend left behind, makes vacation bittersweet. Forget the guilt! Bring your pet with you. This spacious 3 bedroom, 2 bathroom home is perfect for all of your family! And upon arrival,  a Complimentary Travel Bowl will be waiting for your pal to use for years to come.
The large back yard with dog run has ample space for your pets to stretch their legs and run wild. The large living area with open kitchen will allow everyone to be involved in the fun and activities. Don't forget to bring your boat, there's plenty of parking in the driveway. The location is great, right in the middle of both beaches (.7 mi from each). Abandon your car, your worries and your stress. No smoking. For other Pet Friend vacation rental options, visit SunBearRealty.com and go to the "Features" section and select "Pet Friendly."