11th Annual Winter Film Series with Dave Nettle
7:00 PM - 9:00 PM
Nov 17, 2016
Olympic Valley Lodge
free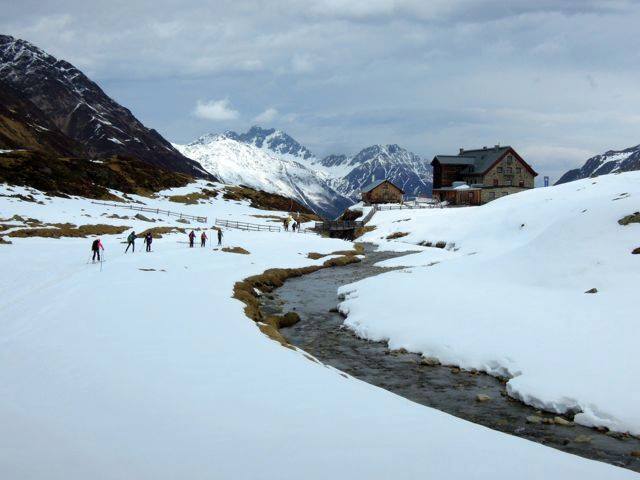 Alpenglow Sports is proud to announce the 11th annual Winter Film Series. On Thursday, November 17th, 2016 7pm local hero Dave Nettle will kick off the series at Squaw Valley's world-famous Olympic Village Lodge with tales of Ski Mountaineering in the Tyrol: hut to hut ski touring the Stubai Alps
As a tradition and a salute to Dave Nettle, who inspired the inception of this community event 11 years ago, each season always begins with local hero Nettle. Living life to the fullest through mountain adventures while having fun with great friends is the theme of each of Nettle's stories.
Join Dave Nettle for a presentation of images and humorous narrative from his adventure this past April with six friends traveling to the Tyrol region of Austria and skiing from hut to hut across the rugged Stubai Alps. The show will highlight the Stubai Alps spectacular scenery, alpine terrain and ski touring challenges as well as the fun and relaxing day to day life in the huts along the way. Armed with the best Euro exchange rate in years and a lot of ski days under the belt from a fantastic back country season in the Tahoe Sierra, this crew of seven were able to make the most of what the Austrian Tyrol is all about: mountains, skiing, hospitality and great food and wine. The show is sure to get you fired up for your own upcoming winter adventures.
"The Winter Film Series embodies everything exciting and wonderful about our Tahoe mountain community," according to event coordinator and owner of Alpenglow Sports, Brendan Madigan.
"Once a month, our mountain community comes together for a special evening. A world-famous athlete takes us on a remote and exciting adventure, a local non-profit takes home much needed funds to help their cause, and the community enjoys a free show that motivates and inspires them to follow their own dreams of adventure."
The Alpenglow Sports Winter Film Series has become an eagerly anticipated winter tradition for North Tahoe's skiing, climbing, and adventure community. Designed to inspire, motivate and educate, the event runs from November through March and showcases five famous athletes who tell various tales of adventure from remote mountain ranges across the globe. All shows are free and raffle prizes from sponsors are sold to raise funds for local non-profit organizations.
To date, the event has raised well over $50,000 for the North Lake Tahoe community. Past beneficiaries include the Sierra Avalanche Center, Tahoe Nordic Search and Rescue, Disabled Sports Far West, Project Mana, Tahoe Safe Alliance, and many more.
The non-profit beneficiary for the evening is the Tahoe Backcountry Alliance. The Tahoe Backcountry Alliance is the voice for the human-powered winter backcountry community in the Lake Tahoe area, advocating for and informing our community about critical issues affecting winter backcountry recreation in Tahoe. Amazing raffle prizes will be on hand from generous sponsors Millet, LEKI, Mountaineer Bags, Prana , Arcade, Kuhl and more.
Please come early for drink specials and good seating. The show begins at 7pm. Doors open at 6pm. This is a FREE event and all ages are welcome. Please call Alpenglow Sports at 530.583.6917 for further details.