4th Annual Funky Furry Jungle Fever Animal Dance Party feat. music by Defunk // Matt Haze // Magellan
9:30 PM - 9:30 PM
Mar 04, 2016
Hacienda Del Lago
10 – 20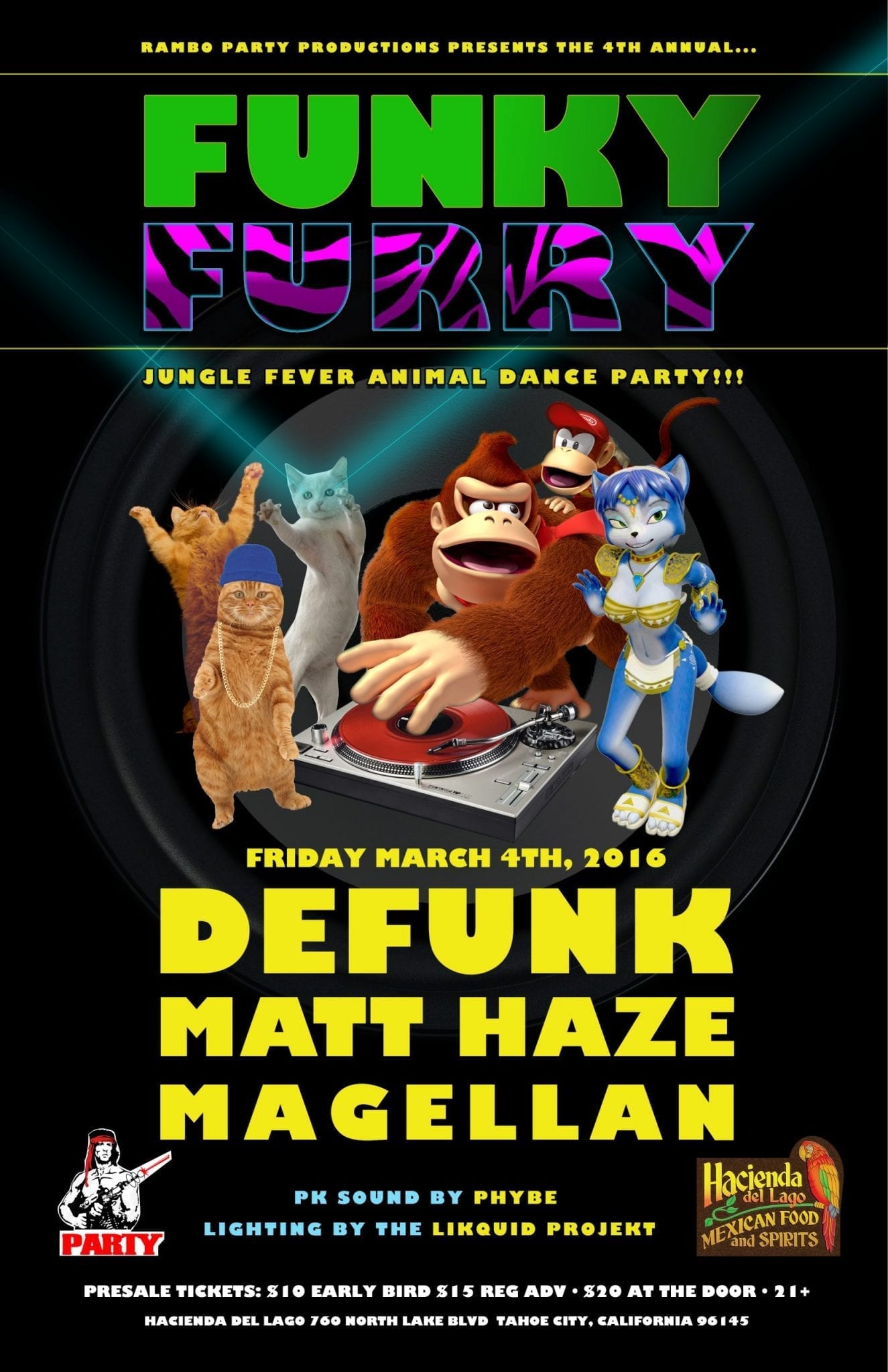 Rambo Party Productions and Wormhole Tahoe present:
The 4th Annual Funky Furry Jungle Fever Animal Dance Party!
It's that time of year again – when we all get to expose ourselves as the true party animals that we are! 4 years strong, the lineup keeps getting more ridic as we welcome Defunk to North Lake Tahoe for his first visit! Dress like an animal, dance like an animal, party like an animal!
Music by:
// Defunk (Denver, CO) \
Merging modern bass music with the retro sounds of jazz, blues, disco and funk, Defunk has taken bass music to new heights. From up-tempo to downright dirty, he blends the old with the new across countless genres and tempos. From swinging saxophone solos, to banjo breakdowns, soul-sister vocal build ups and face melting bass drops. He aims to create electronic music that knows no bounds or overdone sounds. He intends to take music with soul and recreate it, bringing back music from the decades, filtering it, and blasting it back in your face. Its music that is as relevant to the bass scene as it is fresh at the same time.

https://www.facebook.com/DefunkOfficialMusic
// Matt Haze (San Francisco) \
Matt Haze is a riddle, wrapped in an enigma, covered in stylish facial hair. One of the most forwardthinking DJs emerging from the San Francisco scene, Haze is a treasure trove of musical versatility. Rubbing the decks with a marinade of cutting edge beats and old school vibes, Haze is difficult to classify, but impossible to resist. He is best known for his work with SF's Slayers Club collective, dropping his crazily eclectic kitchen sink sets wherever the spirit carries him and the bassbins follow.

https://www.facebook.com/djmatthaze
// Magellan (Likquid Projekt / Wormhole) \
Using his background as a professional laserist as inspiration, Magellan blends technicolored bass music infused with deep down, dirty, lightning fueled funk.
PK Sound by PHYBE
Lighting and eXtreme lasers by The Likquid Projekt
Doors 9:30. Music 10pm.
Presale tickets: $10 early bird / $15 reg adv / $20 at the door
21+