9th Annual Silver State Vertical Drop
All Day
Mar 25-26, 2017
Diamond Peak Base Lodge
15 – 90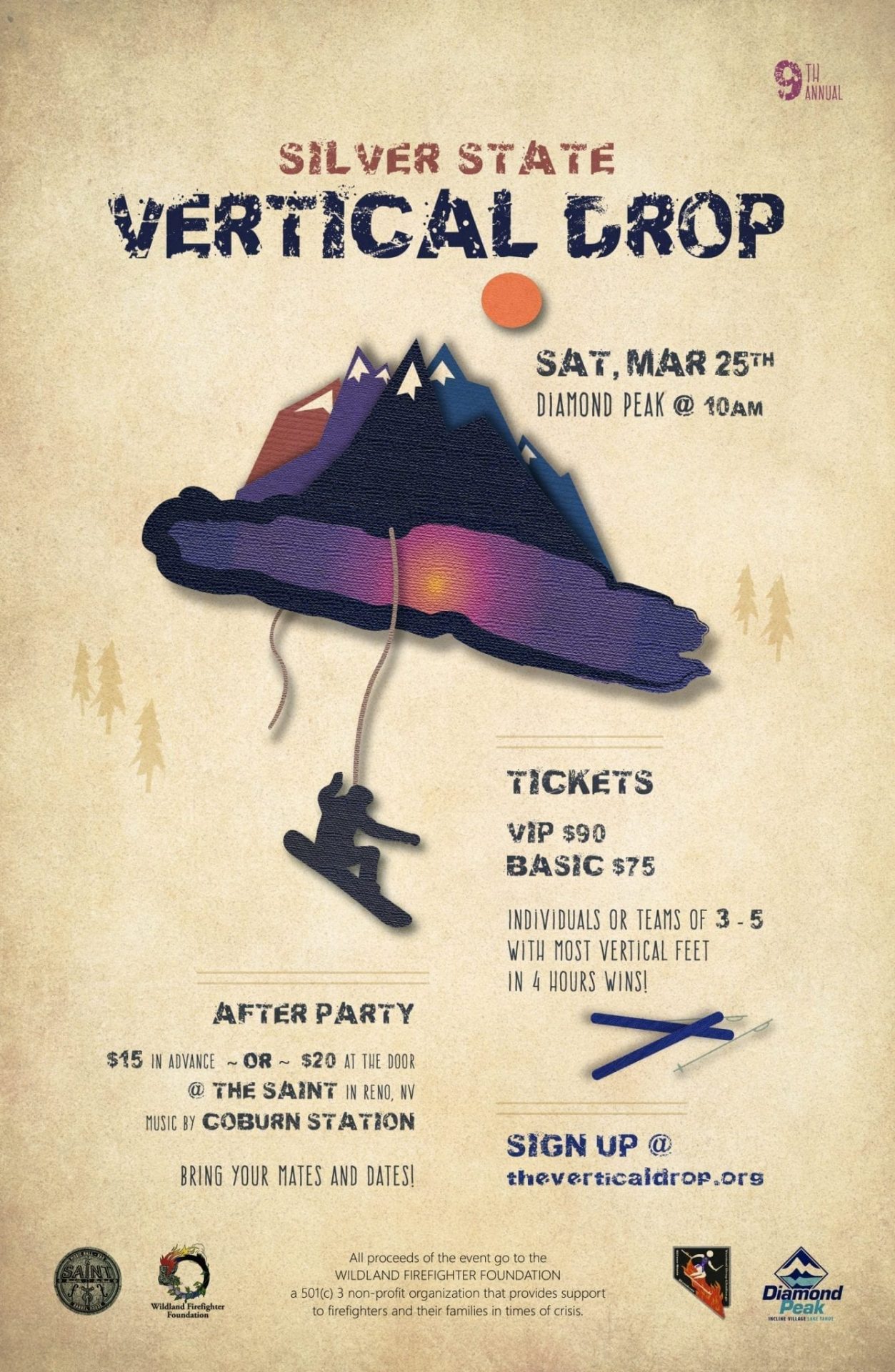 The Silver State Vertical Drop is an annual ski competition and community fundraising event put on by the Silver State Hotshots, a Carson City-based wildfire suppression crew. Justin Cutler, the current captain of the Silver State Hotshots, began the event in 2008 and it has taken place each year, this year being the 9th consecutive.
​
Individuals or teams of 3-5 compete to safely ski as much vertical feet as possible in a 4-hour time period. There are individual prizes for those who finish in 1st, 2nd, and 3rd place, and a team prize for 1st place. In the past, these prizes have been donated to us from companies such as Moment Skis, Patagonia, and Smith Optics.
This years Vertical Drop will be held at Diamond Peak Ski Resort in Incline Village, Nevada on Saturday, March 25th. There will be free food and free beer for all Vertical Drop VIP competitors—tickets are limited! This is the first year that the event will be held at Diamond Peak Ski Resort and we are excited about this new opportunity. Food generally comes from local deli's such as Sierra Meats or Minden Meats and Deli. The beer is donated from Coors and Great Basin Brewing company as well as some very special home brew handcrafted by Silver State Hotshot, Nick Callahan.
​
The Vertical Drop After Party will be held at The Saint, in Midtown, Reno, Nevada with a live performance by Coburn Station, a psychedelic rock band out of Truckee. The Saint is one of the new hot spots in Reno to see live music and Coburn Station was just nominated as one of the best new bands in the Tahoe area in 2016. This event is also open to the public.
​
All proceeds from the Silver State Vertical Drop go to the Wildland Firefighter Foundation—a 501(c)(3) non-profit organization that provides support firefighters and their families in times of crisis. Today, the Vertical Drop is the longest running fundraiser that supports the Wildland Firefighter Foundation. Additionally, the Vertical Drop's early relationship with Coors sparked a nationwide campaign every summer in which a large portion of their profits from Coors Original beer is donated to the Foundation.
Along with the new ski venue, rockin after party line-up, and an early snowpack, the 9th Annual Silver State Vertical Drop is sure to be one for the ages. Come out and see for yourself on March 25th!