Amgen Tour of California, Lake Tahoe North and South Lake Tahoe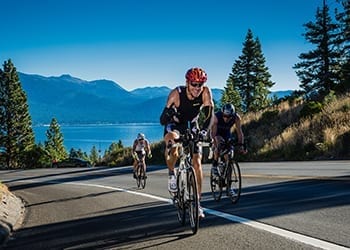 "North Lake Tahoe is recognized as a premier human-powered sports destination and is proud to partner with Tahoe South for the Amgen Tour of California," said JT Thompson, tourism director, North Lake Tahoe Resort Association. "The race is a great opportunity to show off the cycling product around Lake Tahoe as well as its amazing hospitality."
Highlights of the Amgen Tour of California race at Lake Tahoe – both men's and women's – will include iconic vistas along the 72-mile circumference of the lake as well as spectacular backcountry terrain through Hope Valley.

The routes will challenge more than 350 of the world's top cyclists. Athletes will put their strength and muscle power to the test as they climb, descend and break away along steep and winding stretches of the Sierra at the 2016 Amgen Tour of California stages Thursday, May 19 at Lake Tahoe. The men's elite race Stage 5 will begin in Lodi, Calif., and finish at Heavenly Mountain Resort's California Base Lodge in South Lake Tahoe totaling 132.4 miles. The women's Stage 1 will also start/finish at Heavenly totaling 72.7 miles.
---
BECOME A VOLUNTEER! Be in the thick of things as an AMGEN volunteer.
· Volunteer flyer  
· Visit: TahoeSouth.com/amgen to sign up
· Or contact Mark Luke: [email protected] or Mike Frye: [email protected]
---
INTERESTED IN THE ROUTES?
STAGE MAPS
---
Scroll down for AMGEN videos and images: