Amgen Tour of California, Lake Tahoe North and South Lake Tahoe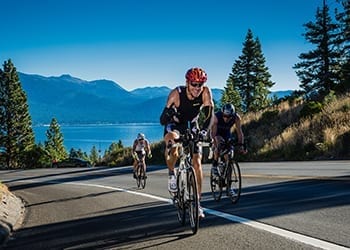 "North Lake Tahoe is recognized as a premier human-powered sports destination and is proud to partner with Tahoe South for the Amgen Tour of California," said JT Thompson, tourism director, North Lake Tahoe Resort Association. "The race is a great opportunity to show off the cycling product around Lake Tahoe as well as its amazing hospitality."

May 11–12, 2017: Women's Stage 1 & Stage 2
Stage 1, taking place on Thursday May 11, 2017, is one of the most beautiful race routes in the USA, circumnavigating the 72-mile shoreline of Lake Tahoe clockwise starting at Heavenly Mountain Resort, passing through South Lake Tahoe, Emerald Bay and Tahoe City. As the athletes reach the north shore of Lake Tahoe, they will enter Nevada and ride through Incline Village with panoramic views of the east shore and Sand Harbor State Park. The stage will feature two sprints, 5,300' of elevation gain and two Queen of the Mountain (QOM) challenges where riders vie for a separate jersey by completing the climbs in the lowest cumulative time. The final stretch will be a brutal ascent back to the finish at Heavenly Mountain Resort. Spectators can expect a select group of competitors fighting their way to the finish with riders coming in over the next 5-10 minutes trying to build a gap before going into Stage 2.
"The Amgen Tour of California is America's Greatest Race, and this year more than ever, the world will be watching," said Kristin Klein, race president and executive vice president of AEG Sports. "As the sport of cycling continues to bloom in America, the Amgen Tour of California men's and women's events are both part of the UCI WorldTour for the first time, a privilege and designation reserved for the world's premier races. This means the competition will reach an all-time high, with the best racers and best teams in the world lining up to take part."
Road Closures
The race will require a rolling street closure which will circle the lake with the racers. California Highway Patrol and marshals will supervise and manage rolling stops of approximately 20 minutes at all intersections and street crossings. That includes 10 minutes prior to the procession arriving and the amount of time it takes for the racers to pass a given point. Please be advised that if traveling around the North Shore during this time you will encounter slight delays on the road. Vehicles can follow the procession, but not pass it.   Vehicles will not be allowed to head toward the procession. CHP will pull them to the side of the road until the peloton passes.
Please note that Highway 28 North from Spooner Summit will be closed for the race beginning at approximately 1pm. This will cause backed up traffic towards Carson City until it reopens around 1:25pm. If you are planning to travel from Carson City to Incline Village or North Lake Tahoe during the afternoon of May 11th, please consider taking Mt. Rose Highway.
Key North Shore Traffic Impact Times (Approximate):
11:30am Leaders arrive at Rubicon
11:42am Leaders enter Tahoma
12:04pm Leaders turn right onto HWY 28 in Tahoe City
12:17pm Leaders enter Carnelian Bay
12:27pm Leaders enter Kings Beach
12:31pm Leaders exit CA at Stateline, NV
1:10pm Leaders arrive at Spooner Summit
1:25pm HWY 28 reopens to through traffic to Incline Village
Spectator Information
This is your chance to witness a world class race and to support the amazing athletes brave enough to compete! Help welcome them to our amazing region by getting on course and cheering them on. Stop by the Tahoe City or Incline Village Visitor Center the week of the race to pick up a cowbell so you can make lots of noise as the racers zip by.
Volunteer Opportunities
Have a front row seat for America's most prestigious cycling stage race! Volunteers are needed to marshal street crossings along the North Shore in Tahoe City, Kings Beach and Incline Village to maintain a safe riding and spectating environment. We're asking for about 2 hours of your day and in return you'll receive a commemorative t-shirt and hat. You'll be contacted closer to the race with exact information.
---
---
Scroll down for AMGEN images: