Big Game Party at Tahoe Biltmore
2:00 PM - 7:00 PM
Feb 03, 2019
Tahoe Biltmore Lodge & Casino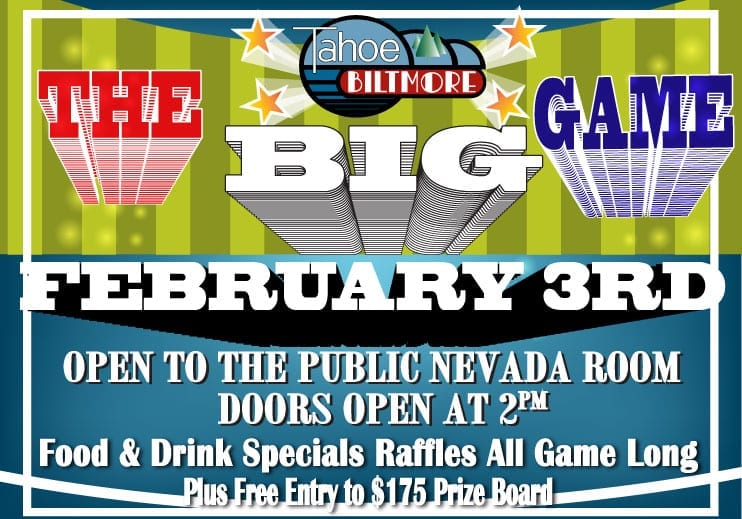 Sunday February 3rd, catch "The Big Game" at Tahoe Biltmore.
Grab your seat for the day when the doors open for the public for free at 2:00 pm. There are lots of seating options so if its just your buddies or the whole gang well can have the perfect seat for you.
Everyone can be a winner at the Tahoe Biltmore
When to doors open to the public at 2 pm don't miss out on the $175 Prize Board, that's right we will be giving out $175 cash with ZERO ENTRY FEE. Each quarter one winner will receive $25 and when the game is over one lucky person will walk away with $100 cash.
We will be raffling off a VIP tour of the Sierra Nevada Brewery in Chico Cal. This behind the scene tour will give you a never before glimpse into how they make all those wonderful beer, and will include a private dinner and unlimited drinks.
We know what makes a good party
The Big Game is going to clock in around 4 hours so you bring your appetite and enjoy all the best stadium style snacks and food. Wings, pizza, and much more. Plus raffles and drink specials all day. No matter what kind of game it ends up being the party will keep rockin so make your reservations today!     https://www.tahoebiltmore.com/the-big-game