Live Stream~ Classical Tahoe
5:30 PM - 10:30 PM
Jul 31 - Aug 16, 2020
North Lake Tahoe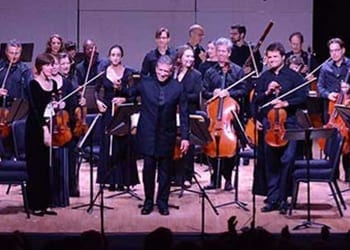 Classical Tahoe is a world-class celebration of arts with classical music concerts, jazz performances, and community programs for music education and appreciation on the campus of Sierra Nevada University, Incline Village, North Lake Tahoe, Nevada.
Classical Tahoe Orchestra Conductor and Artistic Director Joel Revzen, together with blockbuster soloists celebrates in 2020 the anniversaries of Beethoven and Brubeck, along with opera favorites, masterful symphonies and chamber music concerts and meet the musician events. "The 2020 season of Classical Tahoe has something for everyone, Revzen said, "all in the most intimate classical pavilion venue you can experience."
The virtuoso Classical Tahoe Orchestra brings together musicians from the Metropolitan Opera, Los Angeles and New York Philharmonics, the symphonies of San Francisco, Seattle, Dallas, Toronto, Vancouver, and other exceptional organizations. 
Rising just 16 rows, the 400- seat Classical Tahoe Pavilion is an industry differentiator. Noted for its sail-like structure, the orchestral concert pavilion offers exceptional, unamplified sound and the opportunity for audiences to capture the body language, hand movements, and intuitive communication between maestro and musicians while performing repertoire most often heard in a larger hall.
The Classical Tahoe Music Institute, inaugurated in 2018, offers dozens of multi-generational programs for music education, skill development, and appreciation to further inspire arts, culture and learning throughout the festival. Free events, including free concerts, and free family events are also scheduled.