Dia de los Weirdos Halloween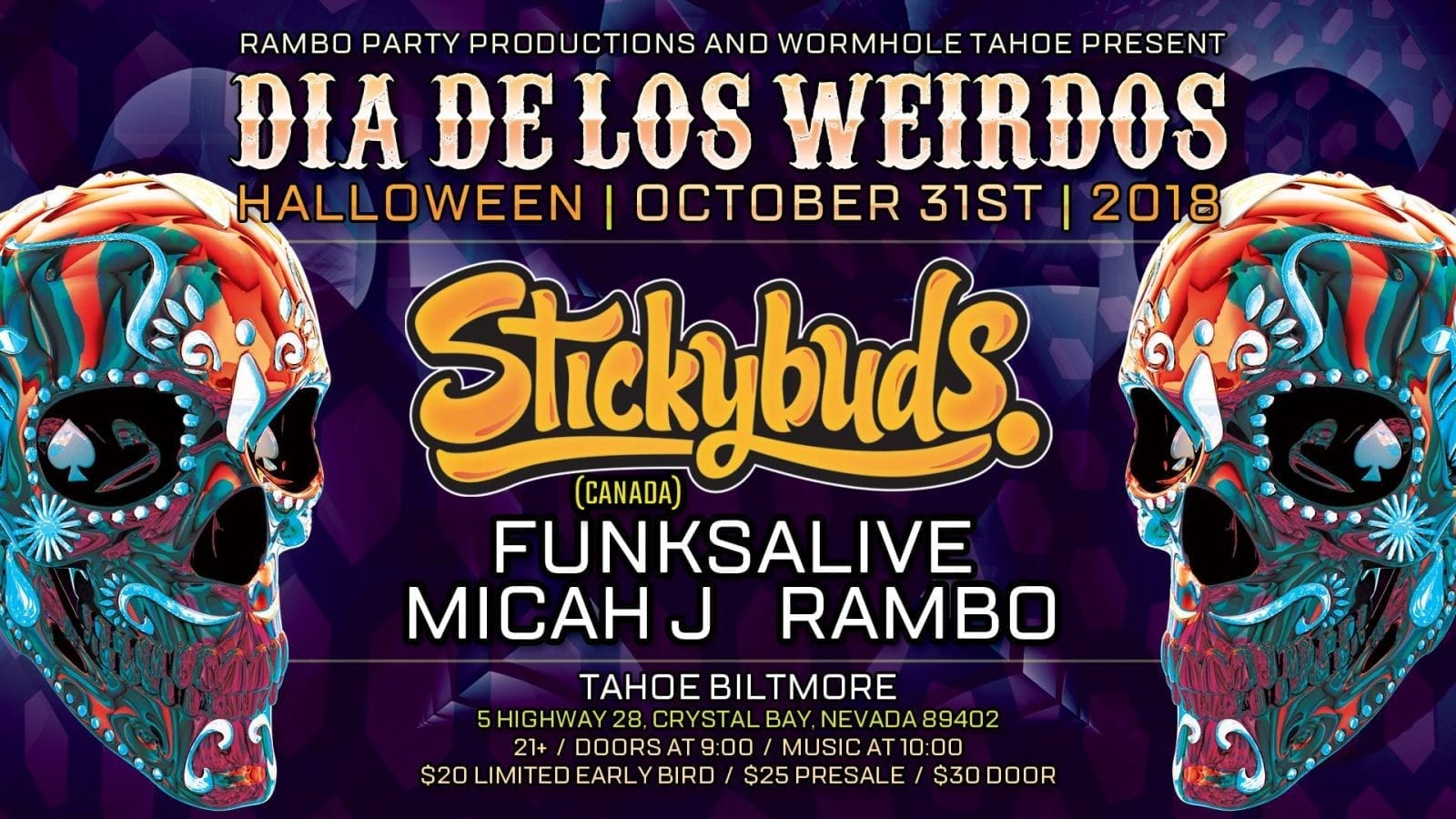 TICKETS ON SALE
*21+
*Doors at 9:30 / Music at 10:00
*$20 limited early bird / $25 presale / $30 door
https://diadelosweirdos.brownpapertickets.com/
Wormhole Tahoe and Rambo Party Productions presents:
Dia de los Weirdos Halloween!
The weirdest and wildest Halloween party in Tahoe is coming straight atcha on All Hallows Eve at the Tahoe Biltmore in Crystal Bay, NV.
This freaky funk fest welcomes all of the most fun people to gather in one place for a proper night of getting down in true Halloween style!
We are really excited about this lineup as we welcome Canada native Stickybuds for his first Tahoe appearance. Just typing up this lineup is giving us the chills because IT WILL BE A NON STOP DANCE PARTY.
Lineup:
*Stickybuds (Canada)
https://soundcloud.com/stickybuds
From the funky depths of the Canadian West, Stickybuds has been touring the world and releasing rad music for over a decade. DJ, Producer, Teacher and Enthusiast; Tyler has dedicated his life and love to the music that he finds himself immersed in.
A resident of Canada's Shambhala Music Festival for the last 12 years, he's honed his unique style of genres, acapellas and tempo changes. His vast network of talented producers and artists helps him to create unique blends of funk, reggae, drum n' bass and broken beats, reworked and edited with exclusive accapella selections.
With over 50 tracks to his name on 20+ labels, Tyler has been creating music for dance floors and listeners alike. His hard work has won him accolades such as Breakspoll's "Mix of the year award" (2015), "Best Free Track" (2013) and Glitch Hop UK's "Best International Track" (2013).
A full time producer and DJ, Sticky finds himself constantly on the road and has now performed in 25 countries. His skills behind the decks have brought him to perform at such places as Burning Man, "We Love Space" Ibiza, Glastonbury, Rainbow Serpent, Envision, Breakfest, Boomtown and many other spots and festivals around the world.
As a genuine lover of quality music, get on board and get some Stickybuds mixes in your ear holes, or better yet, catch a live set and watch his hair fly around while he head bangs and drops awesome tunes.
*Funksalive
https://soundcloud.com/funksalot
Mixing live elements of electric bass, drums and saxophone with funky bass-influenced electronic production, FunksALIVE sends it into the stratosphere! Showcasing their instrumental talents mixed with dirty, electronic beats, this live-electronic trio brings their grimiest live-electronic game in the Tahoe area.
*micah J
https://soundcloud.com/micahj
Arguably the most talented DJ that has been bred out of the Tahoe scene, micah J is a true professional dance party starter. With his wide ranging music tastes and ear for tunes that make people rage the dance floor, we are honored to have him join the lineup this year.
*Rambo
https://soundcloud.com/rambopartyproductions
Rambo aims to provide you with funky, aerodynamic, intergalactic, lazer blastin' bassy beats and promises to ignite your inner party animal. This is dance party music!