Global Healing Meditation
For the safety of residents, the North Lake Tahoe destination is asking visitors to refine travel plans and come again when travel is safe and viable. As a result of the current Stay at Home orders, most regional events have been cancelled and/or rescheduled. Please inquire directly with the event producer if you have questions during this time of uncertainty.
North Lake Tahoe will welcome visitors back with the same open arms we've always had – but for now, for the safety of all our residents, please stay home. We encourage you to enjoy our destination from afar – plan a future trip using resources on our website, enjoy Lake Tahoe's tranquility through our social pages @TahoeNorth and we'll see you when this is all over.
2:00 PM - 3:30 PM
Dec 11, 2016
Lake Tahoe Wellness Center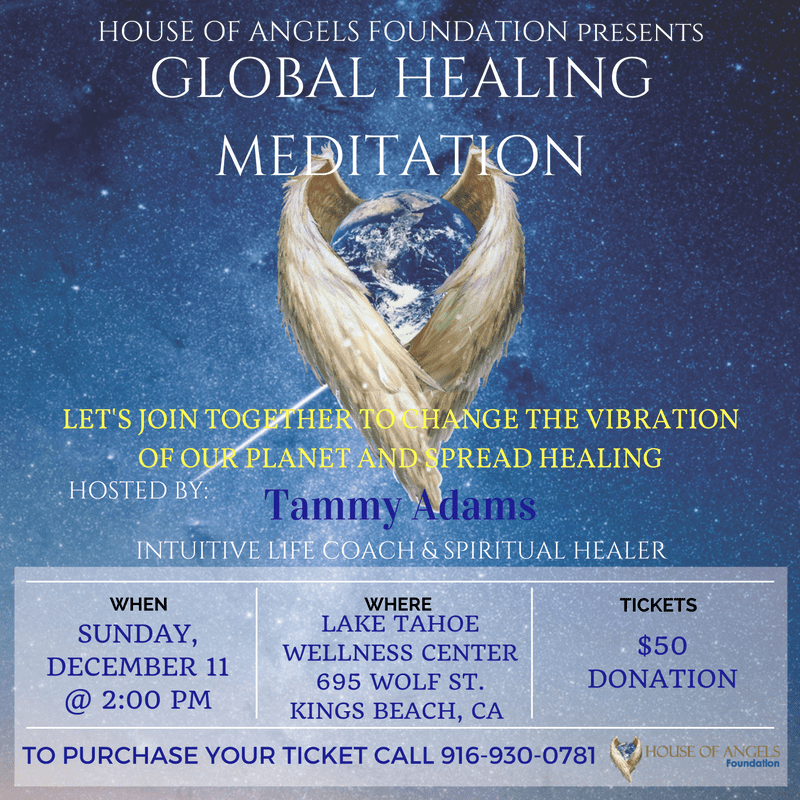 Join Tammy Adams, Intuitive Life Coach & Spiritual Healer, and the House of Angels Foundation to spread global healing.
Come meet your teacher, Tammy Adams. Tammy can mentor you in intensifying your meditation and your healing skills.
Let's change the vibration of our planet collectively so that we can create healing. We all know how much harm and destruction there is every day. That is why it is important for us to create an energy shift.
You CAN make a difference. You do not need to know how to meditate prior to this event. Tammy will give a quick meditation tutorial at the beginning of class. She will show you a simple technique which you can take with you to continue your meditation practice.
Your contribution will also help with the greater cause for the House of Angels Foundation.
This event is a fundraiser for the House of Angels Foundation, a 501c3 Organization.
The House of Angels Foundation helps by:
Supplying food, shelter, clothing, and tools for self-sustainability to the needy.
All areas of support for children and their development to ensure their successful future.
Rehabilitation for individuals suffering from emotional and spiritual damage.
Tammy Adams began the House of Angels Foundation in hopes of uniting all people and creating a unity. We are meant to provide help to one another, teach one another, love one another.
The Global Healing Meditation is about giving back to our planet by sending her healing energy. Your participation is meaningful. The larger the number of participants, the greater the change there will be in the vibration.
As a unity, we CAN make the difference.
You can also visit the House of Angels Foundation website. Please note that it is still under construction: Globehealing.org