Golf Fitness at the Mountain Course
9:30 AM - 10:30 AM
Jun 19 - Sep 11, 2019
Incline Village Mountain Course
18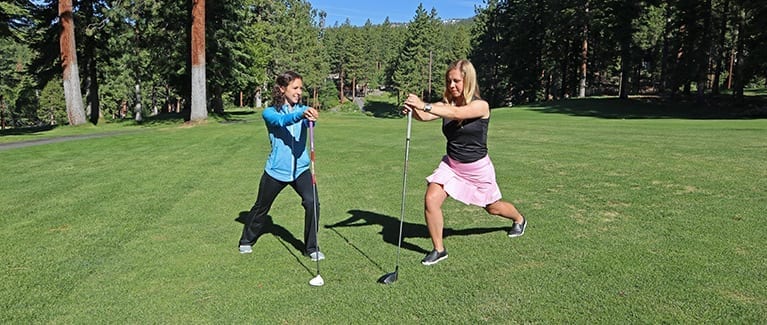 Join Ashley Wood, PGA Head Professional at the Mountain Golf Course, for a weekly class focused on stability and mobility exercises for golfers of all ages and levels. Golf Fitness is a one-hour class that incorporates exercises for golf-specific muscular strength, flexibility and balance. The exercises and stretches are designed to help increase club head speed, prevent injuries, and hit the ball straighter and farther. Even non-golfers can benefit from this class, as these elements are important for daily movement and mobility.
GOL-FIT Challenge Participants receive one complementary Golf Fitness Class, one complimentary TPI Sports Conditioning Class, and earn one point for every class attended. View more details and register for the GOL-FIT Challenge on the GOL-FIT Event Page.
Details & Registration
Wednesdays, 9:30-10:30am (June 19 – September 11)
Location: Incline Village Mountain Golf Course (690 Wilson Way)
Fee: $18, $15 w/IVGID Pass or Rec Membership
Flex Pass: 11 Sessions for $180, $150 w/IVGID Pass or Rec Center Membership
Pre-register online, at the Golf Shop (775-832-1150) or at the Rec Center (775-832-1310) to secure your spot. Space is limited so please arrive a few minutes early to pay or pre-register. (Minimum of three participants required)
About the Instructor
Ashley Wood, PGA Head Professional at the Mountain Golf Course, grew up attending school in Incline Village and playing golf on both the Incline Village Championship and Mountain golf courses.
She played on the Division I women's golf team at San Diego State University (SDSU), where she served as team captain while earning a bachelor's degree in Kinesiology. She then went on to graduate school at SDSU and received a Master's degree in Kinesiology with emphasis on athletic development and sports psychology.
Ashley, who is both a PGA of America Professional and a certified fitness professional, returns to the Lake Tahoe community of Incline Village after a successful tenure serving as the Head PGA Professional and Director of Fitness at the prestigious Presidio Golf & Concordia Club in San Francisco.
Incline Village Mountain Golf Course – 690 Wilson Way • Incline Village, NV