HEY CHEF! HOSTS MOVIE NIGHT @ TAHOE ART HAUS
7:00 PM - 9:00 PM
Sep 13, 2017
Tahoe Art Haus & Cinema
12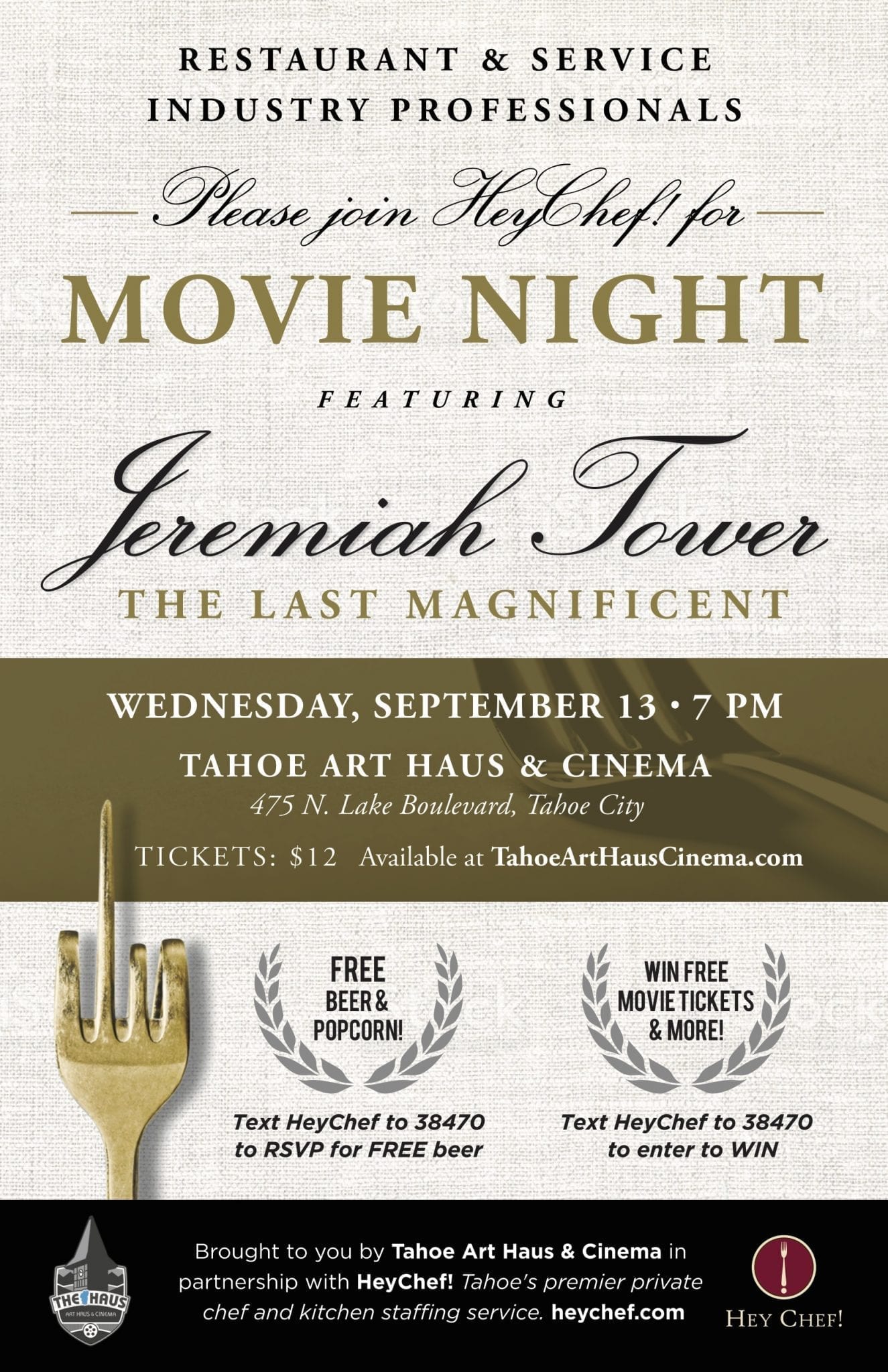 Hey Tahoe Truckee Kitchen Staff, HeyChef! Hosts Movie Night for Restaurant Industry Professionals
The movie begins at 7 p.m. at the Tahoe Art Haus & Cinema in Tahoe City and is open to the public. Tickets are $12 and can be purchased at www.tahoearthauscinema.com.
Guests who RSVP by texting HeyChef to 38470 will be entered to win tickets to the movie and will receive free beer and popcorn the night of. Anyone who can't attend is also invited to text HeyChef to 38470 for a chance to win other exciting prizes.
HeyChef! provides high-end private chefs and kitchen staffing services. Chefs design and execute handcrafted menus in the intimacy of private homes or other exclusive locations. For more information visit www.heychef.com.
Hailed as a "rare, honest, and compelling glimpse into the life of a legendary chef," the film explores the remarkable life of Jeremiah Tower, one of the most controversial and influential figures in the history of American gastronomy. Featuring interviews by Mario Batali, Anthony Bourdain, Ruth Reichl and Martha Stewart, this delicious documentary tells the story of the rise and fall of America's first celebrity chef, whose brash personality and culinary genius has made him a living legend.
"In celebration of HeyChef!'s 20th year in business, we are hosting a fun evening to honor others in our profession," says Holly Verbeck, owner of HeyChef!, Lake Tahoe's premier private chef and kitchen staffing service. "We love our local chef community and this movie is a way to bring all of us together to celebrate the restaurant industry's complex, dignified, and respected history."