Classical Tahoe
All Day
Jul 08 - Aug 12, 2018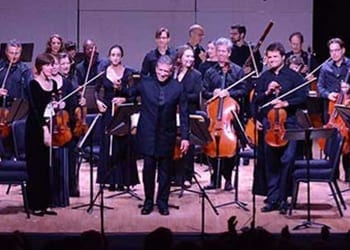 Welcome to the 2018 Season! Our 7th season has so much to enjoy – a World Premiere by Chris Brubeck, written for guest artists Jaime Laredo and Sharon Robinson, opera star Ekaterina Semanchuk direct from the Metropolitan Opera and San Francisco Opera, fiery Spanish pianist and Chopin specialist Leonel Morales, an expanded orchestra for all six orchestra concerts, three uplifting Chamber concerts, the Bach Double Concerto, French Impressionist music… and more. Plus three wonderful events to attend!
Season At a Glance: The Highlights
Friday, July 27:  The music of American composers Copland and Torke starts the festival on a dazzling course, and we celebrate the 100th anniversary of Bernstein's birth with the effervescent music from his ballet Fancy Free.
Saturday, July 28: Sensual and fiery soundscapes from the land of l'amour; Debussy's watercolor soundscapes, including Daniel Gilbert, clarinet soloist, a Suite from Bizet's opera Carmen, and the vivid solo artistry of Spain's Leonel Morales brings us the essence of romanticism in Chopin's Piano Concerto No. 1.
Friday, August 3:  A powerhouse evening of music featuring star mezzo-soprano Ekaterina Semanchuk – of the Metropolitan Opera and San Francisco Opera – as she sings stunning arias from the operas of Verdi, Bizet, and Donizetti.  The concert ends with the expanded Classical Tahoe orchestra in Brahms' rousing and exuberant Symphony No. 2.
Saturday, August 4: Romance joins with Russian fire in this concert highlighting two fascinating cultures; Ekaterina Semanchuk and the orchestra present French composer Chausson's mystical Poem of Love and the Sea, and the orchestra shines in Balakirev's Russian Folk Themes opening, with a finale of Tchaikovsky's joyous and upbeat Symphony No. 2, Little Russian.
Friday, August 10:  The final weekend begins with musical fireworks with Bach's Double Concerto for Two Violins, starring renowned violinist Jaime Laredo, and Classical Tahoe Concertmaster and soloist Laura Hamilton. Guest artist Sharon Robinson reflects the glow of a peaceful Tahoe evening as cello soloist in Dvorak's Silent Woods, and Beethoven's passionate and beloved Symphony No. 7 inspires us, celebrating Classical Tahoe's 7th season.
Saturday, August 11: Beginning with the foot-stomping dance rhythms and flowing melodies of full-blooded Czech and Hungarian music by composers Smetana, Janacek and Kodaly, the season is then capped with a World Premiere – Chris Brubeck's Double Concerto for Violin and Cello, co-commissioned by Classical Tahoe expressly for the guest artists Jaime Laredo, violin and Sharon Robinson, cello.