Local Art Exhibition at Well Being Tahoe
2:00 PM - 5:00 PM
May 21, 2017


Support local artists! This is a free community event open to all to come and enjoy!
Lewis Kawecki has loved art since he was a child. Later in life, inspired by Burning Man, he decided to reconnect with his creative side and fell in love with painting. Lewis began using acrylics but quickly moved on to oil paintings. More recently he has experimented with encaustics (wax) paintings, enamored by the vibrancy of the transparent colors. Lewis has lived in Tahoe for 20 years and the beauty of his surroundings offers endless inspiration for his creations.
Joe Taylor is an art educator and working artist who has been living and working in Kings Beach since 2004. His work explores practices and ideas about dissolving into an experience. He believes that through immersive experiences one can achieve great things and find truths that may otherwise be hidden. Fluidity, play and curiosity are all things that promote the internal motivation needed to find success in whatever you do.
Enjoy a selection of oil and wax paintings, sculptures and ceramics creations.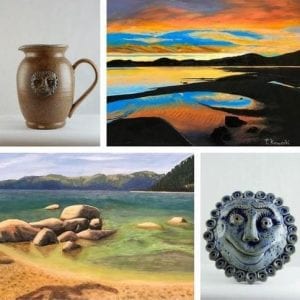 *Parking is limited. Parking lots all within a 2-minute walk from Well Being. Public parking is located on Salmon Ave. (next to the Post Office), Brooke St. (next to Bank of the West) and on North Lake Blvd. (next to Log Cabin).**