Lord Of The Boards – Ski Movie Premiere & Sierra Avalanche Center Fundraiser
6:30 PM - 10:00 PM
Nov 09, 2018
Alibi Ale Works – Incline Brewery and Taproom
5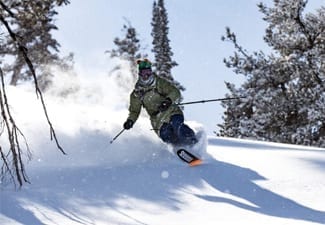 Local Freshies® presents the Lake Tahoe "Trilogy" of movie premieres that we're calling the "Lord of the Boards". How come? Because we're going to showcase a film in each downhill sport – Skiing, Telemark and Snowboarding! As always, we're making sure that this isn't just a "snow porn" extravaganza but also a fundraiser for our local avalanche center, Sierra Avalanche Center. Their daily advisories are crucial in making sure everyone who ventures into the backcountry comes home safe. Join us & the local businesses to help raise money for the Sierra Avalanche Center.
Tahoe Ski, Telemark & Snowboard Movie Premiere
Before Blank
The 1st ever film by the Blank Collective, this movie takes a light-hearted and retrospective look into the similarities & differences that drove each member down their own path. But, like someone once said, "Who resembles… assembles." Their deep passion for skiing began at a young age and that link continues to shape their lives today.
Featuring Alexi Godbout, Vinnie Gagnier, KC Deane, Josh Daiek, Mike Henitiuk and Max Morello
A Telemark Tale
Combining the ancient sport of Telemark with the new school flow. See Tahoe locals Bevan Waite, Ty Dayberry along with Loren Griswold, Sven Gorham & Erik Nordin trek across the globe searching for blower powder, deep stories, and of course, a heckuva lot of fun from as far as the lands of Japan to back home in Tahoe.
Featuring: Bevan Waite, Ty Dayberry, Loren Griswold, Sven Gorham & Erik Nordin
Bird Flu Crew – Short
Lake Tahoe's 2017-18 winter was a little lean but it also brought us one of the all-time snowiest March's on record. South Lake Tahoe's very own Bird Flu Crew presents a short film featuring backcountry boarding, sled carnage and footage from around the basin. We don't know about you, but we're more than hyped to see Lake Tahoe being showcased in a film again. Are you ready? We are!
And don't forget about the raffle! Awesome raffle prizes are being provided by our sponsors to help us FUNDRAISE for the Sierra Avalanche Center.
Awesome raffle items will be provided by Shoreline of Tahoe, Guayaki Yerba Mate, Sierra-at-Tahoe, Graniterocx, Rise Designs, Refuge Coffee, TahoeLab Snowboards & Skis, PRAXIS Skis, Snow Life, Homewood, Baf Wax, Outdoor Gear Lab, Lake Tahoe Yoga, Free Bird Cafe and much more. This means get there early to enter for your chance to win.
Incline Village Premiere
Cost: $5 w/ part of proceeds going to Sierra Avalanche Center
To Buy Tickets: https://www.brownpapertickets.com/event/3739922
Be sure to check https://Localfreshies.com for more information on the tour as we get closer to the dates.
If you would like more information about this event, please contact Alex at (708) 945-9209 or email [email protected]