Fresh Bakin' Presents Mark Farina at Tahoe Biltmore
8:00 PM - 11:55 PM
Dec 29, 2017
Tahoe Biltmore Lodge & Casino
Mark Farina joins us at Tahoe Biltmore on December 29th.
Fresh Bakin' is proud to bring you the return of Mark Farina. All-star DJ's Joe Moontribe and Deon Johnson will also be performing, guaranteeing that this will be a night we won't soon forget.
21+
Tickets available at www.freshbakin.com or Biltmore Cage.
In 2016, DJ / Producer, Mark Farina earned his first No. 1 on Billboard's Top Dance/Electronic Albums with Mushroom Jazz Eight in addition to touring/performing with Gramatik, Thievery Corporation, BPM, Sundance Film Festival, Winter Warmer, Gem and Jam, Lucidity, Corona Sunsets, Neon Desert, Oysterfest, Sonic Bloom, EDC Las Vegas, Pemberton, Electric Forest, Woogie Weekend, Untold Festival and Joshua Tree Music Festival.
Voted as one of the top DJ's in the world by URB, MUZIK and BPM magazines, Mark's taste making skills continue to turn the heads of seasoned Dance Music veterans as well as newcomers to the scene.
When Mark's not touring, you'll find him in his studio working on new releases for his label, Great Lakes Audio. On days off he'll be cruising his '68 Toronado with his son, Dylan (aka "little peanut").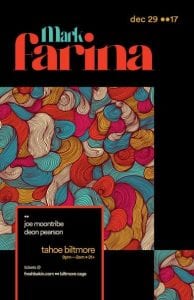 FB Event Page
https://www.facebook.com/events/125763821468731
​            Ticket link
https://www.eventbrite.com/e/mark-farina-at-tahoe-biltmore-tickets-38881371228