Melvin Seals and JGB
7:00 AM - 11:00 PM
Jul 17, 2016
Moe's Original BBQ
30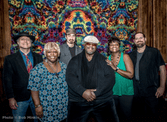 Concert.
Melvin Seals and JGB: Melvin Seals has been a powerful presence in the music industry for over 30 years with a long-established reputation as a performer, recording artist and producer.  Melvin is most revered for his powerful, high-spirited, Hammond B-3 organ, and keyboards in the Jerry Garcia Band.  Melvin spun his B-3 magic with the Jerry Garcia Band for 18 years and in doing so helped pioneer and define what has now become "Jam Band Music".  From blues to funk to rock to jazz, Melvin Seals serves up a tasty mix with a little R&B and gospel thrown in to spice things up.
Adding his rock-gospel-soul-rhythm and blues touch with his funky style of playing, no wonder Jerry nicknamed him "Master of the Universe". Melvin continues to treat music lovers to his unique brand of melodic flavor with JGB. Come see and hear for yourself!
About the venue: Moe's Original BBQ upstairs is a music performance venue in Tahoe City, California serving up breathtaking views of Lake Tahoe. It is also a bar that hosts a variety of other events.