Music on the Beach (*)
6:30 PM - 8:30 PM
Jun 26 - Sep 04, 2020
California State Recreation Area, Kings Beach Ca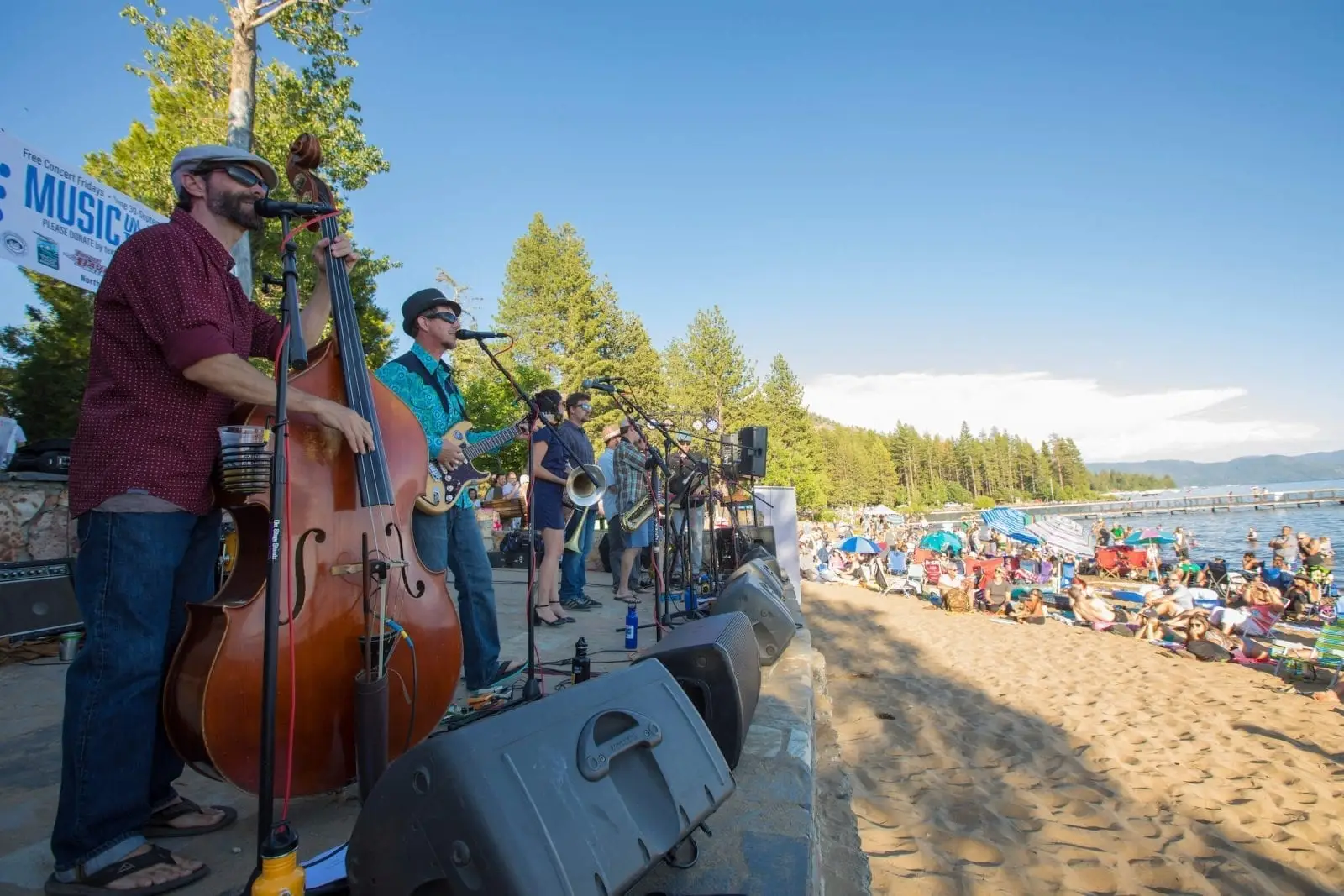 Start your 2020 summer weekends off right by listening and dancing to FREE live music performances featuring a variety of genres on the beautiful North Shore of Lake Tahoe. Concerts take place at Kings Beach State Recreation Area and start at
6:30pm
. NTBA will be serving beer made with pure Lake Tahoe Water from 
Alibi Ale Works
, a local craft brewery, in addition to red and white wine from kegs and soda. Local food vendors will have food available for purchase from 6-9pm. No outside alcohol or pets are permitted.
Free Summerlong Concert Series | Fridays 6-8:30pm | June 26 – September 4 (Excluding July 3 & 31), 2020
June 26: Peter Joseph burtt & the Kingtide
July 10: The Sextones
July 17: Tracorum
July 24: Vokab Kompany
August 7: The Blues Monsters
August 28: Sneaky Creatures
2020 Music on the Beach Lineup
Peter Joseph Burtt & the Kingtide
June 26
Peter Joseph Burtt is a lifelong drummer and singer/songwriter. His music draws from many sources to inform his music and chronicle the years he spent living and studying with master musicians of Africa. Much of his music is played on traditional instruments, notably the lute-like Kora and the Mbira or thumb piano.
The Sextones
July 10
From the high deserts of Nevada, The Sextones distinctive brand of soul music with smoked out guitar riffs, growling bass lines, commanding drums, sticky organ comping and honest, but catchy vocal acrobatics. The band has been touring since they were minors in high school and will continue to spread their sound throughout the United States and Europe.
Tracorum
July 17
Tracorum is an original rock and soul band from San Francisco. The band's musical journeying is a blend of Southern Rock, Blues, and Americana. A passion for rhythmic diversity adds elements of New Orleans Funk, Latin-Caribbean and Gospel stomp to their unique sound. Storytelling steeped in rich vocal harmonies and urban legend is the vehicle on which this quartet travels.
Vokab Kompany
July 24
Vokab Kompany, from San Diego, is a genre-defying collection of sound comprised of vocalists Robbie Gallo (B3k) & Burkey. With a live accompaniment of a five-piece band, they use heavy synths, guitars, saxophone, bass & drums to create an innovative sound that blankets audiences & leaves them in musical elation. The spontaneity of the band's live performance has allowed them to cross genres effortlessly.
The Blues Monsters
August 7
The Blues Monsters of North Lake Tahoe & Reno play a powerfully unique combination of R&B, funk, jazz, & Chicago-style blues high in the mountains. Polished, tight, yet bursting at the seams, their originals are fresh & new, even though it's still the blues. Their covers are framed in signature arrangements that demonstrate the depth of the band's talent.
Sol Peligro
August 14
Sol Peligro is a Latin/alternative band from Sacramento. The group has been paying their dues doing shows and writing their own material touching on today's political climate, personal loss, & social unity with a modern blend of fun-loving music always striving to deliver a positive message with an infectious nod to Cumbia, Salsa, Reggeton, & Tex-Mex influences.
Bicicletas Por La Paz
August 21
Bicicletas Por La Paz, Oakland's leading Latin circus fusion band, brings you folkloric cumbia with a modern psychedelic twist. This 9-piece creates a high-energy sound of funk, reggae, ska, & Latin grooves with thick harmonies & hip-hop drive to keep you moving. They share a strong message of people power in both Spanish & English to infuse their audience with joy & community.
Sneaky Creatures
August 28
Sneaky Creatures is a mischievous alt-gypsy swing septet from Kings Beach, and they have been creeping around the North Lake Tahoe music scene since 2011 with their unusual blend of rock, jazz, and dixieland funk. This lineup of seasoned Tahoe musicians come together to create a sound that is at once unique and original, and also strangely familiar.
Pacific Vibration
September 4
Pacific Vibration is a soulful reggae band based in the San Francisco Bay Area that plays a mix of original, rootsy, California/Island style reggae with touches of world, soul, funk, & rock. The band is fronted by Kerry Wing, a singer-songwriter & guitarist, born in the Santa Cruz mountains, & Randy Nakamura, a Hawaiian born singer-songwriter & Ukulele player.