The Neon Lazer Utopia feat. Slynk
For the safety of residents, the North Lake Tahoe destination is asking visitors to refine travel plans and come again when travel is safe and viable. As a result of the current Stay at Home orders, most regional events have been cancelled and/or rescheduled. Please inquire directly with the event producer if you have questions during this time of uncertainty.
North Lake Tahoe will welcome visitors back with the same open arms we've always had – but for now, for the safety of all our residents, please stay home. We encourage you to enjoy our destination from afar – plan a future trip using resources on our website, enjoy Lake Tahoe's tranquility through our social pages @TahoeNorth and we'll see you when this is all over.
9:00 PM - 9:00 PM
Mar 03, 2017
Tahoe Art Haus & Cinema
15 – 20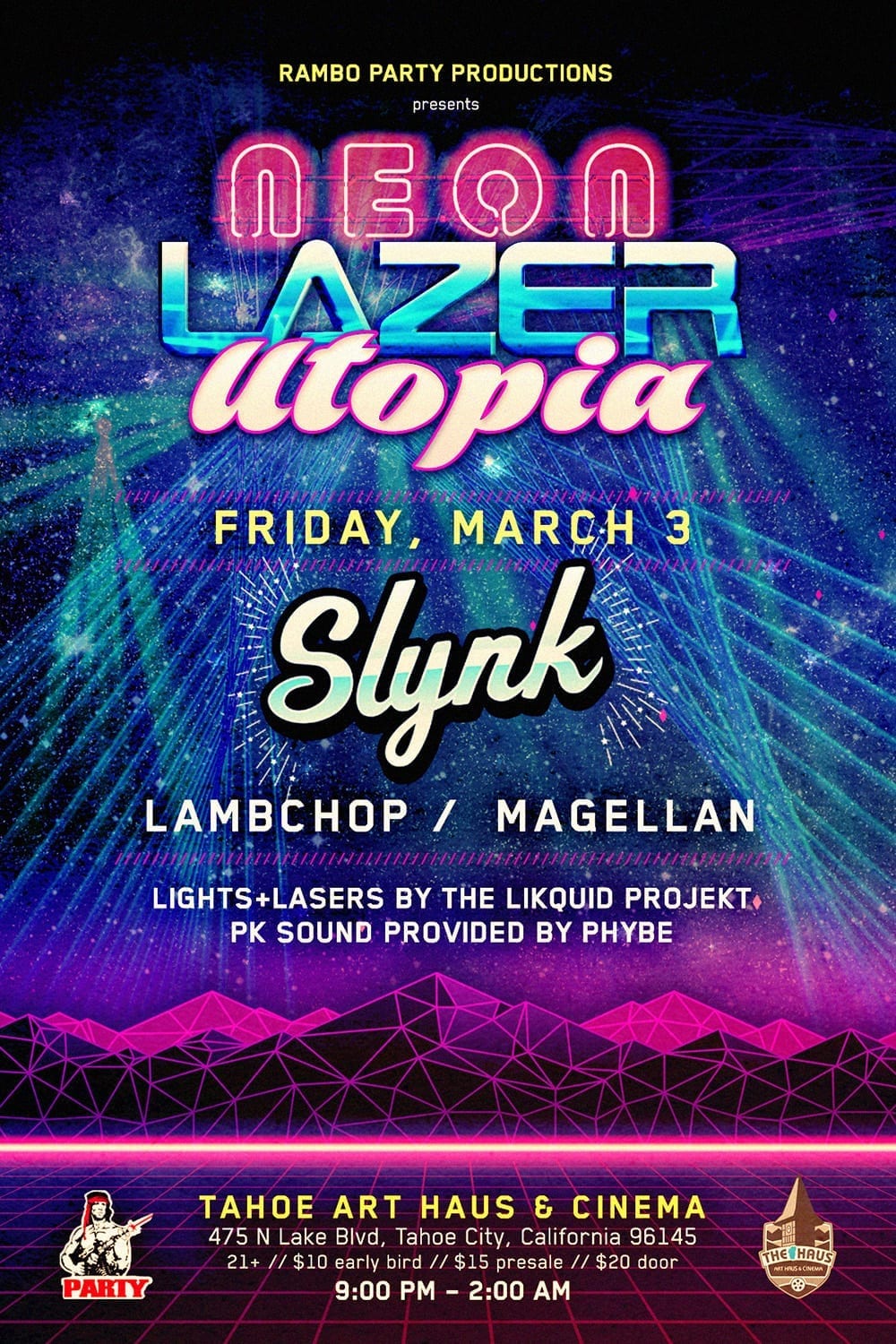 Rambo Party Productions Presents:
Welcome to the Neon Lazer Utopia: where reality is shaped into a waterslide oasis of kaleidoscope visual pleasure. The Likquid Projekt and Rambo Party Productions are working closely together to build a special visual show with eXtra lasers and neon visuals, utilizing the gigantic movie screen at the Tahoe Art Haus & Cinema.
Bright, kaleidoscopesque, pattern heavy attire is strongly enouraged. We believe participants are an integral part of the art project party!
And the MUSIC: if you missed the last Intergalactic Funk Formal or Psychedelic Rodeo, DO NOT MISS a modern master of turntablism: Slynk; hailing from Australia and currently residing in Vancouver, BC.
Lineup:
Slynk

Slynk is a music producer, mystical funk wizard, a highly trained turntablist, and world-class party starter. His Shambhala sets are legendary. It's Funky Fresh and it's legit!
Lambchop

Magellan

Lights and Lasers by The Likquid Projekt
PK Sound provided by PHYBE
*Tahoe Art Haus & Cinema, Tahoe City
*21+
*$10 early bird // $15 general presale // $20