Numinous Ski Film Premiere
6:00 PM - 8:00 PM
Oct 05, 2017
Homewood Mountain Resort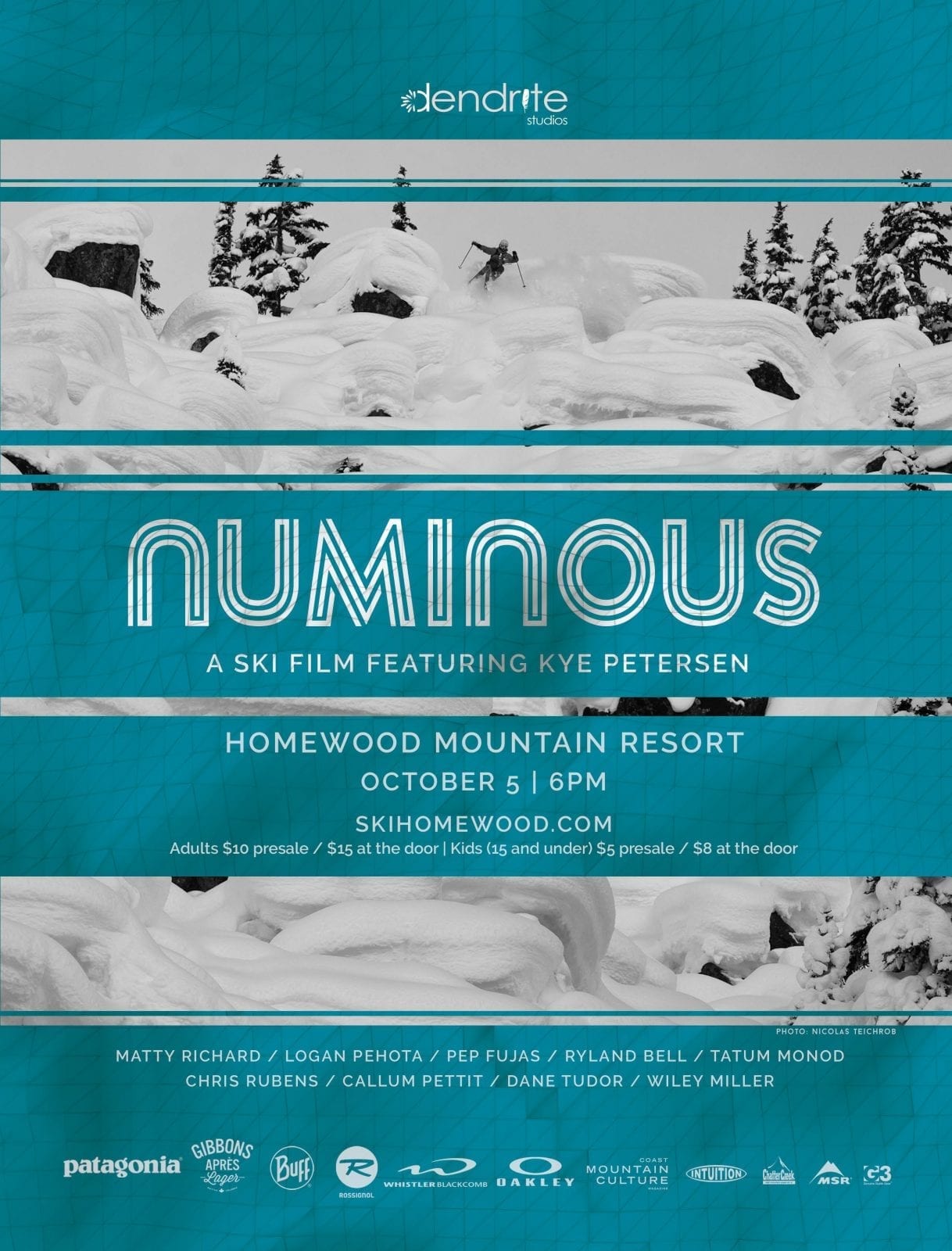 Join us for a night of ski film premieres on Thursday, October 5th to build stoke for the upcoming winter! The night will be filled with raffles, giveaways, live DJ and of course 2 epic new ski films.
Janky Films' "Room for Improvement"
Tahoe film crew Janky Films showcases local skiers and snowboarders riding Tahoe resorts and backcountry along with clips from South America in this year's  "Room for Improvement". In between storms during the 2016/17 season the crew enjoyed some of the best conditions the Tahoe area has seen in the past 6 years. Featuring riders Jed Kravitz, Hentry Holdsworth, Pete Kukesh, Andrew Putnam, Hazen Woolson, Keenan Hawkings, Eli Sobel, Anthony Santos, Chris Hounsell, Sam Wallace, Connery Lundin, Mike Legay, Keith Dillon.
Kye Petersen's "Numinous"
A movie two years in the making, Kye Petersen and friends travel the world in search of steep lines and epic terrain, capturing beautiful footage of nature's raw landscapes. Shot exclusively in British Columbia the film features cinematography by Dendrite Studios and features riders Kye Petersen, Logan Pehota, Matty Richard, Dane Tudor, Callum Petit, Chris Rubens, Pep Fujas and Ryland Bell.
Date: Thursday, Oct 5 | Time: Door at 6pm
Location: Homewood Mountain Ski Resort
Tickets:
Adults $10 presale / $15 at the door |Kids (15 & under) $5 presale / $8 at the door
Purchase Presale Tickets Here.
Homewood Passholders receive $5 discount but must present 2017/18 Season Pass upon arrival.