Scott Pemberton with Jive Coulis
8:00 AM - 11:00 PM
Aug 21, 2016
Moe's Original BBQ
10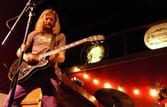 Concert.
Scott Pemberton: Scott Pemberton's sound is much like the vibe of his native Portland:  freaky, fun and just the right amount of weird.  The best way to categorize his music is with the moniker "Timber Rock".  Scott naturally applies his own lens/stamp to the sounds of the Pacific North West, the region he has always called home.  The deep jazz, NW rock/grunge, blues roots and the west coast funk.  It's all there, and often all in the same song.   Listeners are finding this honest, original and to-the-point music refreshing and fun.
Jive Coulis: Jive Coulis, pronounced ˈJīv Kü-ˈlē, is a three piece rock, blues, and funk band from Ashland, Oregon. Their repertoire consists of mostly original songs with a mix of classic rock, funk and jam covers.
About the venue: Moe's Original BBQ upstairs is a music performance venue in Tahoe City, California, serving up breathtaking views of Lake Tahoe. It is also a bar and hosts a variety of other events.