Second Annual Hogs for the Cause Courtyard BBQ & Silent Auction at Crystal Bay Casino
1:00 PM - 5:00 PM
Aug 26, 2017
Crystal Bay Casino Courtyard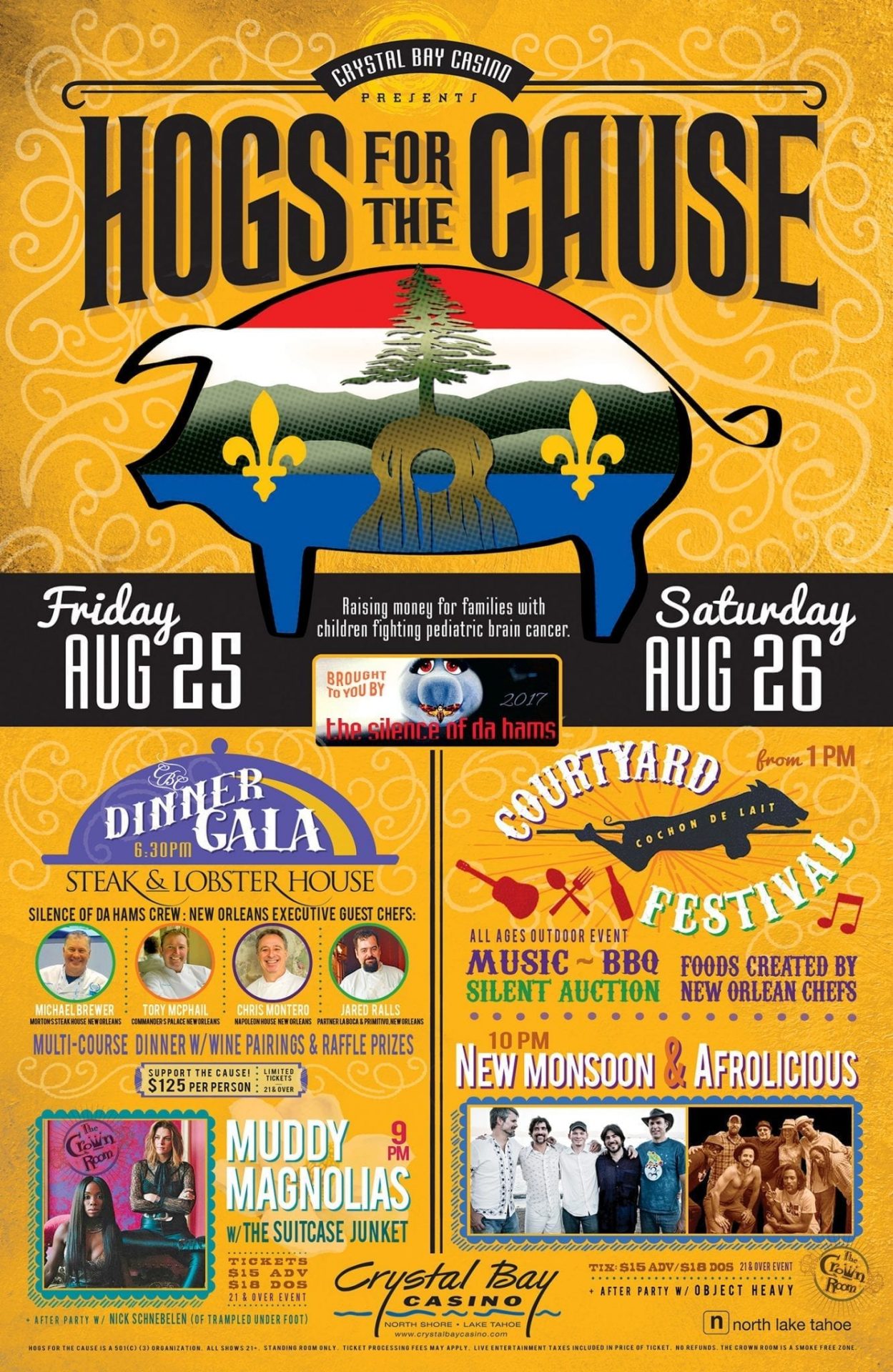 Join us out in CBC Courtyard for our Second Annual Hogs for the Cause BBQ Cochon de Lait and Silent Auction!
The Crystal Bay Casino is very proud to be supporting the second annual benefit supporting the families of pediatric brain cancer patients. Through the 501c (3) organization "Hogs for the Cause" we look forward to two days of events (August 25th & 26th) funding this most worthy cause. Four esteemed chefs from New Orleans have agreed to come from Louisiana to the North Shore of Lake Tahoe to expand these fund raising efforts and to share in some NOLA food, tunes and frivolity.
At 1:00pm on Saturday afternoon the festivities move out to the rear parking lot of the CBC. Our guest chefs: Mike Brewer, Chris Montero, Tory McPhail & Jared Ralls will prepare a New Orleans favorite Cochon de Lait. Cochon de Lait is one of Acadiana's most famous and delectable dishes—marinated, pit roasted young suckling pig, thin sliced and served on a po-boy. A staple at the New Orleans Jazz and Heritage Festival this dish is not to be missed. In addition to the good eats there will be adult beverages, entertainment and a silent auction. – ALL AGES EVENT!
On Saturday evening our Hogs for the Cause weekend will be capped off with a Crown Room concert featuring New Monsoon and Afrolicious. Tickets are $15 advance and $18 day of show, and is 21 and Up Only.