Share the Love Free Community Breakfast and Speaker David Rendall
9:00 AM - 10:30 AM
February 08, 2019
North Tahoe Event Center
Free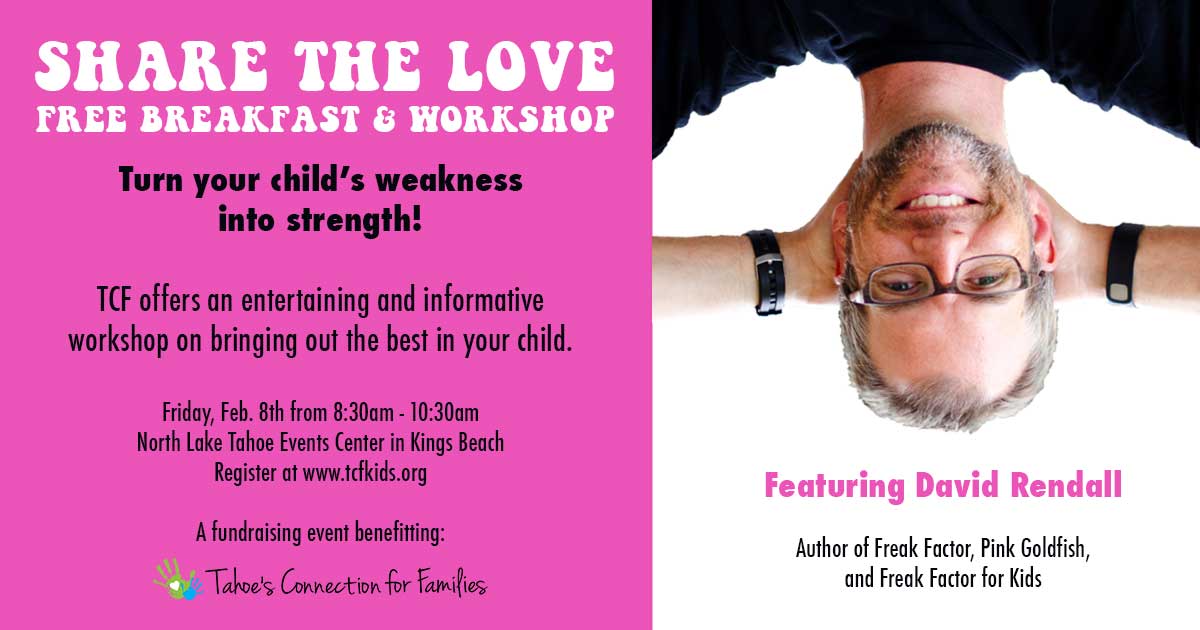 Tahoe's Connection for Families will host the Share the Love Free Community Breakfast and provide participants with a free book (Freak Factor). David Rendall, international keynote speaker and author, will lead a session on "Freak Factor for Families" and build off his highly acclaimed books, Freak Factor and Freak Factor for Kids.
Parents may think their children are too loud or too quiet, too hyperactive or too sedentary, too organized or too messy. Instead of trying to change these traits, attendees will learn how to frame unique characteristics in a positive way to help kids become more of who they are, not turn them into someone else. The workshop will focus on encouraging kids to be more different and more unique, not more average and more mediocre.
According to Speaker David Rendall, "What makes us weird also makes us wonderful. What makes us weak also makes us strong."
Most parents think they should find and fix their child's weaknesses. Unfortunately, this just leads to frustration and failure. The child's "weaknesses" are actually the best clue to their strengths. Rendall will discuss how building on strengths, not fixing weaknesses, is the best strategy.
This Free Community Breakfast and Workshop is part of TCF's Share the Love campaign this February to give back to the community. At this free event, attendees will have a light breakfast, receive a free copy of Freak Factor, and other promotional materials from sponsors.
Pre-registration is required to receive the free book and materials. Visit www.tcfkids.org to register or call 775-832-8230 for more information.
Tahoe's Connection for Families, a 501(c)(3) nonprofit organization in Incline Village, empowers families through parenting education, child learning experiences, and a supportive community. Since 2001, TCF has been dedicated to building a strong community of families in the North Lake Tahoe.
TCF is thrilled to have David Rendall at the event. Rendall has a doctor of management degree in organizational leadership and is the thought leader on harnessing weaknesses to leverage the unique potential of individuals and organizations. He has spoken to audiences on every inhabited continent. Before becoming a professional speaker, David Rendall was a leadership professor, stand-up comedian, and manager for nonprofits that provided employment for people with disabilities. For more information on Mr. Rendall, visit http://www.drendall.com.