Sierra Speaker Series: Children of the Pioneer (Live Performance of Original Music)
5:00 PM - 6:30 PM
May 14, 2022
Donner Memorial State Park Visitor Center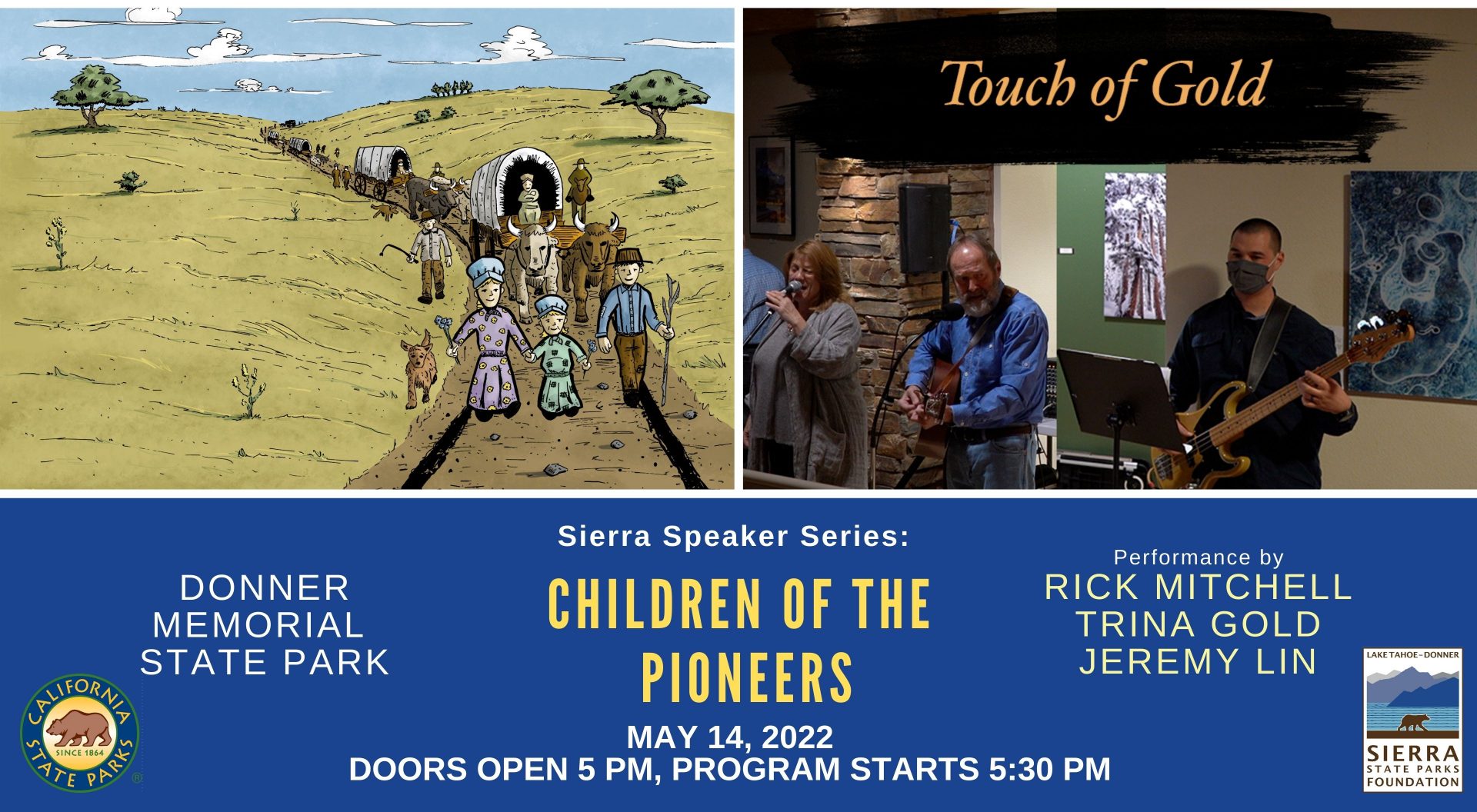 The monthly Sierra Speaker Series connects folks to the rich cultural and natural history of the area. Join us on May 14th at Donner Memorial State Park Visitor Center to learn and engage! Doors open at 5 pm, and the presentation is to follow at 5:30 pm. Admission is a suggested $5 donation. Light refreshments will be available. Parking is free after 5 pm.
"Children of the Pioneers" will be a live performance – original folk music by Rick Mitchell – of songs featuring brave and inspirational children traveling west by wagon train in the 1840s. Each song will be introduced with its historical background to set the context and mood of the song. There will be time for questions and answers from the audience, followed by a good old-fashioned sing-a-long! You'll come away inspired and maybe even learn a bit of pioneer history! Listen to Children of the Pioneers on YouTube, Spotify, and Apple Music.
Musicians' Bios:
Rick Mitchell spent thirty years directing a science camp for kids near Sequoia National Park. After retiring, he and his wife, Randy, moved to Truckee. It didn't take long for Rick to get involved with Truckee youth programs. He began leading campfire programs for the Sagehen Outdoor School, as well as leading music sessions for day camps in the Truckee area. He quickly became a docent at Donner Memorial State Park. The pioneer stories resonated with him and he began writing songs about the pioneer experiences. "I noticed that the hardships of the pioneer life were well-documented, but often it was the children that rose to the occasion and were an inspiration to their parents and families." Thus, "Children of the Pioneers" was born! It has been well over a two-year period that brought this project to fruition. Writing and practicing the songs, recording the album in a local recording studio, and writing the associated Children of the Pioneers book were just part of the process. It's been an amazing all-volunteer effort from the artist, desktop publisher, consulting teachers, service clubs, musicians, and encouragement from The Tahoe Truckee School of Music and the Sierra State Park Foundation. " I believe that kids today have every bit as much positivity and resiliency as the pioneer children portrayed in this book and songs." "If you are looking for some good news in the world, get involved with the local kids!"
Trina Gold – Owner Big Water Ci. A Local Media marketing company since 2000. Trina Gold has lived in Tahoe for the past 42 years, owning four small businesses through the years, raising a family, and donating time and resources to several local nonprofits. Board member North Tahoe Arts 2002-4. A small business owner since 1987 and a lifelong artist her landscape art can be seen downtown Truckee at Gallery 5830′ or on TrinaGold-FineArt.com Trina joined Rick Mitchell three years ago on his Donner Party Project.
Jeremy Lin (bass player and backing vocals) is a park interpreter and outdoor leader. He teaches natural and cultural history, leads snowshoe and mountain bike tours, and is a member of the California State Parks Scuba Dive Team. Jeremy lives with his wife Jasmine in Truckee, CA with their dog and two cats.