Sierra Speaker Series: Virginia Reed's Across the Plains Song Cycle (VIRTUAL)
5:00 PM - 6:30 PM
Aug 15, 2020
Sierra State Parks Foundation Facebook Page
Free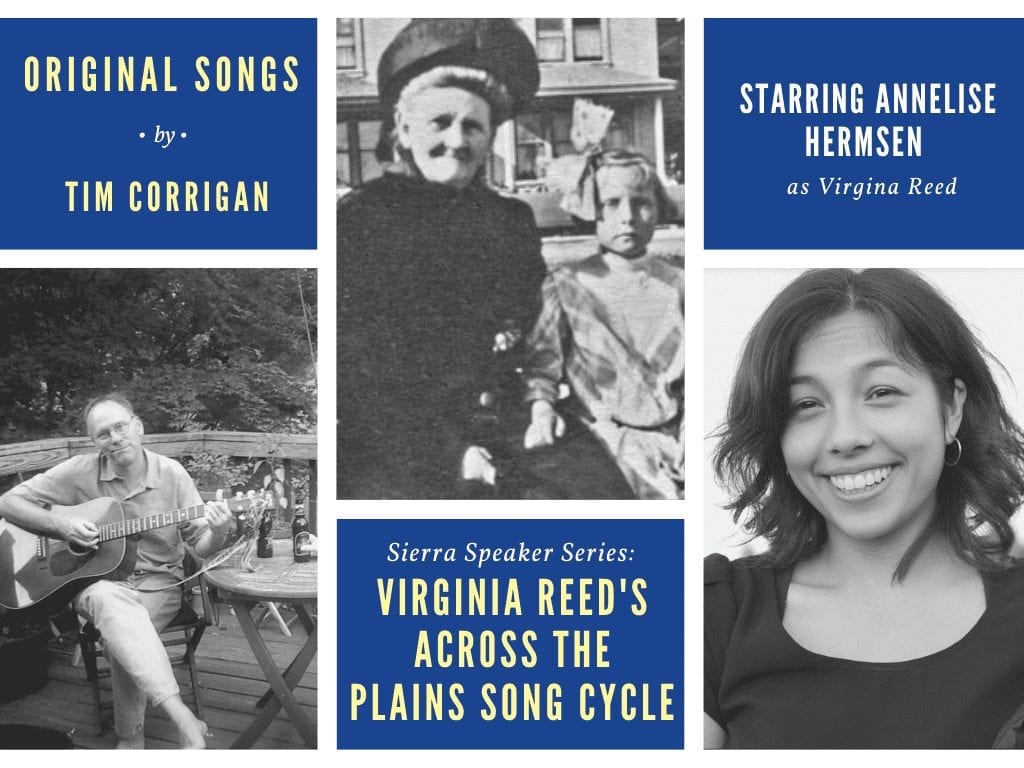 Sierra Speaker Series has gone virtual! Tune in on SSPF's Facebook Page. A $5 donation is suggested for this free program.
"Across the Plains" is an 18-song cycle for piano, guitar, and voice chronicling the Donner-Reed Party's transcontinental emigration to California in 1846, through the voice of Virginia Reed when she was 13 years old. The songs, based on Mrs. Reed's memoir of the same name published around 1891–her prose turned to Tim Corrigan's verse–are conveyed with simple directness but with great integrity, as befits the pioneering spirit. These are songs of suffering and hope, hopelessness and perseverance, tragedy and joy. But they speak to our history–a shared history, a sacred one–as Californians.
The "Across the Plains" project was created over two years, including a number of house concerts performed for friends. Ribs were not served at those gatherings.
Tim Corrigan, the creator of the "Across the Plains" project, is a native Californian, raised in Sacramento, and now lives with his wife, Carrie, dog Ramsay, and cat Tigre, in Santa Rosa. He has been writing songs for over 20 years and has also published essays in various literary journals. Tim teaches English and Journalism at St Vincent de Paul High School in Petaluma.
Annelise Hermsen, playing protagonist Virginia Reed, was on stage throughout high school; her top roles included Sister Sarah Brown in Guys and Dolls, as well as Marian Paroo in The Music Man. She spent a summer studying theater at the University of California, Los Angeles and a semester in theater at the Santa Rosa Junior College, playing one of the lead roles as Yoyo in How the Garcia Girls Lost Their Accent. Annelise is currently studying theater at the University of California, Irvine. She is honored and energized to bring Tim Corrigan's composition of the story of the Donner Party to life.