Skogsloppet Cross Country Ski Race
For the safety of residents, the North Lake Tahoe destination is asking visitors to refine travel plans and come again when travel is safe and viable. As a result of the current Stay at Home orders, most regional events have been cancelled and/or rescheduled. Please inquire directly with the event producer if you have questions during this time of uncertainty.
North Lake Tahoe will welcome visitors back with the same open arms we've always had – but for now, for the safety of all our residents, please stay home. We encourage you to enjoy our destination from afar – plan a future trip using resources on our website, enjoy Lake Tahoe's tranquility through our social pages @TahoeNorth and we'll see you when this is all over.
7:30 AM - 11:00 AM
Mar 17, 2019
Tahoe Donner Cross Country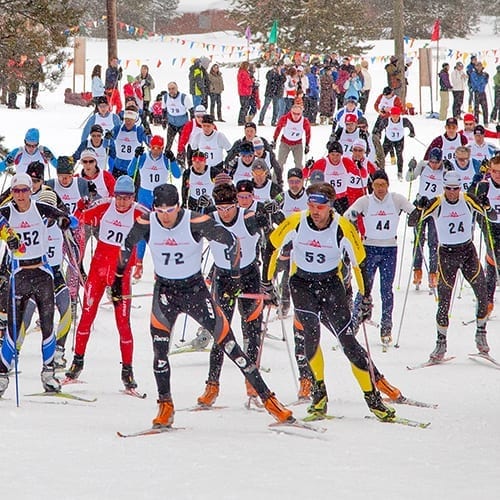 This is your chance to try your hand at a ski race! You could win some of our GREAT raffle prizes and support a great cause. Skogsloppet is Norwegan for "race through the forest."
This event is put on by Truckee's Middle and High School Nordic ski teams as a fundraiser. The course length is typically 10-15km, depending on conditions, and the route meanders through Euer Valley and the home range near TDXC. A shorter course is available for children.
Volunteer to help with course set up, registration or timing by emailing [email protected]
Time: Bib pick up from 7:30-8:30 a.m. Racing starts at 9 a.m.
Cost: See website for more info.