Sports Conditioning for Golfers
5:10 PM - 6:00 PM
Jun 06 - Oct 31, 2019
Incline Village Recreation Center
16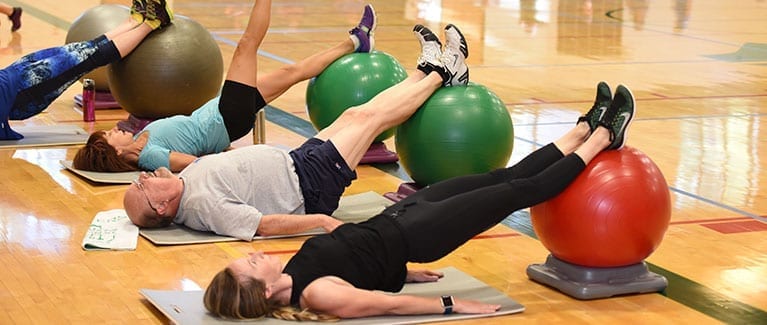 The Sports Conditioning Class on Thursdays will focus on summer sports and golf-specific strength, flexibility, balance, endurance, agility and coordination. Each class will include a warm up, group drills, stretch, 10-station circuit, summer sports and golf specific tips, and informational handouts. Classes are held in the Incline Village Rec Center Group Fitness Room.
2019 Details
Dates: June – October
Time/Day: Thursdays, 5:10 p.m – 6:00 p.m
Location: Incline Village Recreation Center Group Fitness Room
Fee: Free for Recreation Center Members. Included with admission to the Rec Center: $16, $12 w/IVGID Pass,  Seniors (55+) $13, $10 w/IVGID Pass.  Students/Youth 9-17 years old, $4.
About the Instructor – Trish Mckowen
NSCA Certified Personal Trainer, FMS Functional Movement Screen, Titleist Performance Institute (TPI) Level 1 Golf Fitness Trainer, K-Motion 3D Golf Level 1, TRX Functional Trainer, TRX Group Trainer, TRX Rip Trainer, Spinning Instructor, Bio-Impedance Body Fat Analysis, Diamond Peak Ski Team Coach, BA In Journalism
Trish recently moved back to Tahoe bringing over 25 years in Fitness to the Rec Center, 20 of those years as the owner of Fit Moves Personal Training. Her love of fitness is rooted in her upbringing here in Incline Village where she excelled as a competitive swimmer and alpine skier. As a trainer she is fully invested in helping her clients reach and surpass their health and fitness goals having worked with teenage athletes looking for sports specific training, to weight loss clients seeking a complete transformation and post-surgical joint replacement clients hoping to recover and restore full function. Her latest fitness passion in helping golfers uncover mobility and stability problems utilizing the FMS/TPI Golf Screens and 3D K-VEST technology with the goal of creating an efficient, consistent golf swing. Trish's priorities are the same for every client; realistic goal setting, progression and measurable results. Trish believes that people often need help to create positive change in their lives, to discover their own "personal power and self-motivation" and to uncover that place inside where real lasting transformative change is possible. "Inspired by your journey, dedicated to your results."
980Incline Village Recreation Center: 980 Incline Way, 775-832-1310