Street Vibrations Fall Rally – Reno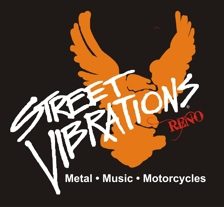 Reno, Tahoe, Carson City & Virginia City, Nevada
The Street Vibrations Fall Rally draws over 50,000 motorcycle riders each year to the Reno Tahoe area during the last week of September. As the motorcycles rumble through town, you will start to understand how the event gets its name. Considered one of the largest motorcycle rallies in the nation, this free event will have you in awe of the variety of two-wheeled pieces of art.
Open to bikes of all kinds, you can see everything from choppers to cruisers to street bikes. All you need to do to participate is register on the Street Vibrations website. This is one motorcycle rally that is unlike another other, participants often say that the windy roads backed up to Reno Tahoe's sprawling mountain and desert scenery make our area the perfect place for a ride. Taking place throughout downtown Reno, Tahoe, Sparks, Virginia City and Carson City, motorcycle lovers will experience live music and entertainment, vendors, poker runs and slow rides. In particular, downtown Reno is transformed into hog heaven as participants line the streets to display their motorcycles for viewing pleasure.
An event that is not-to-be-missed is Monte Perlin's Globe of Death where stuntmen take on daredevil maneuvers within a mesh sphere ball. Plus, the local Harley Davidson stores hold events, so these are great places for Street Vibrations participants and spectators to check out.
Looking for a place to take a break after a long ride? Stop in to see the International Bikini Team bartending the bikini bar inside the Reno Ballroom or maybe the Hog Town Bar in the Eldorado Plaza is more your style. Either way, you are sure to enjoy a nice cold one on the crisp September day.
Make sure you find everything you need for your bike at the Bike Corral, where there are previously-owned motorcycles for sale along with other motorcycle accessories. Hundreds of vendors are set up throughout the area, so make some time to check out what they have to offer.
Don't have a bike?
Being a spectator is almost as fun as participating in the rally! As a spectator, you can stroll through downtown, enjoy a collection of arts and crafts, munch on delicious food, and boogie down to the world-class live entertainment.
STREET VIBRATIONS SCHEDULE
The Street Vibrations Fall Rally typically runs from Wednesday through Sunday with events taking place throughout Reno, Lake Tahoe, Sparks, Virginia City and Carson City. In addition to the free concerts, vendors and poker runs, there are scheduled, coordinated motorcycle rides that participants can join. To find the most up-to-date schedule for the event, visit the Street Vibrations website.
Check out more information about this year's Street Vibrations including dates and upcoming events.