Tahoe Comedy North presents headliner Joey Medina
8:30 PM - 10:00 PM
Jul 18, 2018
Crystal Bay Casino
17 – 20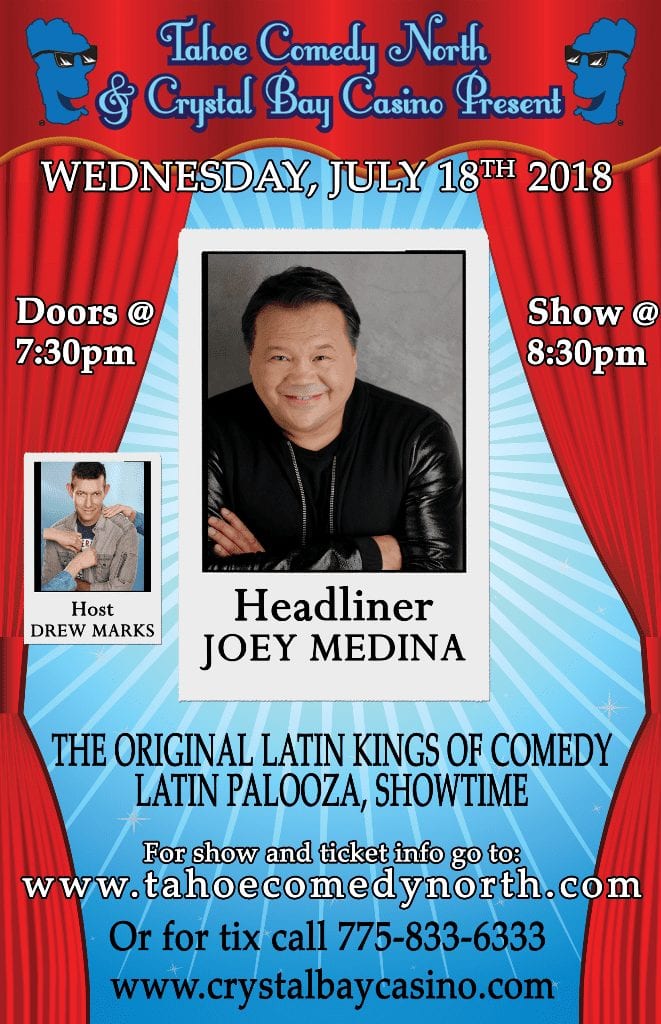 Tahoe Comedy North presents headliner Joey Medina from Latin Kings of Comedy with host Drew Marks!
Special Seated Crown Room Show; Doors 7:30PM; Show 8:30PM
Tickets are $17 Advance and $20 Day of Show;
Tickets can be purchased at our Box Office, 775-833-6333 ext. 1 or online: http://bit.ly/2JYIcB6
Show is Ages 21 and Over Only
Joey Medina, a Puerto Rican who was born and raised in the Bronx, New York, is one of the freshest and funni¬est comedians around today. Joey spent most of his teen years perfecting his boxing skills that would one day earn him a State Championship as a professional and a shot at the world title before becoming a heavy-hitter in the comedy arena.
Joey is a veteran of over 50 television appearances and he just completed his own SHOWTIME Comedy Special, "Joey Medina: Taking Off The Gloves". Joey toured alongside, Russell Peters in New Zealand and Australia where he performed in front of over 36,000 fans.
Joey starred in Paramount Picture's "The Original Latin Kings of Comedy" with Cheech Marin, Paul Rodriguez, George Lopez and Alex Reymundo. Joey produced & directed "Cholo Comedy Slam". He also starred in "Lat¬in Palooza" which followed his award-winning debut comedy CD "Below the Belt." He can be seen on "Cheech Marin and Friends: Live From South Beach". Joey is also recognized as one of the hosts and producers of "Loco Com¬edy Jam," a stand-up comedy show featuring some of the best Latino comedians in the country on Mun2 Television. He also wrote a screenplay for R & B artists Baby Bash and Chingo Bling called, "Primos" and is currently in pre-production on his seventh screenplay, a family film entitled "CHEWY."
Latin Style Magazine says "Joey Medina is one of the few comedians that can bridge together urban with mainstream comedy to make his style a hit throughout the country."
Hosting the show is a headliner in his own right, Drew Marks.