Tahoe Donner Winter Job Fair
10:00 AM - 1:00 PM
Nov 02, 2019
Alder Creek Adventure Center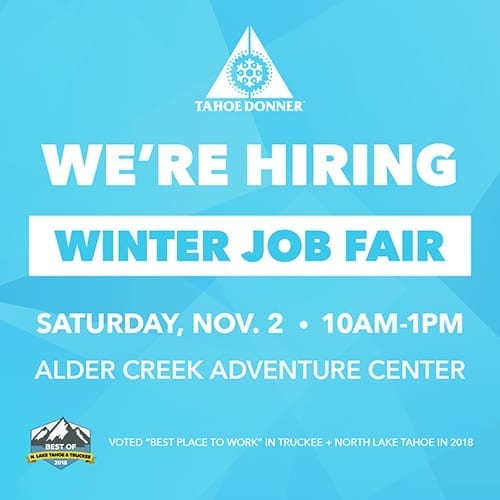 If you're looking for fun and rewarding seasonal work this winter, don't settle for anything less than the best. Named 2018's "Best Place to Work" by the Sierra Sun and local community, Tahoe Donner has a wide range of full-time and part-time positions available at multiple amenities, including the Downhill Ski Resort, Cross Country Ski Center and several Tahoe Donner restaurants.
Learn more about seasonal positions, perks, and long-term career possibilities at the Tahoe Donner Winter Job Fair on Saturday, Nov. 2. Managers will be onsite to meet with candidates and answer questions, and anyone interested will be able to apply on-the-spot.
Competitive wages, great perks and friendly culture. Learn more at tahoedonner.com/careers.