Tahoe Mountain Sports Nachtspektakel at Diamond Peak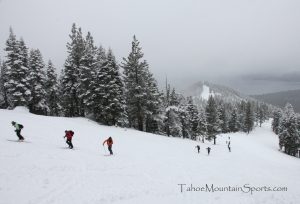 The Nachtspektakel is a guided skin up the mountain, followed by a 3-course dinner and drinks at Snowflake Lodge and ending with a private nighttime ski down. Bring a head lamp, dress warmly, and pack a pair of sandals or comfortable shoes for the dinner. Free backcountry rentals can be reserved through Tahoe Mountain Sports.
Details & Registration:
Saturday, January 30th, 2-9.p.m.
Tickets: $45, includes backcountry rentals, two hours of lift served skiing (2-4 p.m.), a guided skin up the mountain, meal & drinks, and a private, nighttime ski down
Free backcountry rentals must be reserved ahead of time with Tahoe Mountain Sports and picked up by January 29th at 6 p.m., or other arrangements made for day of pick up
Register at Tahoe Mountain Sports (11200 Donner Pass Road #5e, Truckee, CA), online or by calling (530) 536-5200. Any event changes made due to winter weather will be announced by January 29.