Tahoe Teddy Bear Picnic
10:00 AM - 2:00 PM
May 22, 2016
Aspen Grove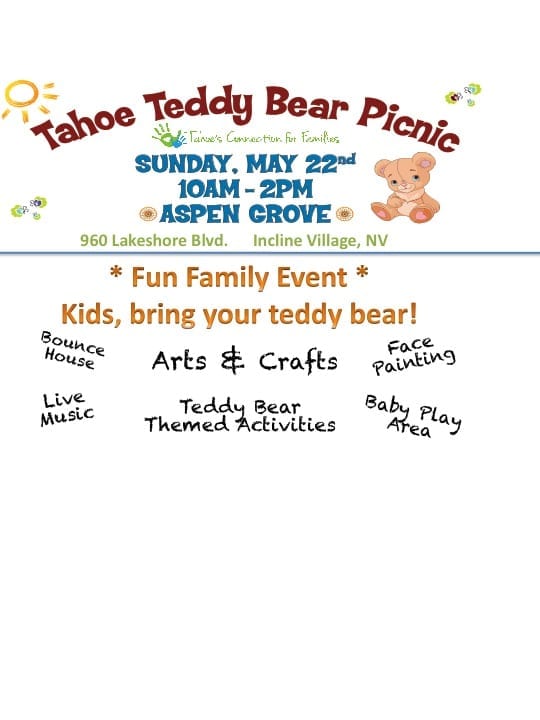 Tahoe's Connection for Families' 6th Annual Tahoe Teddy Bear Picnic is on Sunday, May 22 from 10 a.m. to 2 p.m. at Aspen Grove in Incline Village.
Kids and their teddy bears visit arts & crafts, game, and activity stations, such as Bear Birthday Party, Camping, Construction, Face Painting, Bear Salon, Doctor Check Up, a bounce house, and many more. This event is a great place to mingle with friends and get to know other families in our community.
A $35 Bearific Ticket includes a teddy bear, TCF water bottle, lemonade, drawstring backpack, and more! A $15 General Admission Ticket includes unlimited access to bounce house and teddy bear themed booths and activities. Food will be available for all to purchase from local vendor Starkey's Food Truck!
Tahoe's Connection for Families (TCF) is a nonprofit organization in Incline Village that provides parenting education and early childhood development programs for families with infants and toddlers up to preschool. Founded in 2001, TCF has served thousands of families in Incline Village and North Lake Tahoe.