Tailgate Talk with Lauren DeLaunay Miller
6:30 PM - 8:30 PM
May 26, 2022
Alpenglow Sports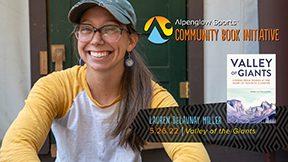 We are so happy to be welcoming author, climber, and all around steward of the mountains Lauren DeLaunay Miller to the shop this Thursday, May 26th for the culminating event of the Community Book Initiative, a single Tailgate Talk! Lauren is joining us to share her new book, "Valley of Giants: Stories from Women at the Heart of Yosemite Climbing".
After noticing an underrepresentation of women in climbing literature, she committed to telling the stories of her Yosemite foremothers. And thus her book was born. Come out to our shop on Thursday evening to hear more straight from the source! Doors open at 6:30PM, show starts at 7PM.
The event is FREE to the community and all of the beverage proceeds benefit the Tahoe City Friends of the Library!