TAUK + JAZZ is PHSH feat. Felix Pastorius
9:00 PM - 9:00 PM
Nov 16, 2019
Crown Room at Crystal Bay Casino
18 – 23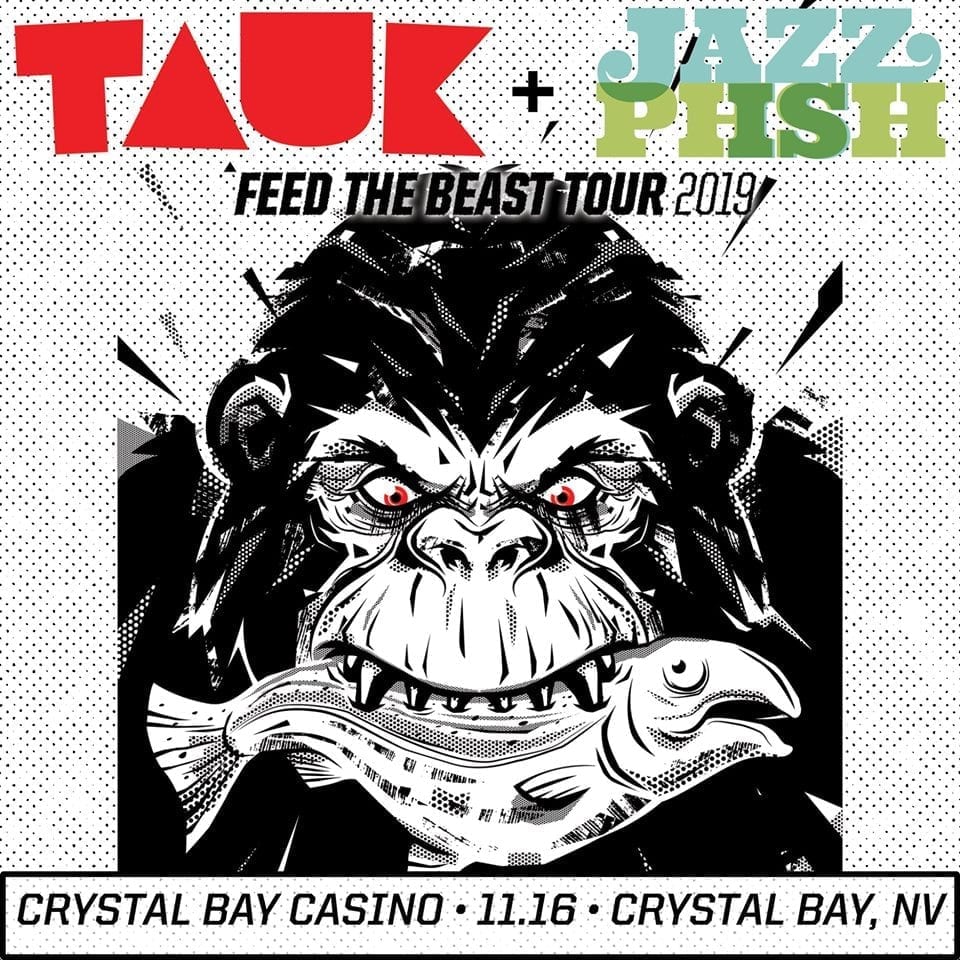 Feed The Beast Tour.
Show is ages 21 and over only
8pm Doors/9pm Show I $18adv / $23dos
Tickets can be purchased through our Box Office, 775.833.6333 ext. 1 or online: http://bit.ly/2YeOjvI
#FREE Red Room After Party w/ Coburn Station
On their newest album Shapeshifter II: Outbreak, New York-bred band TAUK offer an unsettling but ultimately exhilarating look at artificial intelligence and its potential to upend our world. With its dynamic sense of tension and cinematic mastery of mood, TAUK's all- instrumental blend of progressive rock, hip-hop, and jazz proves to be the perfect backdrop for such explorations, giving way to an album that's both powerfully hypnotic and intensely thought-provoking.
"We're all very much interested in A.I., and this idea of machines getting out of the hands of the people trying to control them," notes TAUK guitarist Matt Jalbert, whose bandmates include bassist Charlie Dolan, keyboardist Alric "A.C." Carter, and drummer Isaac Teel. "This album felt like a good setting to tell that kind of story, but in a way where we could have fun with it and let the listener escape into a whole other world."
Equally inspired by classic sci-fi like Blade Runner and more recent films like Ex Machina, Shapeshifter II: Outbreak embeds that narrative into TAUK's most sonically adventurous, emotionally expansive work to date. A continuation of their early-2018 EP Shapeshifter I: Construct, the new album picks up its predecessor's narrative thread with "Prelude": a fantastically unsettling intro track whose frenetic keyboard work and chilling vocal samples set the tone for what's to come. "The idea is that in the EP you're seeing the construction of this being, and in the album you're seeing it break out and become something that you can't ignore anymore," Carter explains.
From there, TAUK charge forward with the driving rhythms of "Recreational Outrage" (a track laced with the ominous throb of a robotic heartbeat), the futuristic soundscape and heady grooves of "CMF 9000," the gauzy reverie and glorious chaos of "Checkmate," and the bright melodies and soulful guitar sprawl of "Convoy." One of the album's most mesmerizing moments, "Let It Ride" builds a brilliant tapestry from its luminous keyboard tones, kinetic guitar work, and kaleidoscopic rhythms. And on "Upside Down," TAUK close out Shapeshifter II: Outbreak with a thrillingly epic burst of unfettered experimentalism.
www.TAUKband.com
https://www.facebook.com/taukband
Tweets by TAUKband
https://www.youtube.com/user/Taukband
https://www.instagram.com/taukband/
Want to stay updated? Sign up to receive the latest Tour Dates and News from TAUK – http://taukband.com/email-list/
Join our street team dubbed the STAUKERS and get free tickets to shows by helping spread the word! Join here: http://taukband.com/staukers/
Check out our Merch – http://hellomerch.com/collections/tauk
—
JAZZ IS PHSH is an instrumental tribute to Phish inspired by the popular tribute to The Grateful Dead, "Jazz is Dead". JAZZ IS PHSH is a collective of prominent musicians from the Jazz and Jam scenes that have come together in their appreciation of Phish music to reimagine Phish in an instrumental, jazz fusion setting!
Founded in 2015 by The Chase Brothers, Adam Chase and Matthew Chase, JAZZ IS PHSH has quickly become a world renown tribute to Phish, attracting some of the most influential musicians in the jazz and jam scenes to take part in this collective approach to paying tribute to one of the most important and influential bands in Rock and Roll history.
With the music of Phish being both largely improvised as well as highly composed, the framework of Phish's music is the perfect vehicle for exploring in an instrumental setting. The compositions are both challenging and adaptive. Jazz IS PHSH provides an exploration of Phish music unlike anything else