The Great Reno Balloon Race
4:00 AM - 10:00 AM
Sep 09-11, 2022
Downtown Reno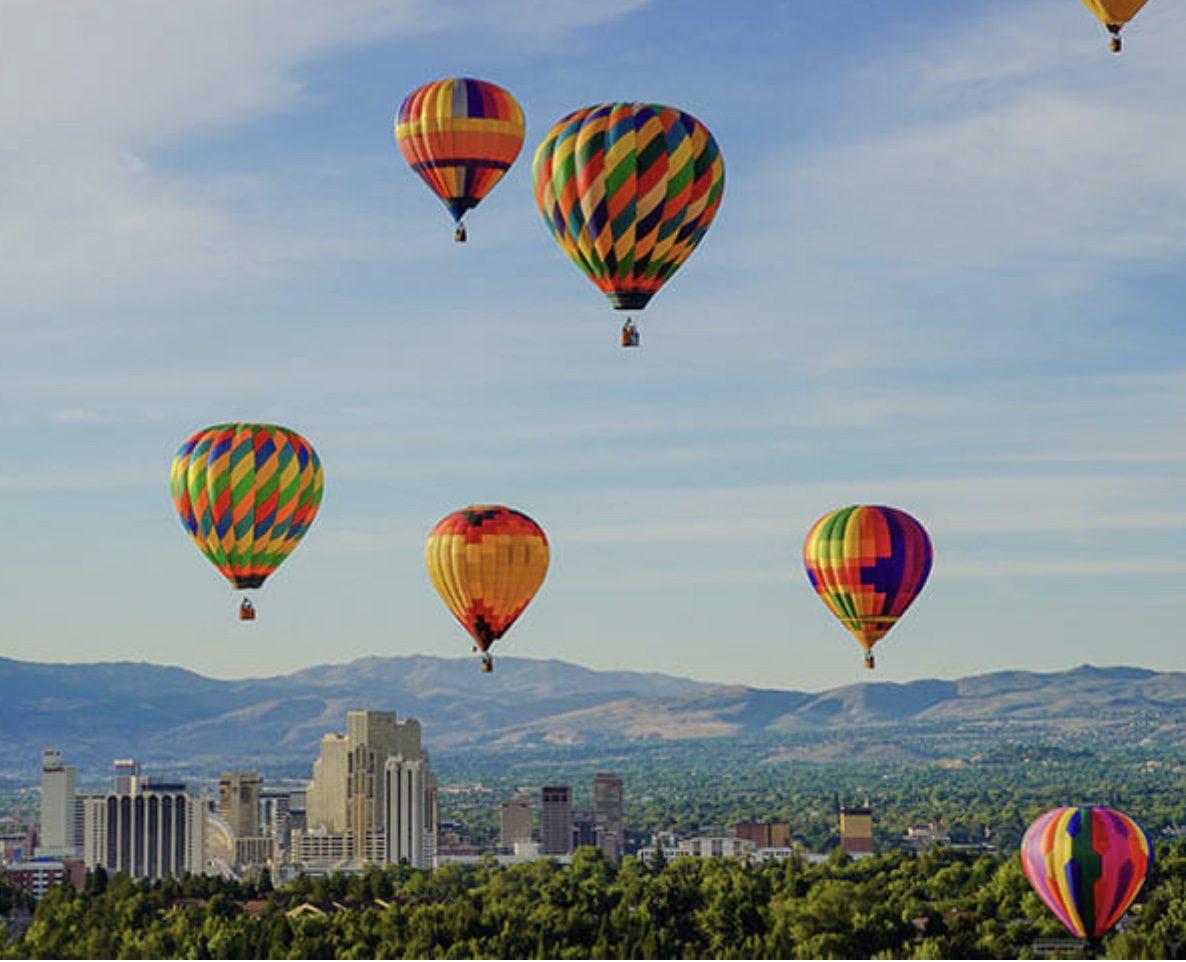 It's the world's largest free hot-air balloon festival!
Soaring high above the Reno skyline, upwards of 80+ beautiful hot-air balloons take flight. It has been one of Reno's most colorful and spectacular events for over three decades and is located just 2 miles from downtown Reno! Sure, it might be a bit earlier than you're used to, but it's worth the wake! The Great Reno Balloon Race is free to the public and spectators have the ability to explore balloons up close on the field. Kids, keep an eye out for special trading cards of your favorite balloons! The activity schedule includes the following highlights:
Glow Show and Dawn Patrol: An amazing predawn spectacle as balloons twinkle against the dark sky making way for mass ascension.
Mass Ascension: It's an incredible site when over 80 colorful balloons fill the sky. An Instagram-worthy moment!
Special-Shaped balloons: Whimsical special shaped balloons are always a favorite among fans. Who will make a special appearance at the 2022 festival?
SUPER-Glow Show: On Friday morning, the glow show goes BIG as 25-30 glowing balloons are choreographed to music
Balloon Boulevard: Features a variety of food, crafts, art and souvenirs
Cloud 9 VIP Tent: A comfortable and convenient way to enjoy the show. The Cloud 9 VIP Club offers individuals and businesses the opportunity to have a front-row seat to all the excitement that goes on during the event. Daily memberships include catered breakfast, parking, champagne and other goodies
Parking and Transportation
Handicapped parking is available for vehicles with a handicap placard or license plate; enter at any gate to the Park and you will be directed.
Rancho San Rafael Park is just 1.5 miles north of downtown Reno. If you're staying or parking in downtown Reno, it's great exercise to walk to Rancho San Rafael Park (note: it is uphill going to the park).
There will be paid public parking available at Rancho San Rafael, for a $20 donation to the event. The lots are located on the corner of Sierra Street and McCarran Blvd. as well as on Coleman Street. These lots are a short walking distance from the field but are popular so may fill up quickly.
By purchasing an in-the-gate VIP Parking Pass, you will have the closest parking possible at the field.
RTC RIDE (public bus transportation) will be offering free transit service to and from Rancho San Rafael Regional Park on Saturday and Sunday. Passengers may park and ride for free when boarding at the Reno-Sparks Convention Center parking lot. Passengers who board at other stops along the RAPID Virginia Line route will pay the normal fare. This service is provided from 4 a.m. until 10 a.m. every 15 minutes.