The TAHOE CUP lake crossing
5:00 AM - 5:00 PM
Sep 19-20, 2020
Waterman's Landing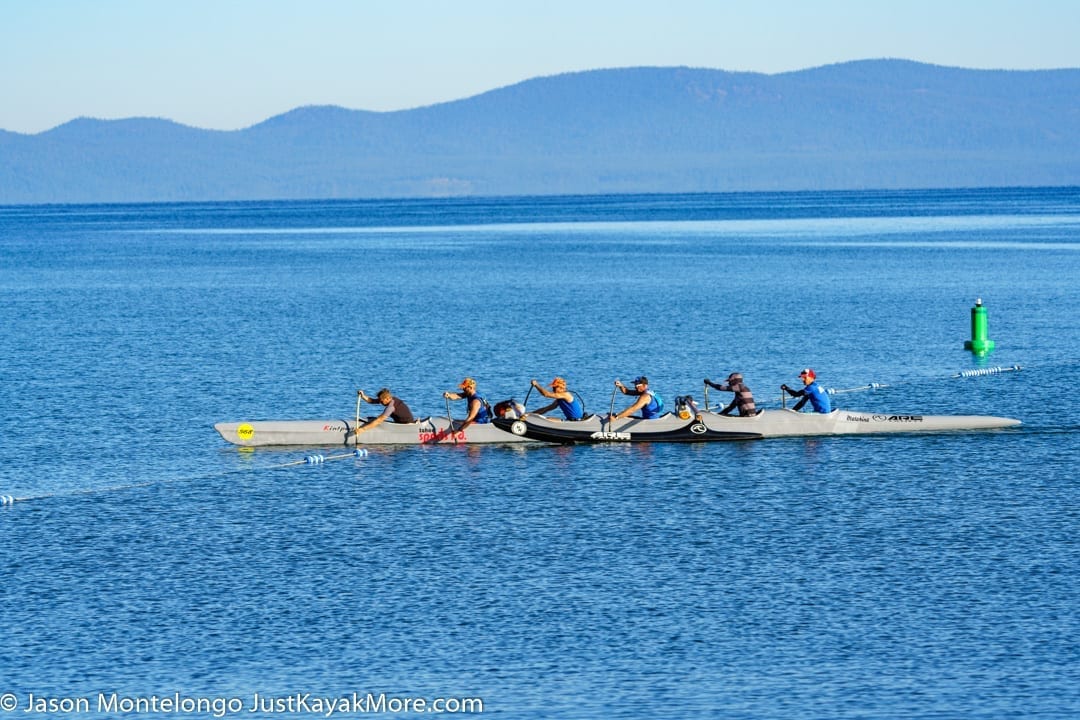 The Tahoe Cup – Lake Crossing – NEW this year, a Relay Team category!
The Lake Crossing is set apart from paddle races by its length (22 miles) and the majestic paddle across Lake Tahoe nicknamed the Alpine Caribbean. Surrounded by 2000′ peaks. Lake Tahoe is known worldwide as a skiers' paradise, where people don't know is that the alpine destination is the largest flat-water paddle venue in the world, where the serenity of the deep blue water meets the towering pines that sway in the Northern California Breeze.
The distance calls for paddlers with a bucket list who have committed to their training and to put their pursuit of endurance and adventure paddling. The course is one that requires some preparation but it is sure to be a fun, rewarding and memorable experience. Tahoe Waterman is a paddling community of people who come together to commemorate a true love for paddle sports and adventure. They inspire one another, cheer each other on, and at the end of the ay, they revel in the beauty of a shared victory.
To answer the popular demand, we are opening the race for relay teams to participate in the crossing for 2020. All teams are welcome (single-gender, mix gender, one craft, mix craft, all ages) with a maximum of 4 participants per team. all Team is responsible to secure an escort boat. Once the team secures an escort your team will need to complete a safety registration form to have permission to follow a team.
Because there are a few little tricks that you will want to know, make sure to listen in during the race briefing or contact Tahoe Waterman for a clinic with our local pros.
We will be checking the weather forecast during the week of the race and be giving updates as the week progresses. If the weather is not showing signs for a safe voyage on Tahoe, we are reserving Sunday, September 20, 2020, for a weather day.
LOCATION
The event venue and the finish line is at Watermans Landing, in Carnelian Bay
The Crossing starts at Lakeview Commons Beach, Sout Lake Tahoe and finishes at Watermans Landing, in Carnelian Bay
More events will be happening at Watermans Landing, in Carnelian Bay, we will keep you posted.
FORMAT
There is only one race-course available – the 22 miles Lake Crossing.
The Lake Crossing (22 mile – 35.5 km): The race format includes a full crossing of Lake Tahoe from the South to the North from Lakeview Commons Beach, South Lake Tahoe to Watermans Landing, in Carnelian Bay. Racers start in the water on their craft and finish on the water between finish buoys.
EXPERIENCE LEVEL AND CRAFT TYPES
Because it's unusual race distance, 22 miles, the course is suited and recommended to experienced paddlers. All paddle craft, including outrigger (OC1, OC2), surf ski (1 and 2-person), stand-up paddleboard (SUP), prone paddleboards and 6-man outrigger canoe (OC6) are welcome to participate.
SPECIAL SAFETY NOTE
Lake Tahoe is an alpine mountain lake at 6000 feet of elevation and we suggest practicing smart mountain safety. Plan to check weather conditions for race day temperature and winds. Plan to dress appropriately.
Because of the length of the race, we apply a cutoff time of 6 hours to complete the 22 miles course. Racers must an average speed of 3.7 miles per hour or greater to complete the distance by this time. All competitors remaining on the course after the cutoff time will be escorted to the finish venue at Watermans Landing.
Individual paddlers are not required to be escorted by a boat. All paddlers and teams are responsible for their own escort boats. Without making any guaranteed, Tahoe Waterman may be assisting to locate an escort boat. If you secure an escort you or your team will need to complete a safety registration form to have permission to follow a competitor or a team.
REGISTRATION
Register online (here at PaddleGuru) registration cutoff day is Monday, September 14, 2020. We have a limited amount of participants allowed on the course and this event will sell quickly. There no registration the week of the race or the morning of the event.
PARKING
There is ample free parking at the event site. Navigate to Watermans Landing, in Carnelian Bay, and follow the signs for parking when you arrive. We are offering a shuttle for the paddlers to South Lake Tahoe, first come first served. Reservation is available upon race registration. If you choose to drive yourself or get dropped off at the start, parking is available at Lakeview Commons Beach, South Lake Tahoe. All 6 man outrigger crews will be responsible for their transportation and the transportation of their Canoe.
RACE FEE (including a finishers t-shirt, a celebration meal served after the race and before the award ceremony)
Individual Participant | Lake Crossing course: $150
2-Person Teams (OC2 or Double Surf Ski) | Lake Crossing $150 per person
Relay Team (up to 4 participants) | Lake Crossing $300 per crew
6-man Outrigger Crews | Lake Crossing $300 per crew
CATEGORIES
JUNIOR U17
OPEN 18-49
MASTER 50 +
(SENIOR MASTER 65+)