Truckee Carnival
3:00 PM - 10:00 PM
Jul 07-16, 2018
Truckee Regional Park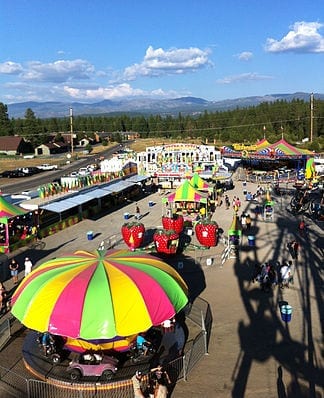 It's Carnival time! Saturday, July 7th – Sunday, July 8th and Wednesday, July 11th – Sunday, July 15th the Carnival will be at Truckee Regional Park in the Rodeo Parking Lot.
Every year, the Truckee Carnival features a Ferris wheel, fun house, giant slide, roller coasters, and midway games. There are rides designed for the 2- to 4 year-old age group as well.
Cost is $25 if purchased in advance, and it's good for your choice of an unlimited rides wristband for one day or 30 ride tickets. Buy discounted presale vouchers until July 7th and save! Purchasing vouchers on site will cost $30. Advance purchase vouchers are on sale at Safeway in Truckee, Tahoe's Connection for Families at 761 Northwood Blvd in Incline Village, and The Potlatch at 930 Tahoe Blvd. in Incline Village.
A portion of all ticket proceeds benefit Tahoe's Connection for Families (TCF), an Incline-based nonprofit that offers parenting education and early childhood developmental programs for families with infants, toddlers, and children up to age five.
For tickets and more information, please contact TCF at 775-832-8230 or [email protected] or visit www.tcfkids.org.
Come one, come all to the California Carnival in Truckee!
Carnival times –
Wed 5-10pm
Thus 5-10pm
Fri 4-11pm
Sat 3-11pm
Sun 3-10pm