Truckee High School Spring Musical – South Pacific
7:00 PM - 9:00 PM
May 05-20, 2017
Truckee High School Theater
10 – 15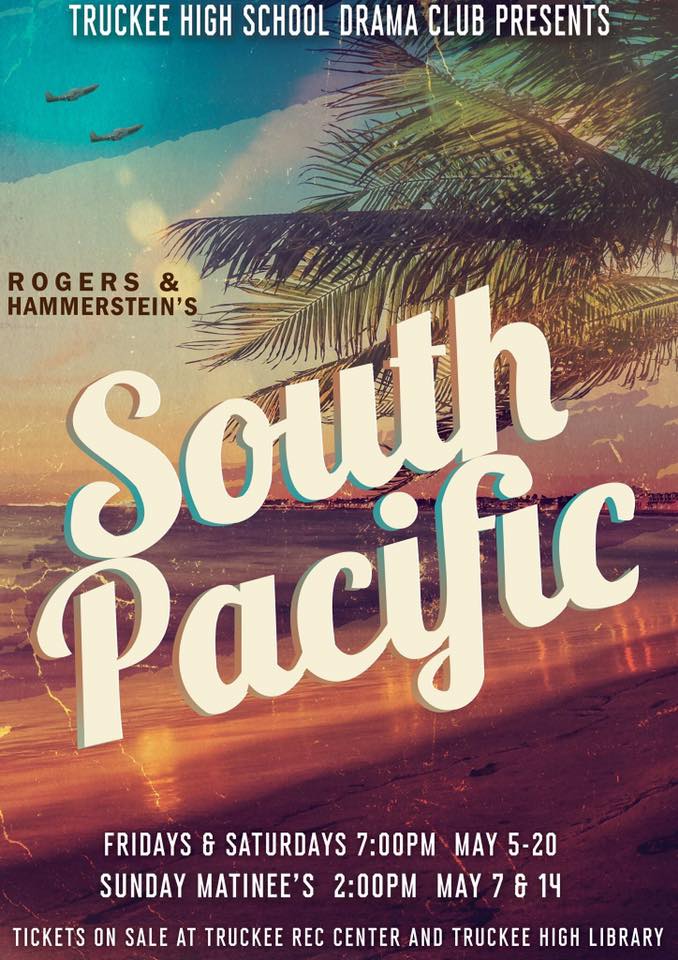 Truckee High School presents Roger & Hammerstein's famous musical, "South Pacific." One of the most famous Broadway musical's of all time, "South Pacific" has won 10 Tony Awards and features iconic songs such as "I'm Gonna Wash That Man Right Outa My Hair" and "Some Enchanted Evening."
The musical is set in WWII, but challenges important issues we still struggle with in modern society—namely those of racism and outdated gender roles. Not only will this production shine light on these ongoing problems, but will serve as a history lesson to younger audience members. With a cast of talented student actors and amazing vocals, this season promises to be unforgettable. Featuring period costumes and extensive sets, this production of "South Pacific" is one you don't want to miss!
Also, for the first time in years, the spring musical will feature a live orchestra!
Director Carrie Haines—Earned BFA in Theatre Arts at USC. Directed dozens of plays for renowned theatre companies in the Bay Area. Nominated for Circle Critics Award for Best Director. Teaches acting at InnerRhythms Dance Center.
THS Drama Club historically has brought home multiple medals at the annual Lenaea High School Theatre Festival competition, in spite of the small size of our school.
Buy your tickets early before they are sold out. There will be a raffle, silent auction and concessions at the show.
The Truckee High School Drama Club is funded by donations only. We do not receive any monies from the school district.
Please contact Kim Streit at 530-448-4629 or [email protected] for further information.
What: Spring musical: Roger & Hammerstein's "SOUTH PACIFIC" presented by Truckee High School Drama Club
When: First 3 weekends in May (Doors open ½ hour before show times.)
Fridays & Saturdays: May 5, 6; May 12 & 13; May 19, 20 @ 7pm
Sunday matinees: May 7, 14 @ 2pm
Where: Truckee High School Theater
Tickets:
Pre-sale: THS library or Truckee Community Center or at the door
Cost: Adults $15 / Students & Seniors (65+) $10