The Pfeifer House, Inc.
530-583-3102
760 River Road (Highway 89 South), Tahoe City, CA 96145
View Map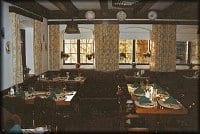 Established in 1939, this restaurant is not only one of the finest in Tahoe City, but one of the oldest. Along with steak, lobster and pork entrees, the restaurant serves some excellent specialty dishes. A good bet is the Hungarian Beef Goulash with egg noodles or Provimi veal with lemon sauce. Top off your meal with Bavarian apple strudel. A children's menu is available. A full bar and excellent wine list. Perfect for rehearsal dinners and intimate wedding dinners.