FIREWORKS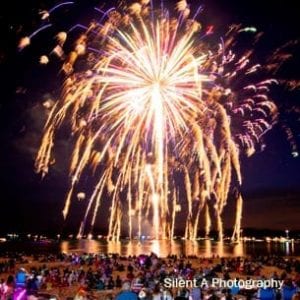 Photo: Annual July 3rd Fireworks & Beach Party
JOIN THE PARTY! SCROLL DOWN FOR DETAILED FIREWORKS AND CELEBRATIONS
Start your celebration on July 3rd at one of Tahoe's best beaches, the Kings Beach State Recreation Area (KBSRA). The Beach Party takes place 7-10pm outside the North Tahoe Event Center, adjacent to KBSRA. Attendees have access to two food vendors and a beer/wine garden and will enjoy live music performances. Preferred Seating Tickets are available on a very limited, first-come, first served basis and provide access to indoor restrooms. The evening is capped off by a dazzling fireworks display at 9:30pm shot from barges in Lake Tahoe right off KBSRA. View the complete schedule. 
Come out and enjoy one of the nation's most spectacular fireworks shows, year-after-year, the annual 4th of July fireworks in Incline Village. View the spectacular show from beautiful Incline Village, Nevada, with the majestic Sierra Nevada as the backdrop.
The festivities will begin with the sounds of DJs on the street in Tahoe City leading up to the biggest, brightest and most dazzling fireworks show to date!  Shop for t-shirts and swag (and donate generously to the volunteers with fire boots), enjoy the lake, and then take in the spectacular DYNO-MITE BIG BANG fireworks show at dusk.  View the complete schedule.
Join us for our annual 4th of July celebration! Held on the Cottage Green with views of beautiful Lake Tahoe, our celebration runs from 6PM – 10PM (BBQ until 9PM) and includes outdoor seating for the nighttime fireworks show. Lawn games and more will be available during the event, and each admission ticket includes three drink vouchers for all guests 21+ as well as complimentary self-parking in our main hotel parking lot.
Some say a cold beverage is best enjoyed when you've had to work for it, and we are going to test that theory with this mountain beer run. Along the 5K route, you will sample three local beers while enjoying the fresh mountain air amongst the pine trees. Those who finish will be rewarded with the beer of their choice!
Join us at 6,000 feet for a fun-filled day of high-altitude hops from about 40 different breweries, live Bluegrass, and never-ending outdoor family fun. Did we mention beer? Yes, lots and lots of beer…
Freedom Fest brings together the best of summer and winter: skiing and riding during the heart of the summer, daily live music performances, pool & hot tub parties and spectacular fireworks. There is nothing quite like donning your most patriotic garb and taking some turns at 8,200' feet on a day usually reserved for backyard barbecues and beaches. World-renowned Paul Oakenfold will bring his legendary musical performance to the KT Deck for a family event on Friday, July 5, accompanied by dazzling laser lights and culminating in a festive fireworks display. For over three decades, Oakenfold has elevated and shaped an entire genre and remains one of the leading forces in the global music scene today. Bring the whole family out for this all-ages event—grab lawn chairs and blankets to spread out on the grass, take in the music and watch fireworks streak across the night sky. Freedom Fest Event Schedule
Tahoe Donner's biggest event of the year returns Friday and Saturday, July 5 and 6, 2019 featuring two nights of performances by today's top tribute bands. Tickets are on sale now!
Summer Concert on the Green is a family-friendly, all-ages event taking place outdoors under the stars.
Friday, July 5
Woodie & the Longboards is a tribute to the Beach Boys and songs from the breezy California era of the 50s, 60s and 70s . Neon Velvet delivers the very best new and classic dance hits for all tomorrow's parties.
Saturday, July 6
The Fog City Swampers have been rocking Northern California and beyond since 2003. Enjoy a special tribute to Creedence Clearwater Revival. Hollywood U2 is known for putting on the world's greatest U2 tribute show selling out venues around the globe.
Check out all the events happening over the 4th of July week:
Events Calendar

DONATE TO NORTH LAKE TAHOE FIREWORKS FUNDS: