North Lake Tahoe has an infinite number of perfect backdrops for summer sunsets or winter ski weddings. Whatever your vision, on-the-water or in a chapel, we've got a memorable Lake Tahoe venue to meet your budget.
Lodging and Honeymoons
Whether your honeymoon is set in a winter wonderland or the summer sun, North Lake Tahoe has a wide variety of lodging options that will make your getaway a blissful experience.
Find Lodging and Honeymoon Options
Reception Sites
To ensure the splendor of your special day is all that you imagine it to be, North Lake Tahoe has a fantastic array of reception venues to choose from.
Find more Reception Sites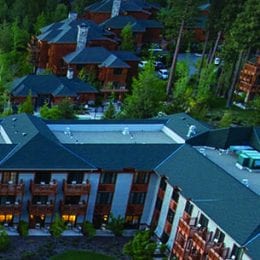 Full Service Resorts
North Lake Tahoe has a handful of full-service resorts, complete with chapel, chef and lodging options to ensure your wedding is fun and easy.
Chapels and Churches
To make your dream of quaint mountain church wedding come true, scroll and click to find the perfect North Lake Tahoe church, chapel and officiant.
Find more Chapels and Churches
Boats, Cruises and Charters
Whether you envision your ceremony on the lake, near the lake or want to share the magic of the Lake Tahoe with your party, there are a number of fabulous options to choose from.
Find more Boats, Cruises and Charters