Dashing Through the Snow: Your Guide to Getting Around North Lake Tahoe this Winter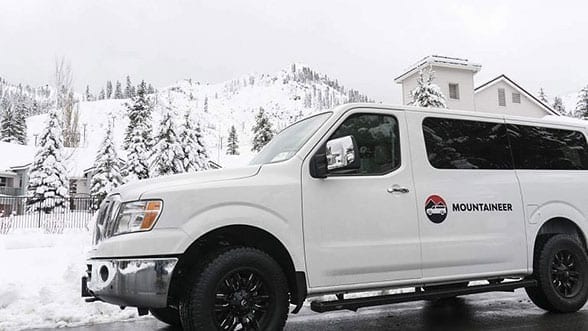 North Lake Tahoe's 12 alpine towns offer breathtaking winter experiences each year, and since the roll-out of various transportation initiatives, parking and traveling safely has never been easier. Read on for how you can spend less time on the road and more time having fun. 
Winter Driving Tips
Preparation is key to staying safe on the road during winter, so before you leave, make sure that you are prepared for any occasion. 
Check the 

weather report

 for winter storm alerts that could delay travel or close major roads.

 

Make sure your brakes, windshield wipers and fluid, defroster, heater and exhaust system are in top shape.

 

Check your antifreeze and be ready for colder temperatures.

 

Check that your tires are properly inflated, and the tread is in good condition. 4-wheel drive is preferred for getting around snowy roads. If your vehicle is 2-wheel drive, always carry chains, even if you don't think that you'll need them. Make sure you know if your vehicle is front or rear-wheel drive as chains must be installed on the drive wheels.

 

Create a checklist of items you might need, including an ice scraper, a broom for brushing snow off your car and a shovel to free your car if it's snowed in. Water, food, warm blankets and extra clothing are a good idea in the case of lengthy delays.

 
Road conditions can be unpredictable, so when traveling, use the timely resources provided by the Nevada Department of Transportation and CalTrans which has a QuickMap app available for iPhone and Android. 
Ride the TART for FREE
Tahoe Truckee Area Regional Transit (TART) offers a variety of free public transportation options throughout the North Lake Tahoe – Truckee region. With six regional routes serviced by full size buses and multiple smaller zones that offer curb-to-curb services via on-demand 9-passenger vans, you can easily access adventure while also contributing to the area's sustainability efforts.     
The newest service, TART Connect, allows locals and visitors to navigate North Lake Tahoe for free. Here's some important details: 
Fall night services are from September 7 – December 9, 2021, running 6 – 10pm every evening. Winter day service begin December 10, 2021, and run through April 8, 2022, with services running 8am – midnight every day.

 

Request an on-demand ride using the TART connect app (available for 

iPhone

 and 

Android

 systems) and get picked up in 1-hour or less.

 

The on-demand service connects you to restaurants, shopping, buses, work, recreation and anywhere else within the designated service areas. The zones being serviced in the fall are listed below, and expanded services will be included this winter.

 

Zone 1: Olympic Valley, Tahoe City, West Shore, Dollar Hill

 

Zone 2: Northstar, Kings Beach, Tahoe Vista, Carnelian Bay, Crystal Bay

 

Zone 3: Incline Village, Crystal Bay (6pm-midnight)

 

Transit schedules and additional information can be found on 

TART's website

.

 
Riding safely also means riding healthy. It's important for us to protect our community from the spread of communicable diseases and we ask that you adhere to all state and local safety protocols when traveling by bus. 
Northstar California
Northstar California will provide guests with parking and transportation services all winter to ensure that visitors can make their way to the slopes in as little time as possible. Arrive early and park in one of their conveniently located parking lots with complimentary shuttle services daily. 
Northstar will also provide guests who have electrical vehicles with complimentary Universal and Tesla charging stations in their preferred parking lot, on a first-come, first-serve basis. Free parking will be available daily in the Village View and Castle Peak lots on a first-come, first-served basis. The Village View lots are located immediately adjacent to The Village at Northstar. Guests can walk to or take a quick shuttle ride to The Village. The Castle Peak lots are the first available parking option on Northstar Drive (located at the roundabout) and are used for overflow when Village View lots are full. 
Castle Peak is served by a continuous free shuttle bus service, which runs between the Castle Peak and The Village at Northstar. Guests seeking premium parking options and closer proximity to the Village can park at the Lower Village lot which costs $20 per day Monday – Friday (non-peak) and $40 on weekends and holidays. Payment is cashless using one of three easy methods: self-serve kiosks in the parking lots, the Park Northstar App or through the "tap and ski" QR code on lot signs. 
While free on-site parking is available, spaces are limited, and guests are encouraged to rideshare or shuttle whenever possible. Visitors can take TART via the 267 route to be dropped off right at The Village at Northstar.
Northstar also offers a free Dial-A-Ride service for guests staying within the Northstar neighborhoods. 
Incline Village and Diamond Peak
Diamond Peak's Ski Shuttle offers complimentary rides from the resort to various lodges in Incline Village, as well as the Hyatt Regency Lake Tahoe, which offers shuttle service throughout Incline for hotel guests. Morning pickups are available around Incline Village, plus midday pickups on weekends and during peak periods. The Hyatt Regency shuttle runs every half hour from the Hyatt to Diamond Peak from 8:30am until 1:00pm, stopping across from Sierra Nevada College, Tomahawk/Mt. Shadows and Burgundy Hill/Lower Tyrolia.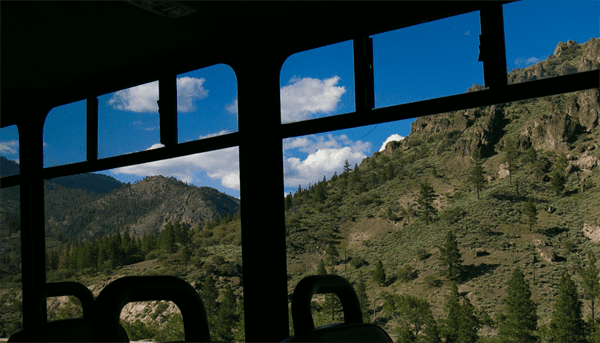 For Out of Town Travelers
For visitors coming to North Lake Tahoe from other parts of the country, check out Reno-Tahoe International Airport's list of non-stop flights to Reno to see if you can hop aboard a one-way flight to Lake Tahoe. This includes the new, charter-style flights from JSX (Burbank) to RNO. 
Once your flight arrives at Reno-Tahoe International Airport, there are many ways to get safely from Reno to Lake Tahoe. The North Lake Tahoe Express operates daily 6am – 11:45pm. between the Reno-Tahoe International Airport, North Lake Tahoe and Truckee. Locations served by the shuttle include Olympic Valley, Tahoe City, West Shore, Truckee, Northstar California, Carnelian Bay, Tahoe Vista, Kings Beach, Crystal Bay and Incline Village. You can find all routes, schedules, and fares here. Trips usually last about an hour to an hour-and-a-half and reservations are required 24-hours in advance, so plan accordingly. 
If flying is out of the question, travel by bus instead! The Tahoe Convoy travels eastbound from the Bay Area every Friday night and returns westbound every Sunday night. Additionally, Greyhound offers routes from San Francisco to Truckee and back. For travel from Sacramento to North Lake Tahoe, the AMTRAK California Zephyr runs daily between Reno, Sacramento and Emeryville/San Francisco. For the full train schedule, click here to map out your travel time accordingly. Busses are also available to each train station via Thruway Bus Service. 
And for a totally unique traveling experience from the Bay Area, Fly Blackbird is a seaplane air service offering commuter flights from Sausalito to the surface of Lake Tahoe, near Tahoe City. 
In the event that you need to stay an extra night in North Lake Tahoe due to unforeseen road and weather conditions, check out our lodging page on where to stay. 
Make sure to check with all providers in advance for any modifications due to weather or COVID-19. You can learn more about that and other important pre-travel information by visiting here. 
Keep these tips nearby, be prepared and you will find yourself having that great North Lake Tahoe winter full of wonder and wow.