When it comes to memorable adventures, North Lake Tahoe offers a plethora of possibilities. Framed by the breathtaking expanse of the Sierra Nevada, this mountain paradise is home to best-in-class resorts, pulse-pounding human sports, and enough bites, sips, views, and special spots to make your head spin—in a good way.
The abundance of adventure opportunities in North Lake Tahoe makes the region perfect for special getaways with the whole family—from tiny tots to grandparents, and everyone in between. Check out our guide to some of the best family-friendly activities to be found in North Lake Tahoe's mountain and lakeside communities, then book your stay and let the memory-making begin!
Take a Hike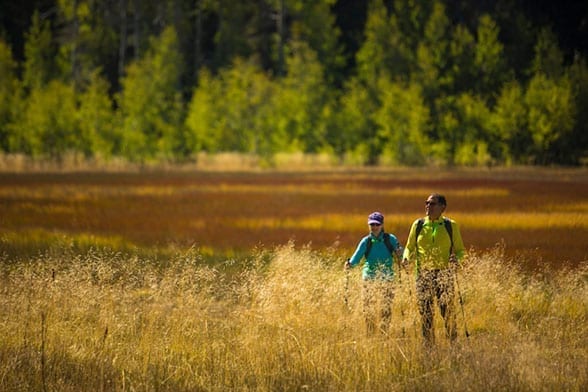 Fall marks the perfect time of year to enjoy a brisk hike in North Lake Tahoe. Photo courtesy of Ryan Salm Photography.
One of the best ways to explore North Lake Tahoe with the whole family is to take to the region's many hiking trails. This is a particularly good option for families with varying levels of mobility because the area features a number of hikes that are fairly brief, not too high in elevation, and relatively easy in terms of difficulty. A few lower key trails include the Stateline Fire Lookout path, The Tahoe Meadows Interpretive Loop, and the West Shore's Shirley Lake Trail.
…Or Climb a Tree!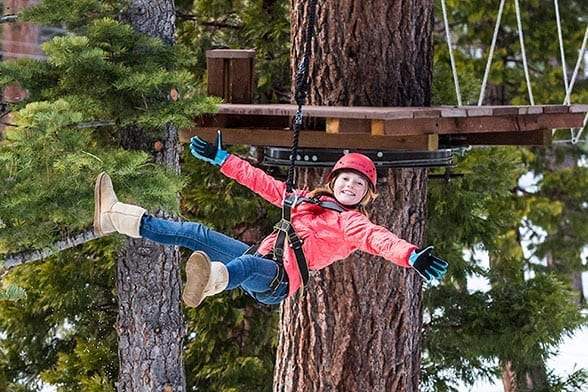 Unleash your inner Tarzan and swing from tree to tree at North Lake Tahoe's handful of treetop adventure parks. Photo courtesy of the Tahoe Treetop Adventure Park.
"Go climb a tree" takes on a whole new meaning at the three sites of the Tahoe Treetop Adventure Park.
These aerial adventure parks—which find their origin in Europe—are made up of a number of ropes courses, platforms and zip-lines appended to Tahoe's vast population of trees. This kind of adventure is the perfect memory-making excursion for adults and children alike, as long as they have the mobility to properly enjoy the course.
While not every element of every course is perfect for everyone, there are so many activities to be found at each of the parks (located in Tahoe City, Squaw Valley, and Tahoe Vista) that you're sure to find a way to incorporate each of your group somehow—and the Treetop Adventure's helpful attendants can almost certainly help you to come up with ways to be inclusive.
Get Insight on the Region's Stories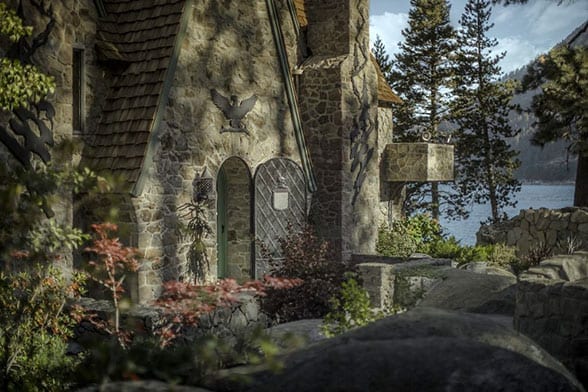 Many of North Lake Tahoe's cultural offerings are available to explore year-round. Thunderbird Lodge photo courtesy of Eric Russell.
North Lake Tahoe is home to quite a bit of exciting history and more than a few fabulous landmarks. Adventurous families can learn all about the region's past thanks to the widespread availability of tours at historical sites like the Thunderbird Lodge or the Tahoe Maritime Museum.
Captivate the imaginations of your family with epic sites like that of Vikingsholm Castle in Emerald Bay, or get an inside look at Tahoe's natural history at Tahoe's Science Center, where exhibits, lectures and other features pertaining to North Lake Tahoe's unique ecology can be explored. If you want to make an afternoon or evening out of your cultural excavations, various organizations like the Tahoe Adventure Company offer tours of the region that will give your family unprecedented access to Tahoe up-close.
See Tahoe by Water or Air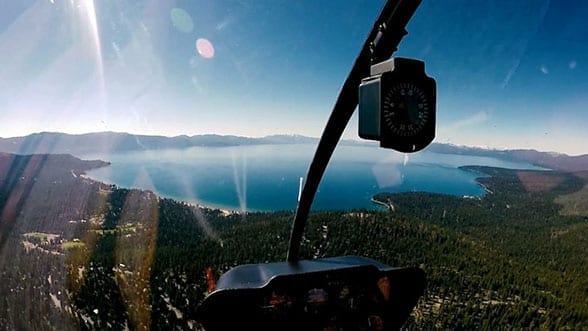 Want a bird's eye view like nowhere else? Check out North Lake Tahoe via helicopter! Photo courtesy of Pacific North Helicopters.
While we don't recommend taking a splash into the waters during fall, you can still coast along the lake by boat. The Tahoe Gal offers lunch, brunch, dinner and specialty cruises, while the luxurious Tahoe Bleu Wave offers a bespoke yachting experience that makes for a perfect photograph for the family album.
If your family of thrill-seekers aims to find a true bird's-eye view of North Lake Tahoe, you can create a truly epic memory by touring the region via helicopter. Sierra Air Helicopter Tours offers a brief but beautiful North Lake Tahoe tour that carries your group across the entire expanse of the North Shore at just $74 per person.
North Lake Tahoe offers plenty of group experiences that are perfectly suitable for families of any size. From outdoor adventures to explorations of food, culture, art, music and so much more, Tahoe is the place for your whole family to be this fall—so don't hesitate to book your trip in preparation for the vacation of a lifetime.