Luckily, North Lake Tahoe is not just one of the most beautiful destinations in the world – it's also one of the most exciting places to indulge your inner foodie. With more than 150 different dining experiences ranging from authentic street food to five-star fine dining, there's something for every palate.
And as restaurants adjust to capacity restrictions and navigate comfort levels, most have added takeout to their offerings – which means you can safely enjoy Tahoe's delicious dining options to-go.
Pick up breakfast, lunch or dinner and then find a spot along the lake, within one of our mountain valleys, or in the comfort of your North Lake Tahoe home base, and revel in tasty creations while basking in the fresh mountain air. Make sure to check out our list of 10 Spots for a Delicious Al Fresco Dining Experience for some location inspiration.
Eat and Win $150!
If the reward of a delicious meal wasn't enough, here's even more motivation to #TakeoutTahoe! For the months of November and December we'll be giving away $150 in North Lake Tahoe restaurant gift certificates to one lucky winner.
Enjoy takeout from a North Lake Tahoe Restaurant.
Take your receipt to one of two North Lake Tahoe Visitors Centers and be entered to win.
One entry per receipt, but we encourage entering as many times as you can!
Restaurants must reside in the following communities: Olympic Valley, Alpine Meadows, Tahoe City, Tahoma, Homewood, Carnelian Bay, Tahoe Vista, Kings Beach, Northstar, Crystal Bay, Incline Village.
To help navigate the abundance of takeout options, we've created the Takeout Tahoe Guide. In it, you'll find in-depth information about Tahoe's various communities, plus a listing of the 150+ restaurants currently offering curbside pick-up. Enjoy!
Takeout Tahoe Guide
Not only will grabbing takeout fill your belly and fuel your body for your next adventure, but it's also a great way to show your love for the many regional restaurants that add character, charm and flavor to North Lake Tahoe.
Get My Guide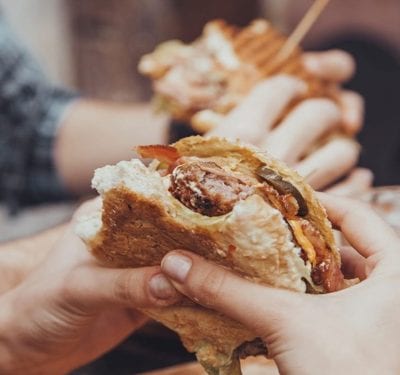 Leave No Trace
Please remember, with to-go food, comes extra waste. So as you indulge in the tastes of the region paired with the perfect outdoor ambiance, keep Tahoe beautiful and leave no trace. Here are some tips to keep in mind:
USE PROPER RECEPTACLES. North Lake Tahoe has animal proof trash and recycle bins around the region. Make sure your garbage ends up inside.  If one is full, please find another.  We don't want the wildlife to have your leftovers.
PACK IT IN, PACK IT OUT. It's a simple yet effective way to keep our nature pristine and is a guiding principle of Leave No Trace.  If you're taking your food on a hike, bring a reusable bag to store your waste after eating and until you get to a proper receptacle.
BE MINDFUL ABOUT FOOD STORAGE. Tahoe is rich with an array of wildlife. And who can blame them for finding it hard to resist the delectable smells of our culinary delights. So as a best practice, refrain from storing food in your car when you venture outdoors.  And adhere to trash regulations if you're in a vacation rental – use the bear box and make sure to lock it.