Welcome to the largest concentration of skiing in North America
North Lake Tahoe is home to the largest concentration of ski resorts in North America with 11 downhill resorts to choose from. Take some turns at one of our nationally acclaimed North Lake Tahoe resorts and enjoy private or group lessons, backcountry experiences and runs for all skill levels. After a day on North Lake Tahoe's slopes, sit back and enjoy an après ski experience by a cozy fire pit, eating delicious appetizers, building s'mores, and sipping a glass of wine, a homemade brew, or a whipped creamed topped hot chocolate.
Scroll down for information on our downhill resorts including opening day, conditions, and ticket information.
---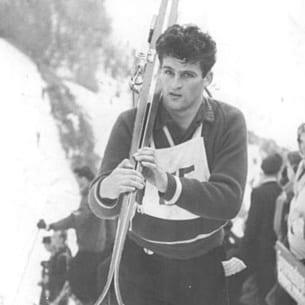 Helmut Recknagel from East Germany at a ski jumping event.
The History of North Lake Tahoe Skiing
Ski racing in the U.S. began here during the 1860s when gold miners attached 15-foot boards to their feet and flew down Lake Tahoe's snowy slopes. By the late 19th century, trains rolled into Tahoe City and steamships crossed the Lake. The first ski resort in North Lake Tahoe was built in Tahoe City in 1924 for the Tahoe Tavern's guests. The resort was called "Olympic Hill" which later became Granlibakken. Also in the early 1930s, Reno offered skiing where Mt. Rose Ski Tahoe is located today. In 1931, the ski hill at Granlibakken was picked for Olympic tryouts for the U.S. Ski Team competing in the 1932 Winter Olympics. By the late 1930s, property was being purchased to build and open more ski resorts throughout the Tahoe Basin, Truckee, and Donner Summit. Due to Lake Tahoe's reputation for epic winter sports, Palisades Tahoe (formerly Squaw Valley) was awarded the 1960 Winter Olympic Games. Today, Lake Tahoe hosts millions of visitors and locals who enjoy the largest concentration of skiing in North America, along with unlimited year-round recreation and spectacular events.
Visit the Sierra Ski Museum for more information on North Lake Tahoe's extensive ski history.
---
Ski and Snowboard Resorts
No mapping data available