Each January, several of North Lake Tahoe's 12 downhill resorts participate in "Learn to Ski and Snowboard Month," inviting first-time skiers and snowboarders from all over to experience the snow on skis or snowboards in a beginner-friendly environment. Many resorts offer discounted lessons for first-time riders, giving them the tools they'll need to succeed on the slopes.
Whether you're thinking about hitting the slopes for the first time, or hoping to introduce downhill sports to a loved one, it's important to be prepared before you hit the ski-lift. That's why we've put together a guide—complete with expert tips—to get you geared up and ready to go. Check out our answers to your biggest questions below.
What should I do before heading up the mountain?
A great day on the slopes begins with plenty of forethought! Photo courtesy of Diamond Peak and Chris Talbot.
There are a few things you should at least consider before embarking on your first ski or snowboard trip. First, it's a good idea to think about what's most convenient and affordable for you. Most of North Lake Tahoe's resorts feature ski and snowboarding deals year-round, and some even offer Learn to Ski and Snowboard Month specials.
Secondly, consider your energy and hydration levels. Skiing and snowboarding are strenuous activities that consume a great deal of energy, so it's important that you have plenty of fuel to keep yourself at the top of your game. Diamond Peak's Snowboard School Director,  Leo Cartellieri, insists that snow sportsmen should have make sure they're properly energized and well-equipped.
"Immediately before your first day on the slopes, make sure you get a good night's sleep, eat a healthy dinner followed by a good breakfast, and make sure all of your gear fits you properly. And don't forget to pack extra sunscreen! You'll need it."
---
Do I really need lessons? Can't a friend teach me?
Ski and snowboard instructors are specially trained to help you remember all of the best practices that will keep you safe and having fun on the slopes.  Photo courtesy of Diamond Peak and Chris Talbot.
Plenty of people are great skiers and snowboarders. Plenty of other people are great teachers. Unfortunately, it's not always true that everyone is both, including our talented friends. That's why it's important to set yourself up for success by receiving instruction from someone who is sufficiently trained in ski or snowboard instruction for beginners.
Why?
A qualified ski or snowboard instructor will help you to establish good habits early on, emphasizing safety, good form and preparation that will have you sliding down the slopes with confidence and style for the rest of your snow sports career.
John Beesley, director of the Mt. Rose Ski School, explains further.
"We strongly encourage first timers to take a lesson. Friends or family members may be great skiers, but they may have no experience teaching someone new to the sport. Professional instructors want to teach you to ski and have the experience to give you the foundations that will help build both your skill and confidence."
---
Awesome! What gear should I buy?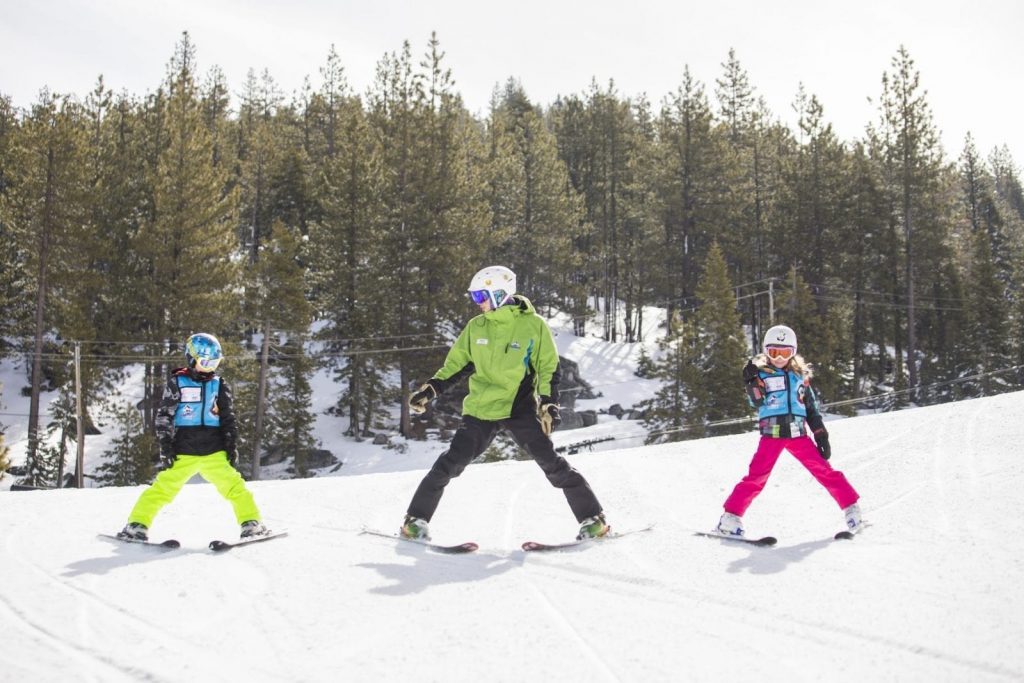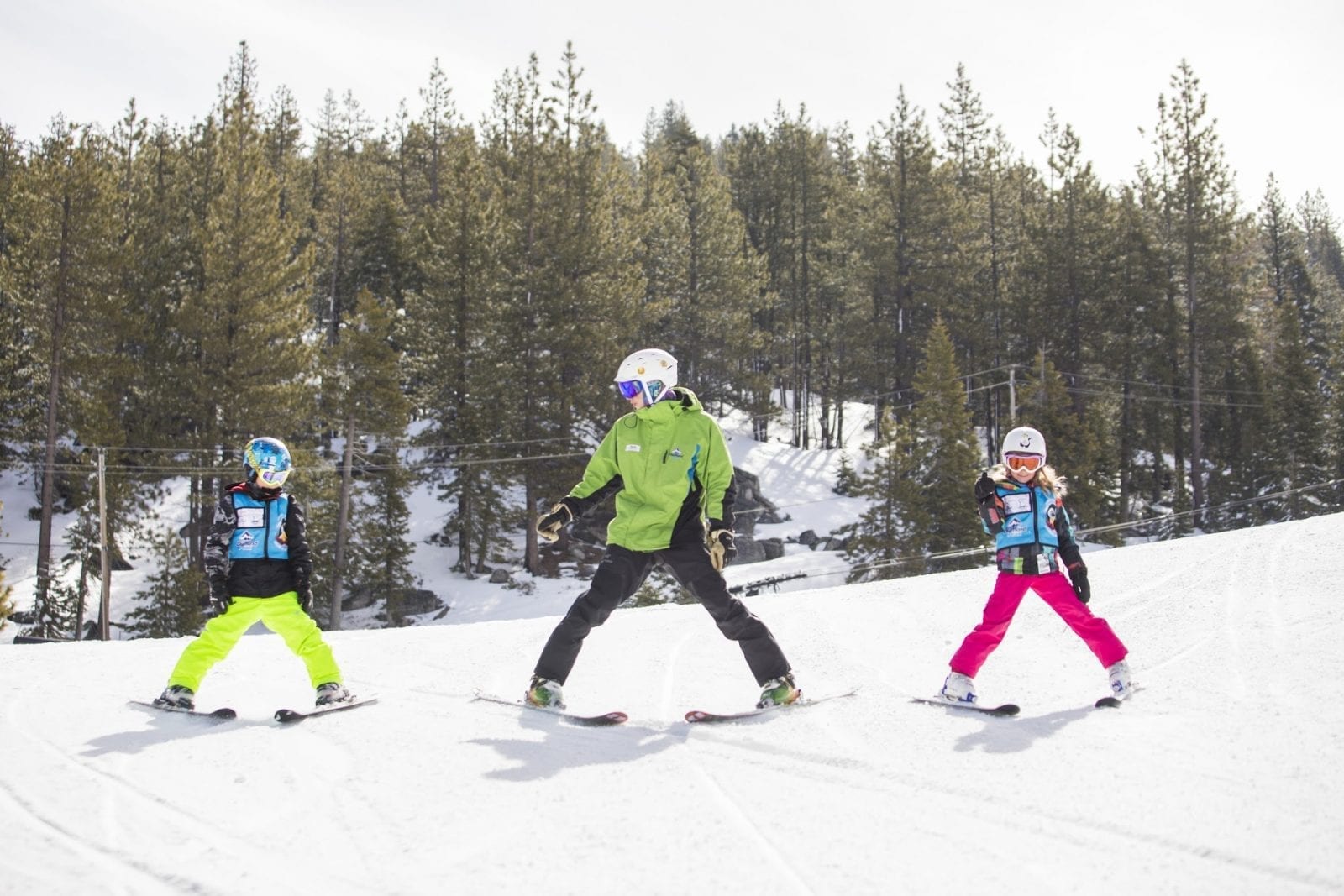 When it comes to gear, think: warm, protected, and waterproof. Photo courtesy of Diamond Peak and Ryan Salm.
While the thought of buying gear is probably exciting (and maybe a little overwhelming, too), you shouldn't rush into any purchases. John Beesley recommends that first-timers rent their equipment. The reasons for this are two-fold, John explains:
"It's important to evaluate whether skiing or snowboarding is a sport you enjoy before making the investment in your own equipment. By renting, you can also test different gear before making a purchase decision."
Only after you've tried your equipment out and figured out what works for you should you commit to making any purchases. Once you have made that determination, then it's a great idea to pick up waterproof, warm clothing; gloves; eye protection (which is critically important); gloves and more. Doing so will be easy in North Lake Tahoe, which is dotted with plenty of ski and snowboard shops to choose from.
---
Are there any big mistakes I should avoid?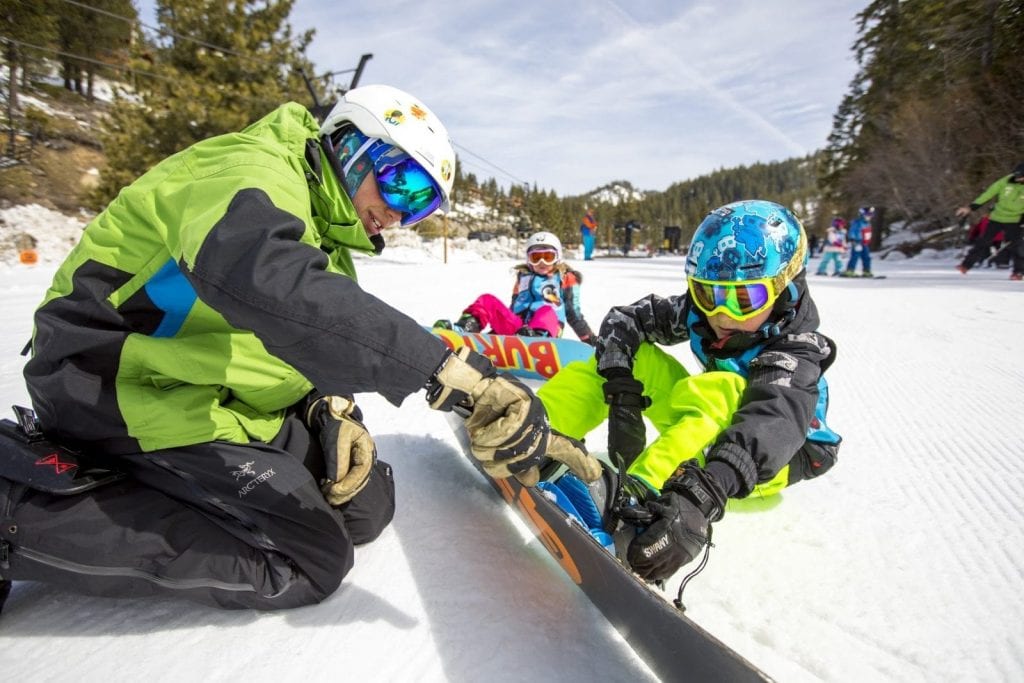 Beginner's mistakes are easy to avoid if you work with an instructor, pay attention, and focus on the quality of your run. Photo courtesy of Diamond Peak and Ryan Salm.
Generally speaking, most ski instructors seem to agree that one of the most common errors among beginners is choosing the wrong boot size. A bad boot can make for a bad day, so make sure that you're choosing a boot that fits snugly without causing discomfort.
Another tip: avoid wearing cotton, even down to the socks. Cotton absorbs moisture and, in the snow, you'll get cold and wet very quickly. Instead, opt for waterproof materials that keep you dry and warm.
Beginners tend to have trouble making informed clothing decisions in general, which is why Diamond Peak's Leo Cartellieri says it's critically important for newbies to think about these things from the get go.
"We'll see people come out for lessons in jeans or sweatpants on storm days and get completely soaked through and cold before they've even mastered putting on their skis. Or we'll see parents dress their children up in one-piece puffy snowsuits suitable for climbing Everest on warm sunny days, and the poor kids are sweating through their base layers after 15 minutes," Leo explains.
"The ideal setup is waterproof ski pants/jacket/gloves, with layers underneath so you can adjust to the ambient temperature and the amount of exertion your are putting out. Check the weather forecast before your scheduled lesson or ski/ride day and make sure you're ready for whatever Mother Nature throws at you"
Finally, focus on building confidence, avoiding self-consciousness and having fun! After all, that's what it's all about.
See you on the slopes!