For vacationers on a budget, North Lake Tahoe has plenty of places to see and things to do for free, or for next to nothing. We've highlighted some of our favorite activities below, so keep these in mind when you're planning your first (or return) trip to this winter wonderland.
SNOW ALL ABOUT IT
One thing you can count on is that there will be snow during the wintertime in North Lake Tahoe. In fact, some years snowfall arrives early in the fall.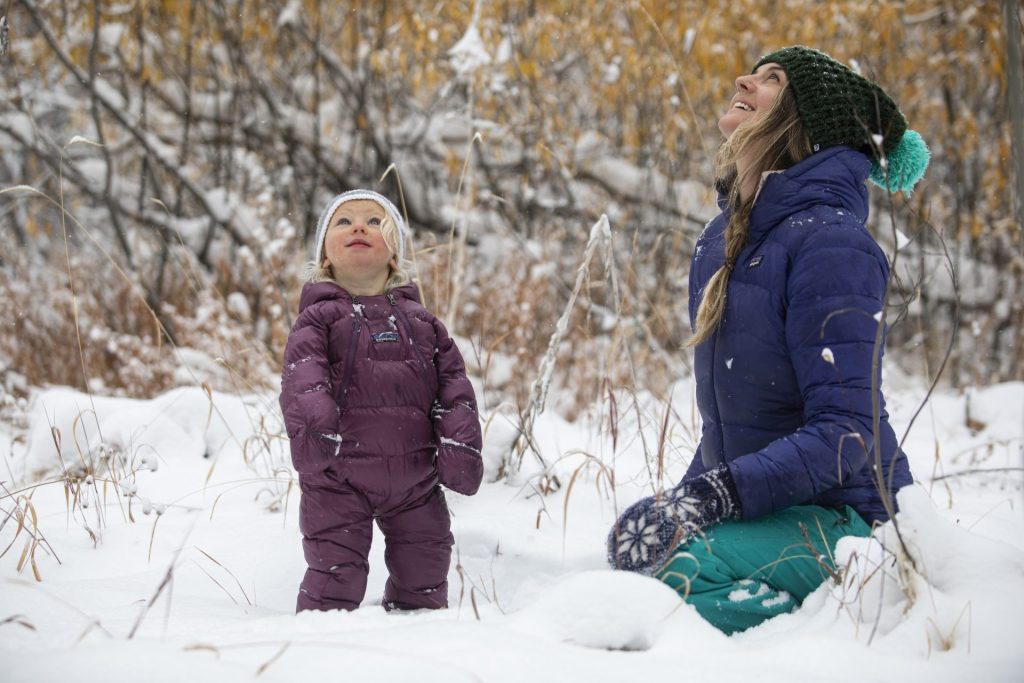 Snow is perfect for all kinds of fun, inexpensive activities sure to delight the whole family. Pack up your warm clothes, skis, snowshoes, skates, sleds, and tire chains and head to one (or more) of the state parks located in the beautiful Sierra Nevada mountain range. Most only require a $5 parking fee.
Donner Memorial State Park in Truckee, California, offers ideal conditions for cross-country skiing, snowshoeing, hiking and plenty of snow play. When you're ready to take a break, visit the park's visitor center, which includes the Emigrant Trail Museum and Pioneer Monument. You'll learn about the area's earliest inhabitants, the Washoe Tribe, early pioneers, the Sierra Nevada environment and construction of the railroad. Entrance to the museum is free.
Ed Z'Berg Sugar Pine Point State Park, located 10 miles south of Tahoe City, California, offers more than 12 miles of cross-country ski trails, including one used in the biathlon event during the 1960 Winter Olympics. Another area perfect for cross-country skiing is Burton Creek State Park, located on the northeast side of Tahoe City. The park, which has mountainous terrain, features six miles of unpaved roadway. Please note that for both of these areas, you'll need to pack your own cross-country ski gear.
TAKE A HIKE (OR SNOWSHOE)
Getting out in nature is a great free option, especially during the magical time of winter. Before heading out, we recommend checking the weather and trail conditions for the optimal experience.
Hiking is also one of those activities that is not always accessible, which is why North Lake Tahoe has worked so hard to make sure that you can take in the breathtaking views of the Sierra and the stunning lake with paved, no car access routes and lookouts. Trails offering such features include the paved, 10-mile Truckee River Trail, the 2.6-mile Pine Drop Trail and the 2.2-mile Olympic Village Bike Trail.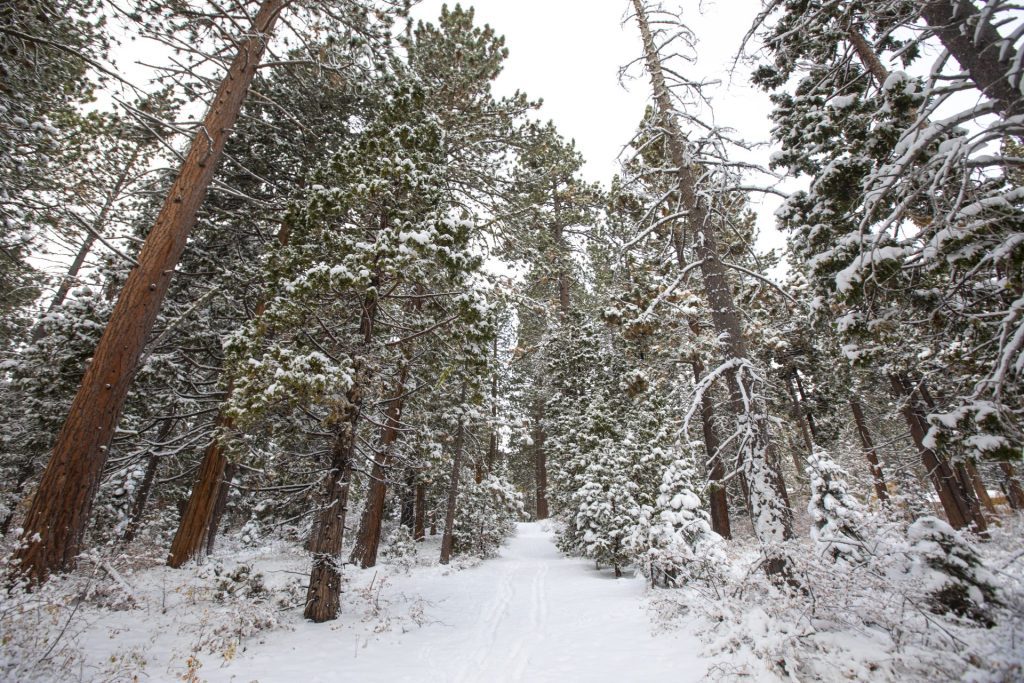 Although tours aren't held during the winter, taking the trail to the Vikingsholm Mansion in California will be well worth your time. The steep 1-mile trail drops 500 feet in elevation to the Vikingsholm grounds, so take your time while you enjoy the vistas of Emerald Bay, Fannette Island and the snow-capped peaks of the Sierra Nevada mountain range en route to the 1929 "castle."
A moderately challenging option is the 5.2-mile Mount Judah Loop Trail near Norden, California. Popular snowshoeing, the trail circles Mount Judah, starting at the Pacific Crest Trail and continuing to Donner Peak.
Snowshoeing to the Stateline Fire Lookout is unique for several reasons. You'll start in Nevada and cross into California, it is only a 2-mile round trip so it's perfect for families, and you'll be rewarded with one of the most amazing views around. The 360-degree view of Lake Tahoe from the former fire lookout is one for the memory book.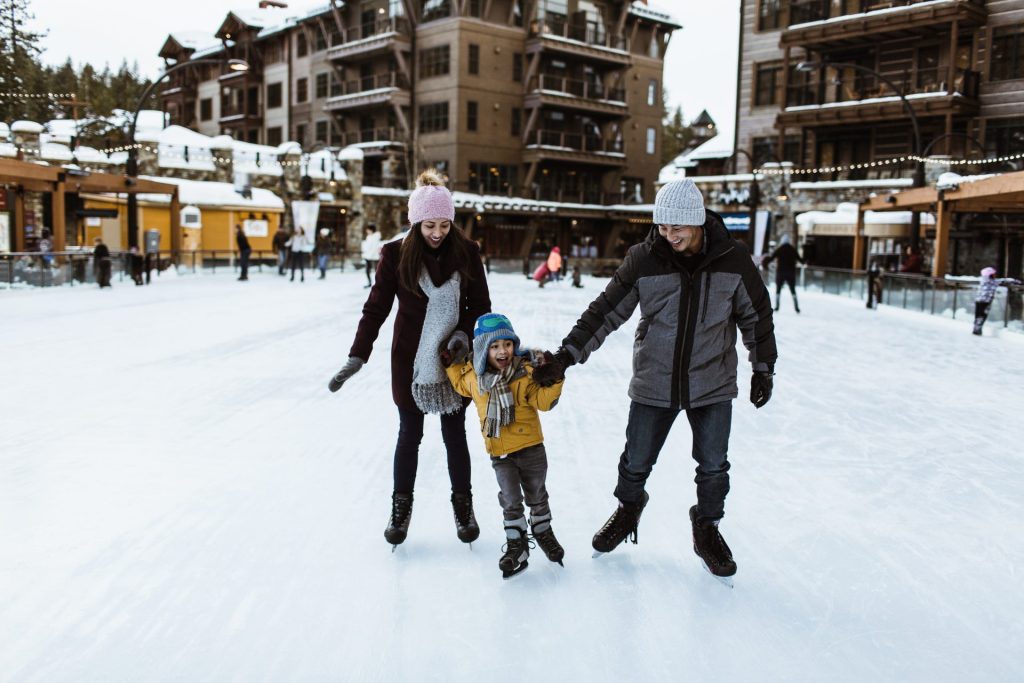 SMOOTH AS ICE
If ice skating is more your style, The Village at Northstar ice rink is just for you. The 9,000-square-foot skating rink is perfect for the whole family and access to the rink is free. You can also rent skates at the rink. Outdoor fire pits will warm you up quickly if you prefer to sit and watch the action.
The Tahoe City Winter Sports Park is another venue the family will enjoy. Whether you're a first-timer or experienced ice skater, you'll have a blast strapping on the skates and showing what you can do. There is a small fee to skate at the park.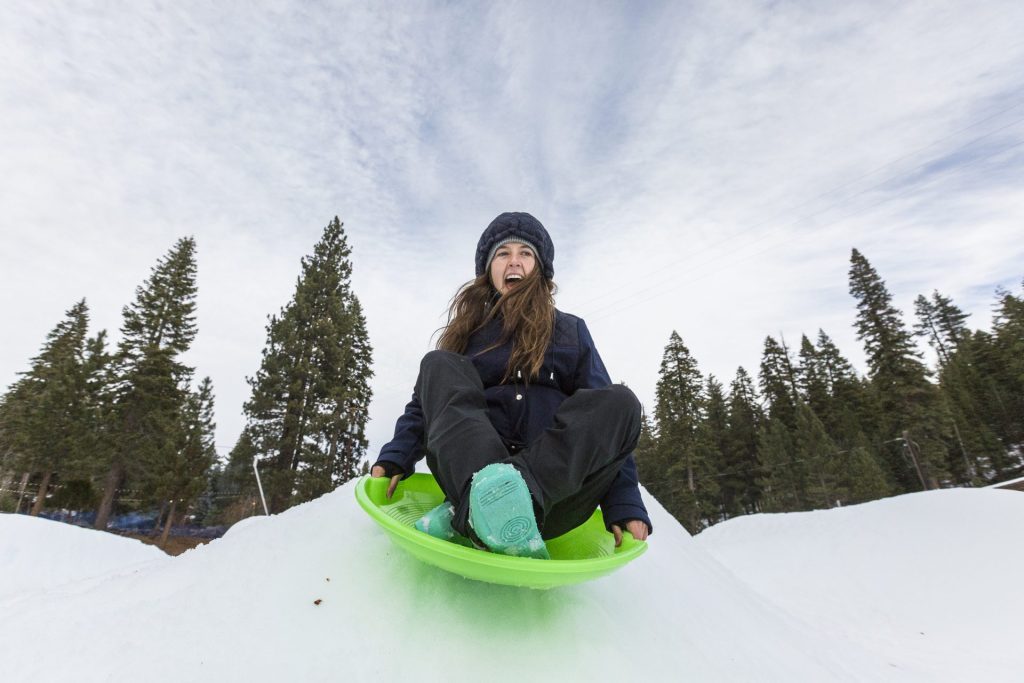 FUN IN THE SNOW
Six miles north of Incline Village is the Tahoe Meadows snow play area. Situated at an elevation of 8,575 feet, Tahoe Meadows is an informal hill with an intermediate slope. Grab your saucers or tubes and slide down the hill, then do it all over again until you get tired. There's no charge and parking is along the side of the highway.
The Tahoe Rim Trail trailhead is a year-round outdoor destination for free sledding. Located 7 miles from Mt. Rose Ski Resort, just past the Mt. Rose Summit on Highway 431, you'll find plenty of hills and thrills.
There's a steep gradient to climb to the top of the hill at the free Spooner Summit Snow Play Area, located on the east shore of Lake Tahoe in Nevada, but the sledding down will be a memorable one. There's an easier path for those who'd rather not climb all the way up.
First-time or younger sledders will delight in the North Tahoe Regional Park's Children's Sled Hill. A perfect match for kids, entrance to the sled hill requires a $5 parking fee and users must bring their own sled.
Tahoe XC also offers free cross country skiing to those under 19 and over 70. You don't want to miss out on a free Nordic Ski Day at Ed Z'berg Sugar Pine Point State Park on Sunday, March 5 from 10 am to 2 pm.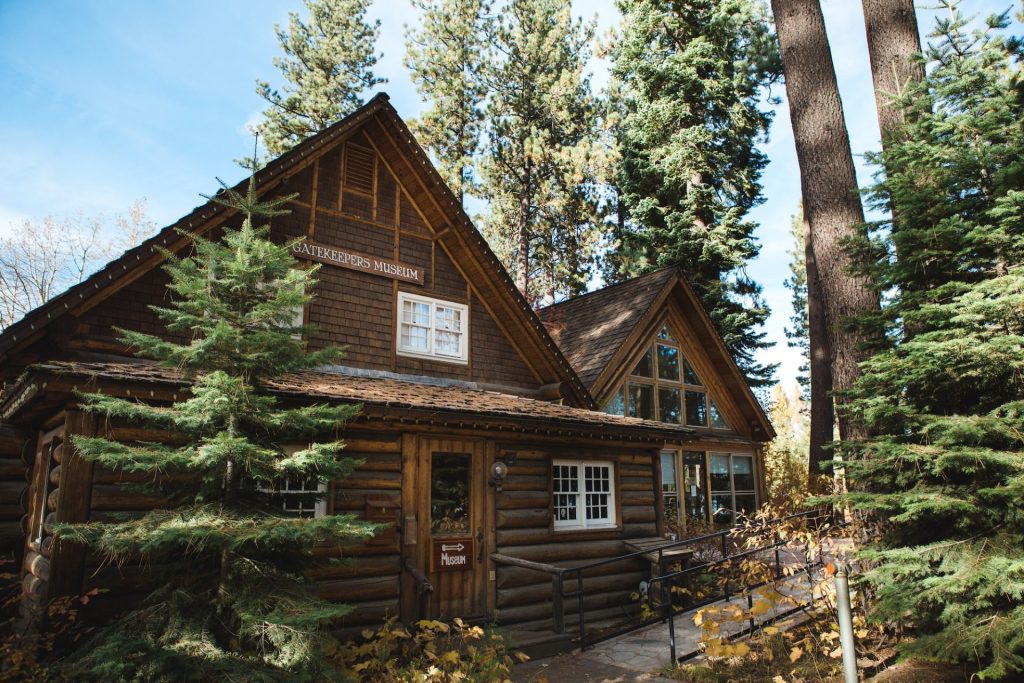 MUSEUMS
Enjoy a bit of history at the Gatekeeper's Museum in Tahoe City. Dedicated to the house and person that manned the Lake Tahoe Dam in the early 1900s, the museum includes the largest Native American basket collection in the Lake Tahoe Basin, as well as a new exhibit showcasing functional art in Lake Tahoe cabins. General admission tickets are only $10.
The Museum of Truckee History and the Truckee Railroad Museum provide fascinating looks at the town through displays, artifacts and interactive presentations. The railroad museum even devotes an area to a Thomas the Tank train set. Admission is free.
Another attraction is the historic Hellman-Ehrman Estate, a mansion that provides an interesting view into the lifestyles of the wealthy on Lake Tahoe. Although tours are only held during the summer months, the grounds and estate are open to the public to walk year-round, especially incredible for snowshoeing.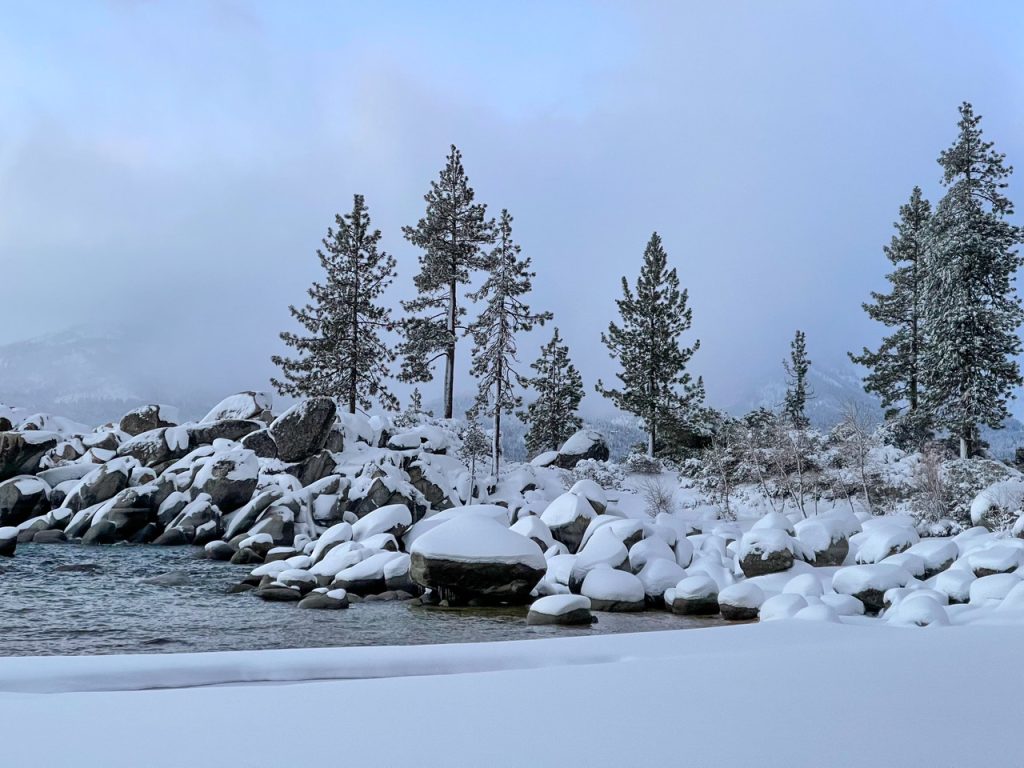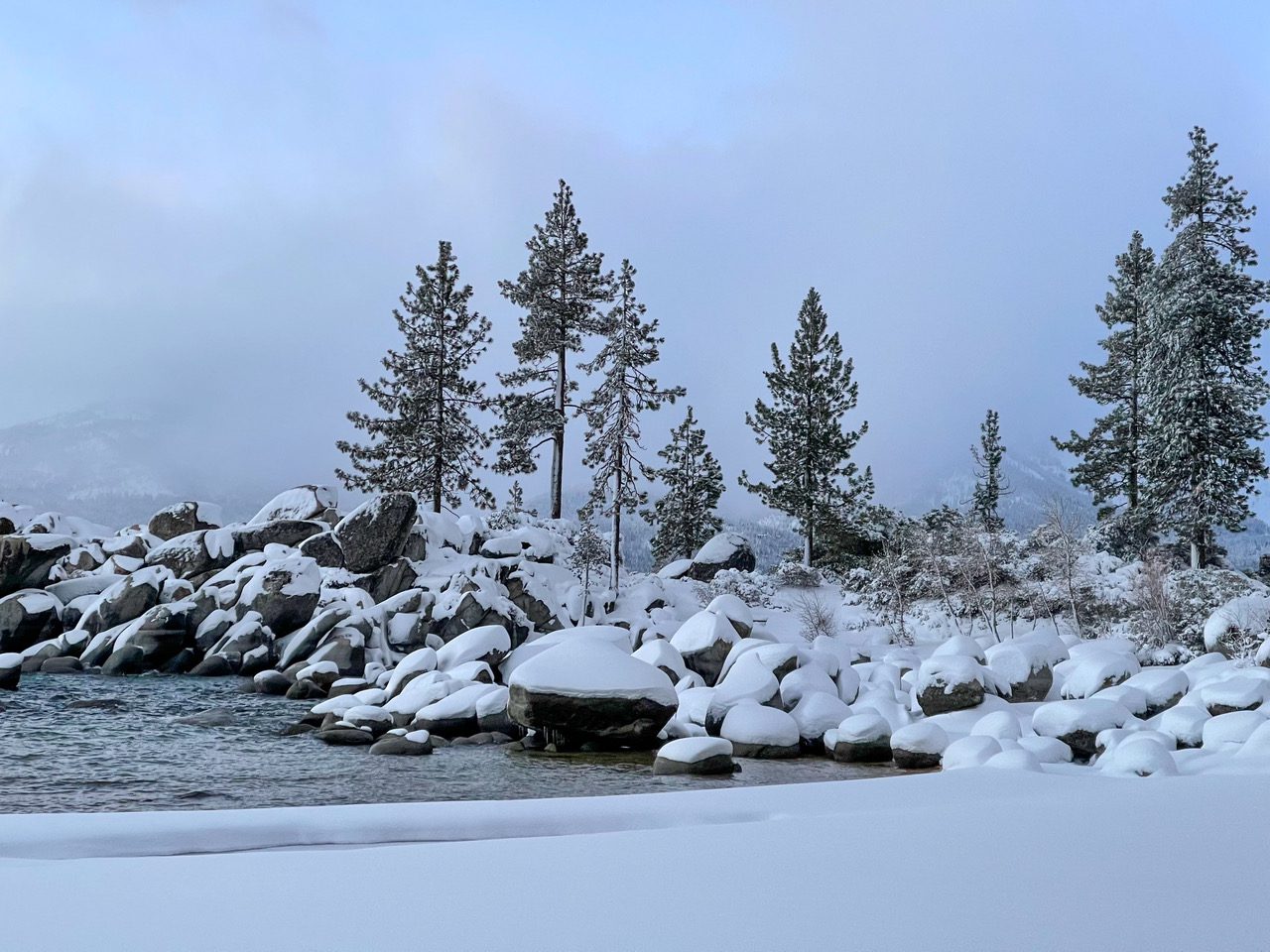 THIS AND THAT
Now and through the end of 2022 is the popular Northern Lights Festival, a celebration of the Incline Village and Crystal Bay business community. You'll find the holiday spirit nearly everywhere you go. There are more than 20 family-friendly events, including Brunch with Santa, Candy Cane Village, and a Deck the Halls Lighting Contest, just to name a few.
If conditions are favorable, take a road trip around Lake Tahoe. The 72-mile route is amazingly picturesque, so make sure to take some extra camera batteries.
While vacationing in North Lake Tahoe, take the family to the UC Davis Tahoe Science Center in Incline Village. Book a one-hour tour and learn about the lake ecosystem, why it's changing and how you can help keep it blue. Hands-on activities will ensure the kids have a great time. The cost is only $5 to $10 per person.
If you're bringing your 80-year-old parents (or grandparents) along on vacation, you'll be happy to know they receive free admission at either of Palisades Tahoe's skiing mountains. 
There's so much to do in North Lake Tahoe; make sure to stay for a while at one of the area's budget-friendly hotels and inns. Then have the wintertime of your life!