Winter is one of the most exciting times of the year in North Lake Tahoe, and that excitement just got an extra shot of adrenaline thanks to the return of a classic community favorite from the early 1990s—the Northern Lights Festival.
Held in Crystal Bay and Incline Village, the Northern Lights Festival promises a glittering array of events starting on November 30th and concluding December 25th. From late-night, 90s-inspired dance parties to shopping extravaganzas put on by the region's beloved local vendors, this festival is sure to be one 90s revival you won't want to miss.
So dust off your dungarees, zip up your brightly-colored windbreakers and get ready to step into the good ol' days. Here are 6 reasons not to miss this year's Northern Lights Festival: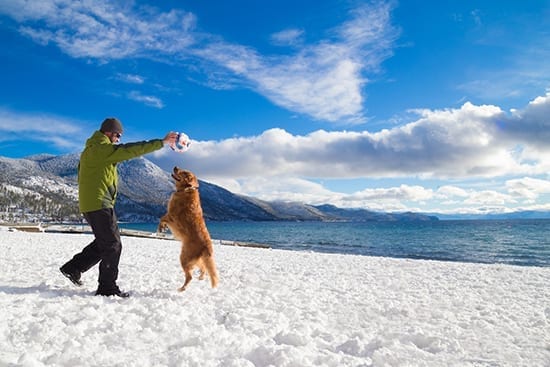 There'll Be Plenty of Occasions to Jingle Your Bells
Kicking off on November 29 at the Crystal Bay Club, the Northern Lights festival will shimmy into the region with the funky musical stylings of Dragonsmoke. This concert venue, which includes the celebrated Crown Room, offers some of the best sound quality on the west coast. Throughout festival season, you can expect to hear all types of killer tunes, with sets performed by Collie Buddz, The Polyrhythmics, The California Honeydrops, Big Head Todd & The Monsters and more.
Note: all shows are standing room only, so make sure to wear comfortable shoes—and check out Devil Dog Productions for ticket purchases, set times, prices and more.
You Can Tackle Christmas Shopping and Support Tahoe Businesses at the Same Time
Throughout the month of December, locals and visitors alike will have the chance to come face-to-face with many of the people and products that make North Lake Tahoe such an unique and breathtaking place. First, head to Raley's Center where you'll rub elbows with local business owners and community stakeholders at the Community Christmas Mixer on December 1. On December 2, find locally-made, one-of-a-kind creations at the Holiday Craft Fair & Community Celebration, perfect for everyone on your gift shopping list.
Remembering that it's often better to give than to receive, attendees of these events can donate unwrapped gifts or non-perishable food to local non-profits.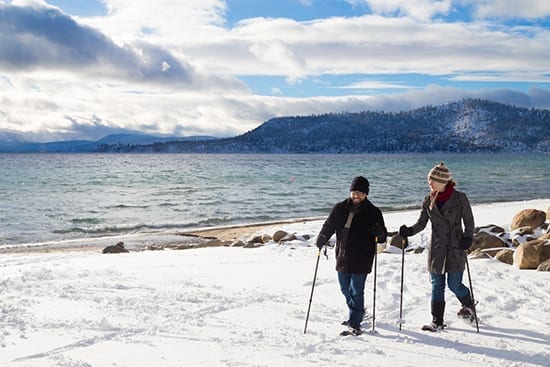 The Parties Will Be Totally Epic
Last year brought North Lake Tahoe record-breaking precipitation, and we can't help but wonder if it's because of how much fun we had praying for snow last year. Rather than leaving this season to chance, we'll be donning our best nineties ski gear and heading to Hacienda de la Sierra for their yearly, must-not-be-missed Pray for Snow Party on December 1. Later, on December 15, we recommend heading to Diamond Peak Ski Resort to celebrate winter in style at their annual Season kick-Off Party. Party on!
Film and Music Will Enrich You
Film buffs—this one's for you! On Thursday, November 30, the annual Tahoe Film Fest will touch down once again to educate youth and celebrate Lake Tahoe conservationists. For three days, you'll get a truly inspirational look behind the work people do to keep Lake Tahoe beautiful for generations to come.
The culture doesn't stop there, either. Lovers of festive music can let their hearts sing to the tune of TOCATTA Tahoe Symphony's December 9 performance of traditional holiday tunes at their MESSIAH classical concert. This is an experience that will bring tears of joy to your eyes, and it should not be missed.
Santa Claus Will Be Coming To Town
Ho-ho-holy smokes, is that Santa Claus? Why, yes, in fact it is.
You and your friends can rub elbows with the man, the myth and the legend himself over brunch at The Chateau on Saturday, December 9. Please note that, for this one, reservations are a must, so it's a good idea to call ahead. Find more information on that here.
Days later, enjoy a crisp cold one with our busy Santa as he emcees his namesake Santa Crawl in Incline Village & Crystal Bay on December 16. Finally, catch Santa shredding the picturesque powder at Diamond Peak on Christmas Eve and Christmas Day—as he celebrates another round of gifts delivered to kids worldwide.
Finally, Everything Will Be Gorgeous
To celebrate the changing seasons and all that North Lake Tahoe has to offer, the region will be draped in beautiful, white lights that illuminate the area's unmistakable beauty.
We hope you'll join us in welcoming this tradition back to our community, brought to you by partners including the Incline Community Business Association, the Incline Village Crystal Bay Visitors Bureau, TravelNevada and more. Find more information here.