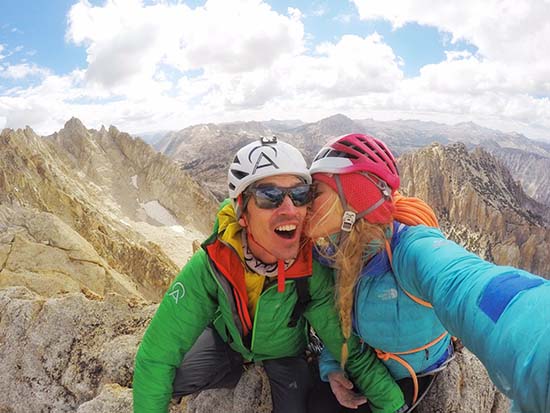 Top 5 places to experience the backcountry in North Tahoe — (examples could include places to trail run, rock climb, ski)
Ski Nat Geo Bowl with Alpenglow Expeditions!

Trail running Sugarbowl to Squaw

Trail run into and then scramble Eagle Lake Buttress

Rock climbing at Snowshed on Donner Summit

Backcountry ski the West Shore – Jakes/Hidden/Rubicon
Favorite way to spend a fall morning in North Lake Tahoe:
Breakfast at Coffee Bar Truckee, and then as the sun warms the rock, meet friends at Snowshed for a few pitches of perfect granite.
Favorite way to experience nature:
Running, skiing, scrambling and climbing
Favorite event in North Tahoe:
Broken Arrow Skyrace
Describe a perfect date night:
Ride cruiser bikes with our pup to PlumpJack in Squaw Valley and have dinner at the bar.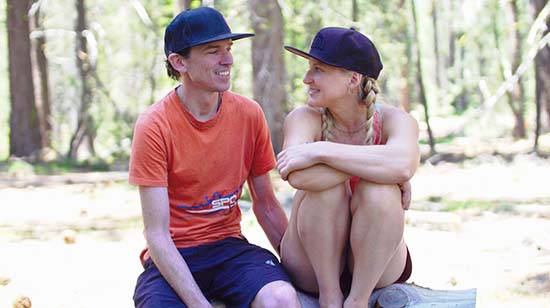 Best way to wind down:
Find time to visit a lake – Donner or Tahoe
Favorite Tahoe season:
Whatever is coming up next. I love them all!
Favorite Tahoe splurge:
A day out in the Squaw backcountry with Alpenglow Expeditions. Exclusive access from the lifts to some of Tahoe's best backcountry terrain is worth every penny! And this winter, get out there not only with Alpenglow's certified guides, but also local "celebs" like Emily, Adrian, Michelle Parker and more.
What is your greatest Tahoe love:
The incredible backcountry and wilderness terrain that surrounds us. Rock, mountains, and lakes
Describe your perfect Tahoe day:
First cup of coffee on our deck looking at KT. Second cup of coffee while meeting friends at one of the Coffee Bar locations. Then a big morning outside – climbing, skiing or running with friends. After that, a few hours with my team in the Alpenglow office, maybe meeting up with some friends or clients at Uncorked, and finish by cooking dinner at home. Oh, and in the summer, if humanly possible, a quick visit to a lake to jump in!